With the giant strides made globally, including Nigeria, and the efforts by governmental and non-governmental organisations, as well as religious bodies, the celebration of World Leprosy Day, last weekend, showed that much still needs to be done in terms of information, timely treatment and proper reintegration of victims of leprosy into society. RITA OKONOBOH reports the plight of persons affected by the disease, the efforts made so far to tackle it, and the challenges ahead.
ALTHOUGH she had lost all her fingers, Madam Rebecca Alfred was using a knife to cut pawpaw with amazing dexterity, her first meal of the day. The time was 4:25p.m.
Like other people at the Baptist Leprosy Centre, Ogbomoso, Oyo State, she looked older than her age. As Sunday Tribune approached her, her disposition changed, and she seemed expectant when she was told that she had a visitor. When she heard it was somebody from the media, she beamed as she prepared herself to share her story. After over 35 years of staying at the centre, it was about time she relived her years of sweet-better memories. Aged 55, she recounted that she was brought to the camp on December 26, 1979.
"I am from Delta State but I was based in Ile Ife, Osun State, when the disease started. I don't have a husband anymore, but my children are alive. When I was quite young, I discovered that the skin on my leg began to change, as if someone poured hot water on it, and my parents did not really understand what was going on. With time, the location of the wound became painless. In fact, at some point, some people thought it was a diabolical attack, like maybe I had stepped on a charm. Later, the bones on my fingers began to fold in and I started to experience pain. That was when my father brought me here.
"I've finished my treatment, and I'm better now. Although I visit home sometimes, whenever I'm at home, I see the many achievements my mates have made and it always makes me feel sad. You know that proverb that states that 'a corner with the living is better than a corner in the grave,' that's why I've decided to accept my fate. For now, I just visit home for a few days at a stretch. I pray God grant my children the resources to get a place for me to stay so I can stay there, because staying at my father's house only brings me shame and pain. I have accepted my fate."
Speaking on efforts by government, Mrs Alfred noted that "the council used to pay us a monthly stipend of N3,000 but this is the third month now since we last received it. I trade but now, I'm short of funds. When the stipend was steady, although it was not really enough, it was better than nothing. We really need government input. Although we get provisions, especially during the festive seasons from non-governmental organisations and charity groups, now that the festivities are over, it is back to where we were. Although the Baptist Mission is really trying, in all fairness, we understand that they can't do it alone. Government effort is also needed. Nigerians need to understand that we should not be treated as outcasts and that the disease is not contagious. It was while I had this disease that I had my children and if you see them with me, you won't believe your eyes."
The Mahatma Gandhi connection
World Leprosy Day, celebrated every last Sunday in January, started in honour of Mahatma Gandhi, who was known for his interest in persons affected by the disease and was once quoted as saying "Eliminating leprosy is the only work I have not been able to complete in my lifetime." Gandhi was assassinated on January 30, 1948.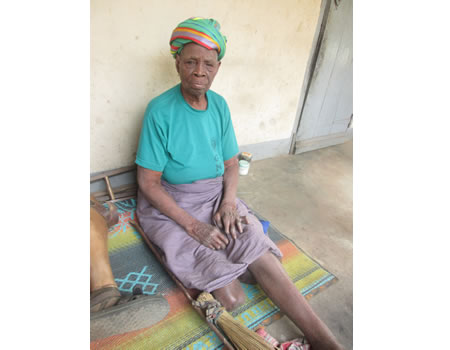 The day is celebrated to focus global attention on the plight of persons affected by the disease. Also known as Hansen's disease, named after Norwegian physician, Gerhard Henrik Armauer Hansen, who discouraged the notion that leprosy was hereditary, the central theme of this day is to work towards ending leprosy-related disabilities, especially in children, ensure early detection and reduce suffering. This has also formed the thrust of this year's theme, "Zero Disability in Children Affected by Leprosy."
According to The American Leprosy Missions, "every day, 52 children around the world are diagnosed with leprosy. At least twice that number will remain undiagnosed due to stigma, fear and lack of medical expertise. And many of them will face permanent disabilities."
Tracing the history of leprosy, which causes damage to the nerves of the hands, feet, eyes and parts of the face, The American Leprosy Missions notes that "in 1873, Dr Armauer Hansen of Norway was the first to see the leprosy germ under a microscope. This was a revolutionary discovery. The evidence was clear: leprosy is caused by a germ (Mycobacterium leprae). It was not hereditary, a curse, or from sin. Because of Dr Hansen's work, leprosy is also called Hansen's disease."
In 1981, the World Health Organisation (WHO) started recommending multi-drug therapy, or MDT. The three drugs, taken in combination, are dapsone, rifampicin (or rifampin) and clofazimine, and treatment is said to take from six months to a year or more and, in 1982, American Leprosy Missions pioneered the use of multidrug therapy in its projects. According to the American Leprosy Missions, "Since then, millions of people have been cured of leprosy with MDT. As of 2015, every two minutes, someone around the world is still being diagnosed with leprosy. Even though it is curable with Multi-Drug Therapy, children, men and women are still being crippled by this terrible disease."
The word 'leper' is usually seen as derogatory. Rather, 'people/persons affected by leprosy' or the term 'leprosy patients' is acceptable for people who are currently in treatment. According to the National Director of The Leprosy Mission Nigeria, Dr Sunday Udo Odihiri, in his message commemorating the 2015 World Leprosy Day with the theme; Leprosy Elimination-Challenges Beyond Multi Drug Therapy (MDT), "Leprosy is infectious but not contagious; it is only a person with untreated leprosy than can transmit the diseases. Once treated with antibiotics (Multi Drug Therapy), the person is free of the bacteria."
Why reintegration into society is difficult
As part of efforts to understand why many patients, even after treatment preferred to stay at the camps, Sunday Tribune spoke with the Chief Medical Social Worker at Bowen University Teaching Hospital (BUTH), Ogbomoso, Mr A.O. Adeniji.
According to him, "the Baptist Leprosy Centre, Ogbomoso, an annex of Bowen University Teaching Hospital, was started by American missionaries in 1930 and caters for patients from almost every state of Nigeria, speaking different languages and practising different religions. The centre began through the efforts of Dr B.L. Lockett, who gave treatment to persons affected by leprosy, and in 1930, he secured a land near Ogbomoso, and began the first Baptist Leprosy Settlement in Nigeria."
The centre, which is a combined effort of the Nigerian Baptist Convention and the American Baptist Mission, also has the support of the Damien Foundation, Belgium, which provides surgery and physiotherapy services, especially providing reconstructive surgery for patients who have lost body parts to leprosy. This reconstructive centre is the only one in Nigeria specifically built for that purpose and serves as a referral centre for other treatment facilities in the country.
'Sometimes, even family members reject their own'
Mr Adeniji, who spoke on several attempts at reintegrating treated persons into society, as the World Health Organisation recommends, stated that "We have made several attempts to take people back home, and in most cases, the same thing repeated itself. They become outcasts, and these people return home. I've accompanied persons who have been treated back home to rejoin their families. I remember one experience when I accompanied a woman to Ilesa to reunite with her family; she is dead now. When we got to her house, people ran away from the compound when they saw her. Even when she spoke to some of them to show that she recognised them, they rejected her. I had to involve the palace and the monarch had to designate a chief to follow us, and they allowed her stay but many of them left the compound. However, the week after, the woman returned to the centre."
Citing another example, Mr Adeniji told the story of a man who was taken to his home at Iseyin, but who returned the next day because he didn't feel welcome. "That's the problem we experience. In fact, many of them prefer to be at the centre, because they are happy there," Adeniji stated.
Things are much better nowadays
Speaking on why leprosy leads to disfigurement, a family physician and the Deputy Director, Clinical Services, BUTH, Dr Adewunmi Durodola, stated that "The main problem is that although the bacterium is readily cleared by drugs, disfigurement that occurred prior to treatment remains or sometimes gets worse due to permanent nerve damage. The disease damages nerves that allow people to feel sensations at different parts of the body including the face, hands and legs. Due to inability to feel, recurrent injuries and chronic ulcers develop, especially on hands and feet, with fingers and toes falling off by themselves or being amputated by medical personnel. Early detection and prompt treatment of leprosy prevents extensive damage. In the past, due to the fact that some relatives do not see much physical changes after treatment, they tend to ostracize them. Things are much better nowadays."
Patients recount more experiences, challenges
Mr Michael Apeh, from Benue State, aged 38, found love at the centre and is married to Mrs Adijat Apeh, also a patient at the centre and they have three children. Recounting his experience, he stated that "I've been here for over 25 years. The entire thing started when I was based in Lagos and I fell ill. I was about 10 years old then. Then, I met an Indian doctor at a medical centre at Yaba, who disclosed that it was leprosy. Then I had ulcer as well. The Indian doctor referred me to Dr William Norman, here in Ogbomoso. When I got to the Baptist Hospital at Ogbomoso, I was sent to this centre for treatment. This was in 1988. I've been here ever since. I've finished my treatment here but I'm trying to find a better job to be able to settle down in society. My brother visits me sometimes. My message to other patients who have the disease is that they should be prayerful and persevere because the disease is not one that is easily cured. Sometimes, people do not use the drugs as prescribed and after years, it may resurface.
"I want to call on government and well meaning members of the society and Nigerians in general to work with the centre to assist us. Things have not been so easy, as I have lost my leg because of the ulcer. I asked the doctors to amputate the leg because it was already paralysed from the ulcer as a result of leprosy. I really appreciate the Baptist health centre medical board for their efforts, as well as Damien Foundation, which has also been very supportive."
'How I found love at the Leprosarium'
Showing the reporter his son, who had just returned from school, Mr Apeh stated that "I met my wife at the centre. We both live on the camp and now. We have three beautiful children. It has not been so easy caring for them and I want to plead for more assistance from government, especially as both my wife and I have had our legs amputated. I want my children to have the best in terms of education."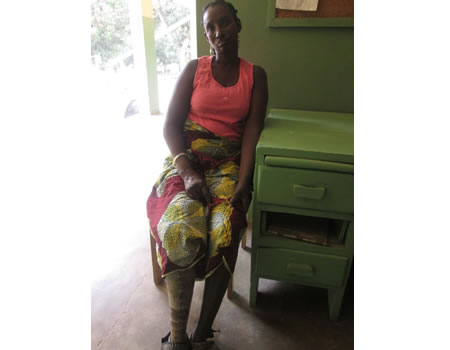 Mrs Adijat Apeh, from Oyo State initially refused to speak. However, after encouragement from her husband, she decided to talk, with her husband a few metres away, for support. She told Sunday Tribune that "I first discovered the disease when my face was discoloured – one part was fair and the other part was dark. My family is based in Saki, and someone introduced the centre to us and my father brought me here. I met my husband at the camp and fell in love with him. I've completed my treatment, but I'm here because I have a family here now. The leg bothered me so much that's why it had to be amputated. My family visits me sometimes and I also go home to visit them too. I also speak to them on phone and, in fact, I visited them recently. I really appreciate the efforts of the Baptist mission but government needs to do more. We used to get government support in terms of N3,000 monthly allowance but it's not been regular. Nigerians also need to be more receptive of us."
'I have been here for almost 50 years'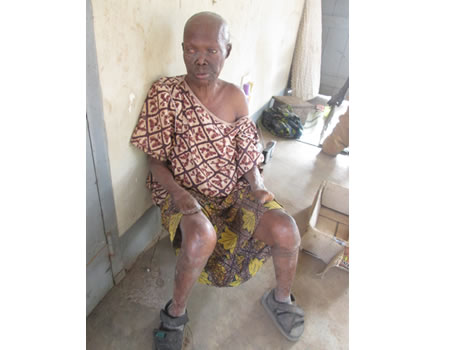 Madam Mopelola Atoke, who also refers to herself as Felicia Adeyeye, does not know her exact age, because according to her, "when I was born, there were no records of birth. However, I think I've been here for about 50 years. I'm not really sure how the disease started. I just saw some strange things on my body, but we didn't know where to go. I lived at Iwo then and we tried traditional methods of curing it but nothing positive came of it and instead it worsened. Later, somebody told my family about this place and that was how I sought treatment here. My husband is dead and my children are far away but they visit me sometimes. One of my children is in Port Harcourt, Rivers State, while another is in Akure, Ondo State, I would really want government input because things are not easy. As much as the church is really trying in its efforts, in line with the foundation, as treatment is free of charge, government must also come in. There are many things we wish we had, and I hope that government treats us well. I have no regrets because I really can't blame anyone for my predicament."
'I pray I leave here with good news'
Mr Alade (full name not given for patient confidentiality), who had earlier deduced that it was a press interaction with patients and had gone into his room quietly. Few minutes later, the reporter approached his door, and using one of his crutches to open the door, ever so slightly, inquired what the reporter wanted. After listening for a few minutes, he simply shrugged and asked for help to get comfortable. After being satisfied with the arrangement, with strict instructions to the reporter not to take his photograph as he stated that he is quite popular in Ibadan, he decided to share his experience.
"I was diagnosed with the disease about a year ago. When I realised I was feeling certain sensations on my hands and feet, and my hands started to fold in, I went to the University College Hospital, Ibadan. It was from there I was referred to a medical office somewhere around secretariat, and I was eventually referred to this centre. In fact, today makes it my seventh day here. I speak with my family on the phone regularly, and, in fact, after you leave, before I sleep, I'll call them. I pray that my treatment is successful and I leave here with good news.
"I was told that there's nobody who is not susceptible to the disease and when I was first diagnosed, I had already spent so much treating it before I came here. The treatment here is free of charge. Government should support us because for someone like me, I don't have a job. I have hope because I know that God is aware of my predicament."
Madam Deborah Oladoja, another patient, when asked how old she was, simply smiles and responds "ona jin!" (which implies she can't remember). According to her, she has been at the centre for about 10 years, noting that "It started with my leg and I went to the hospital; I'm from Igbeti. From there, I was referred to the centre and I received treatment."
Mrs Christiana Young, who has spent seven years at the centre, doesn't really seem like a woman of many words. From her expression, one can tell that she has resigned herself to fate, especially with the smile she has on.
"I am from Edo State. I discovered that there were certain things on my skin and I wasn't really myself anymore. I was thereafter referred from the hospital in Benin to the centre and I have been receiving treatment ever since. I'm still undergoing treatment as you can tell from my legs. Although my husband is dead, my children come to visit me sometimes. I hope that government, as well as wellmeaning Nigerians can assist us as well, so that we can cater better for ourselves, as well as for our children so that they can have a better future," Mrs Young stated.
'Government support is vital to our survival and that of our families'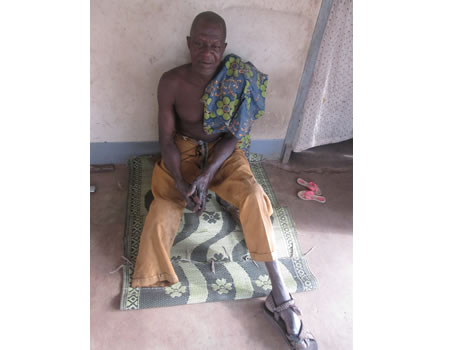 Mr Ayo Adenle, a former patient, who is approaching 50 years, noted that he had spent almost 20 years at the centre, and though he had completed his treatment, he had lost his lower right leg to the disease. Speaking with Sunday Tribune, he stated that "I am from Ilesa in Osun State. I discovered the disease through light spots that broke out on my body and someone referred me to the centre. Although I have completed my treatment, I wanted to go home, but the disease resurfaced so I had to remain at the centre to complete treatment. My wife and children come from Osun State to visit me sometimes.
"With my leg gone, it is hard to really say I can do much to support myself, so, we really need government's assistance to complement the efforts of the church. I also want to tell Nigerians that the disease is not contagious as people think. I have no regrets as it is only God that understands."
As Nigeria steps up its efforts at reducing the damning consequences of leprosy by partnering with non-governmental organisations and church missions, it is obvious that more can be done, especially with regard to public acceptance, which can ensure successful reintegration into society.
With the rate of unreported cases, it is not unusual that many people still assume that the disease is extremely contagious, especially as a result of the pronounced disabilities that occur. As such, efforts must be made to ensure that the society is better informed of the disease so that people can get prompt and quality access to treatment. More focus must go into putting patients on the priority list of accessing healthcare, during and after treatment, as well as working towards making one of the oldest diseases in the world have reduced negative significance as soon as possible, especially by helping patients reintegrate into the society without feeling like outcasts.