Tribune Advertisement Rates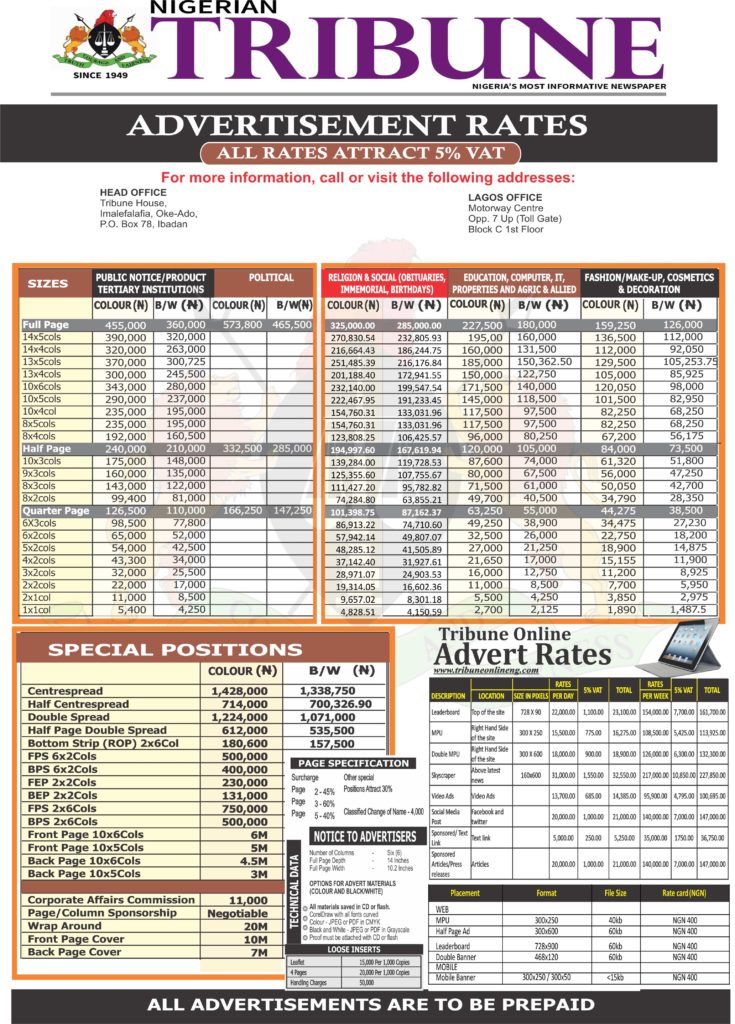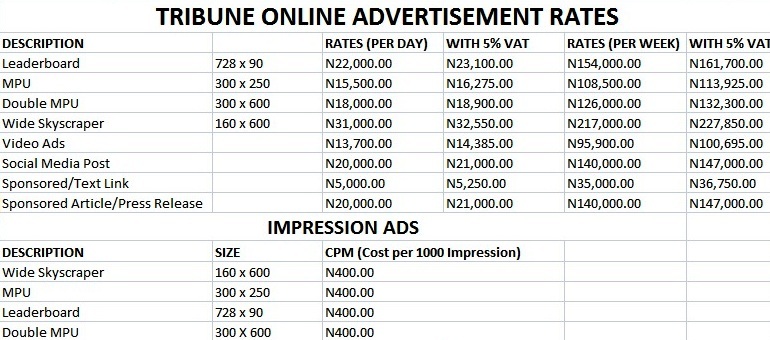 Do you have stories for us, breaking news, photographs and videos, correspondences on the website or you have other issues requiring public attention?
OUR OFFICES
Head office: Tribune House, Imalefalafia Street, Oke-Ado, Ibadan. G.P.O Box 78, Dugbe, Ibadan.
Abuja Office: Suites G2. 05-07, PEB04 Plaza, Plot 2027, Dalaba Street, Beside NAPTIP headquarters,  Wuse Zone 5, Abuja.
South-South Region Office: N0. 50 Inferred Road, Mile 1, Diobu, P/Harcourt, Rivers State.
Kaduna Office: AN 20, Lagos Street, by Keeping Rd., Kaduna.
Ikeja Marketing Office: Block C, First Floor,  Motorways Centre,  Opp., 7up Alausa, Ikeja.
Got News For Us?
Please, e-mail: onlineeditor55@gmail.com
Online Editor: Seyi Gesinde
Phone: 08116954632
For Advert Placement, call:
SDavies Wande – 08068640812, 09090597272
E-mail: admin@tribuneonlineng.com
Social media accounts:
Twitter: @nigeriantribune   –   https://twitter.com/nigeriantribune
Facebook: Nigerian Tribune   –   https://www.facebook.com/Tribuneonline/
Instagram: @tribuneonline   –   https://www.instagram.com/tribuneonline/