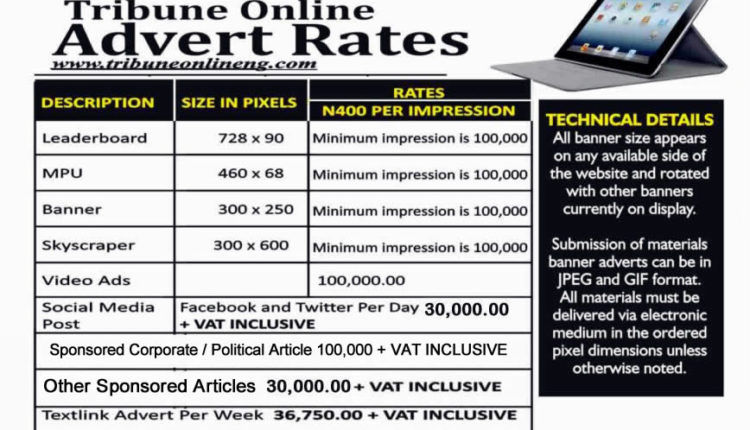 Tribune Advertisement Rates
To place online advertisements and promotional materials on the website and on our Social Media Platforms, contact the Online Marketing Department:
E-mail: onlineadverts@tribuneonlineng.com
Call : +2348039515726
WhatsApp: +2348142902750
https://tribuneonlineng.com/contact-us/
---
Social media accounts:
Twitter: @nigeriantribune   –   https://twitter.com/nigeriantribune
Facebook: Nigerian Tribune   –   https://www.facebook.com/Tribuneonline/
Instagram: @tribuneonline   –   https://www.instagram.com/tribuneonlineng/
YouTube Channel: NigerianTribuneTV –  https://www.youtube.com/NigerianTribuneTV
Tumblr:  tribuneonline   –   http://tribuneonline.tumblr.com/
Pinterest: tribuneonline   –   https://www.pinterest.com/tribuneonline/
---
Got News For Us?
Please, send e-mail to: onlineeditor@tribuneonlineng.com or tribuneonlineng@gmail.com
---
OUR OFFICES
Head office: Tribune House, Imalefalafia Street, Oke-Ado, Ibadan. G.P.O Box 78, Dugbe, Ibadan.
Abuja Office: Suites G2. 05-07, PEB04 Plaza, Plot 2027, Dalaba Street, Beside NAPTIP headquarters,  Wuse Zone 5, Abuja.
South-South Region Office: N0. 50 Inferred Road, Mile 1, Diobu, P/Harcourt, Rivers State.
Kaduna Office: No 20, Lagos Street, by Keeping Rd., Kaduna.
Ikeja Marketing Office: Block C, First Floor,  Motorways Centre,  Opp., 7up Alausa, Ikeja.
---
CLICK HERE TO DOWNLOAD TRIBUNE ADVERT RATE