Wildfire kills 60 on Greek coast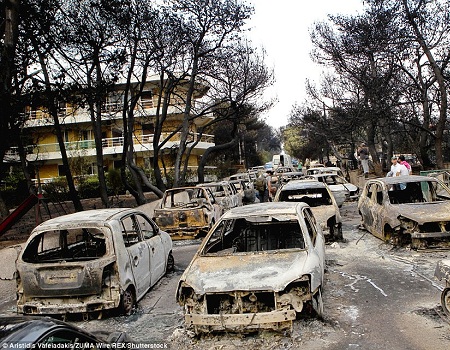 TERRIFIED tourists and locals were burned alive after becoming caught in a traffic jam which formed as hundreds tried to flee deadly forest fires in Greece, which have killed 60 people and may have been started deliberately.
Officials have asked for United States drones 'to observe and detect any suspicious activity' as it emerged 15 fires had started at the same time in three different areas near Athens – possibly by criminals intending to ransack homes once they were abandoned by fleeing residents.
In the coastal resort of Mati, 25 miles from the capital, flames engulfed more than a thousand homes and dozens of vehicles as people tried to escape a 'sudden progression of fire' that swept through the community in a matter of minutes.
Charred bodies were found in the street today while witnesses reported seeing at least four dead on a narrow road clogged with cars in the village, which a local mayor said 'no longer exists'. Some of the survivors spent fraught hours choking on clouds of ash at the edge of the water as they waited for help.
In the same resort, horrified officials have found 26 bodies, apparently, families huddled tightly together in 'a final attempt to protect themselves' less than 100ft from the sea having apparently made a desperate attempt to escape from their villa.
Driven by winds of up to 65mph and 104F (40C) temperatures, the worst Greek forest fires in a decade have been described as a 'national tragedy' and a 'biblical disaster with human losses'. One of the youngest victims was a six-month-old baby who died of smoke inhalation.
Hundreds of tourists have been evacuated from beaches in on-going operations today while three women and a child drowned in the sea trying to escape flames.
Two wildfires began at lunchtime yesterday but by the evening it had escalated to a disaster with infernos breaking out either side of Athens.
A mass evacuation is underway with military vessels, a flotilla of private boats and army helicopters mobilised to rescue those who fled to the harbour in Rafina, while many waited in the sea to be rescued.
'We will do whatever is humanly possible to control it,' Greek Prime Minister Alexis Tsipras, looking pale, said after cutting short a visit to Bosnia. This morning, he declared a three-day national mourning period.
A state of emergency has been declared in western and eastern parts of Attica, the greater Athens area and the Greek government has called on the EU for assistance to battle the devastating wildfires which have left 170 injured.
A hillside of homes was gutted by flames east of Athens. A mayor said he saw at least 100 homes and 200 vehicles burning amid fears the death toll from the disaster will climb today.
This morning, the country's fire brigade said the intensity and spread of the wildfire at Mati had slowed on Tuesday as winds died down, but it was still not fully under control. The service urged residents to report missing relatives and friends.
Two major fires had broken out at about lunchtime yesterday ripping through childrens' camps and homes either side of the Greek capital.
ALSO READ: Toronto shooting: Gunman kills 2 in Greektown district
By 9 pm last night, gale-force winds had fanned the flames which ripped through seaside towns sparking a mass evacuation and creating such thick smoke that motorways had to be shut.
Just after midnight, the first deaths were confirmed – only for the toll to escalate rapidly to at least 20 by 3 am. By dawn on Tuesday, the fires were still burning around the capital, while others broke out elsewhere during the night.
People scrambled to the sea as the blaze closed in close to the shore – hundreds were rescued by passing boats but others, tragically, found their way blocked by smoke and flames.
'I was briefed by a rescuer that he saw the shocking picture of 26 people tightly huddled in a field some 30 metres from the beach,' Nikos Economopoulos, head of Greece's Red Cross, told Skai TV.
'They had tried to find an escape route but unfortunately, these people and their kids didn't make it in time,' he said. A Reuters witness also saw several bodies in the area.
Andreaas Passios, who lives next to the compound, said: 'Everything happened in seconds. I grabbed a beach towel. It saved my life. I soaked it, grabbed my wife and we ran to the sea.'
Mr Passios said he and his wife stayed by the sea for two hours.
'It was unbelievable. Gas canisters were exploding. Burning pine cones were flying everywhere.'
When the flames died down, Spyros Hadjiandreou came searching for loved ones. My niece and cousin were staying here on holiday,' he said. 'I don't know if they made it out. I don't know if they are OK. I haven't heard from them.'
Aleka Papariga, a former Greek Communist Party leader who lives near Rafina, said: 'The police tried to direct us away from the fire, but we couldn't escape it.
'We got stuck in traffic and the flames were on top of us. We managed to find a small gap and we made it out.'
A Reuters photographer saw at least four dead on a narrow road clogged with cars heading to a nearby beach and heard reports of several more casualties.
'Residents and visitors in the area did not escape in time even though they were a few metres from the sea or in their homes,' fire brigade spokeswoman Stavroula Maliri said.