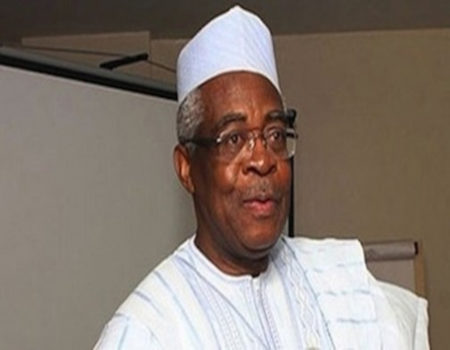 THE General TY Danjuma led Presidential Committee on North-East Initiative (PCNI), has donated and distributed twenty trailers of assorted fertilizer to internally displaced persons (IDPs) from nine local government areas of Borno state taking refuge in Jauro-Shehu village, a border between Borno and Gombe States.
While distributing the items to the IDPs, the Committee tasked President Muhammadu Buhari led APC Federal Government to give more attention to the agricultural sector of the sub-region in order to fully revive the economy of the area.
TY Danjuma who was represented by a member of the Committee, Professor Hauwa Biu stated with or without Boko Haram insurgents, the people of Borno South have been farming, which is the reason why the Senator representing the area, Mohammed Ali Ndume insisted that the PCNI should distribute free fertilizer to the people.
The PCNI urged the people not to relent but redouble their efforts in farming since there is relative peace in the area now appealing for more women to be included in the list of beneficiaries and also called on the women not to be left behind in the farming activities since they are known for their hard work.
ALSO READ: Sen Ben Bruce urges PDP senators to occupy National Assembly
Speaking earlier, the Senator representing Borno South Senatorial District, Mohammed Ali Ndume, also a member of the PCNI, said the free distribution of the fertilizer followed his insistence to reach returning Internally Displaced Persons (IDPs) of the area with a source of livelihood to pick up live from their distressed situation.
He said that the 20 trailer load of the fertilizer was approved for his constituency with ten of the trailers on ground while the other ten trailer loads were on their way to the area saying that each Local Government Area is to benefit from at least two trailer loads of the fertilizer in all the 101 wards.
He also promised more of such interventions from the Federal Government just as he thanked President Muhammadu Buhari for the establishment of the PCNI and the improved security situation in the Northeast, especially Borno State.
The Head of Humanitarian Department of the PCNI, Dr. Sidi Ali Mohammed, commended Senator Ali Ndume for his resilience in ensuring that the people of Borno South got the fertilizer.
Some of the beneficiaries who spoke to our correspondent commended PCNI and Senator Ndume for coming to their aid with the fertilizer and called for more of such interventions considering their peculiar situation.
---
---