Operation Burst denies joining #EndSARS protest in Ibadan
.Says those behind allegations are mischief-makers, blackmailers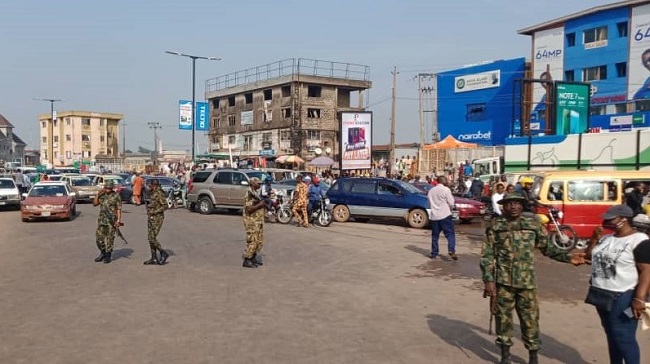 THE leadership of a special security outfit, Operation Burst, put together by the Oyo State Government has denied allegation that personnel of the outfit joined protesters in Ibadan agitating an end to the Special Anti Robbery Squad, a unit of the Nigerian police, on Tuesday.
Governor of Oyo State, Mr Seyi Makinde, had on Monday ordered that the police should take the back seat, while men of the Operation Burst should be at the forefront in the provision of adequate security for protesters who thronged major roads in Ibadan metropolis to lend their voices to the clamour for total disbandment of SARS over alleged brutality on innocent Nigerians.
However, pictures of men of the Operation Burst surfaced online with comments from some group of people suggesting that the men are joining in the protest.
Meanwhile, a top officer in the Operation Burst, who craved anonymity, while speaking with the Nigerian Tribune said it is not possible for the men to in any way be part of the protest, adding that: "The intent of those unscrupulous elements behind the falsehood is to rubbish and give us a bad name in order to discourage the men in discharging their duties professionally.
ALSO READ:  Champions League History of the Ronaldo-Messi confrontation
"Immediately the governor made the pronouncement that Operation Burst should take the lead on the issue of protest in the state, some wicked and mischief-makers were not comfortable with the arrangement and therefore, decided to take the advantage of the pictures to blackmail the outfit and start portraying us as engineering and joining the protesters of EndSARS.
"Oyo State has recorded relatively peace since the introduction of Operation Burst and a lot of residents can attest to this fact. So, it is wicked and mischievous of some people to be engaging in cheap blackmail with the intent to rubbish the good work we have been doing and portray us in a very bad light in the face of the good people of the state and Nigeria as a whole. Let me also state that no amount of blackmail can make us renege in our resolve to make Oyo State a very peaceful abode for residents as well as visitors."