Much ado about face masks in Lagos: Security agents, others make profits
•We'll probe alleged extortion over non-compliance with rule on wearing of face masks… —Police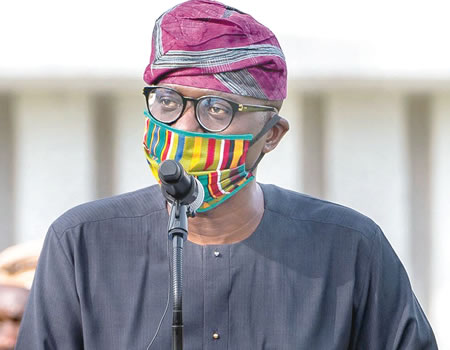 SUBAIR MOHAMMED reports how face masks have become a gold mine for tailors, policemen and LASTMA officials in Nigeria's largest market.
SINCE face masks made of fabric were cleared by health professionals as an acceptable Personal Protective Equipment (PPE) in Nigeria, all manner of the mouth and nose cover have been seen on residents of Lagos State, starting with the governor, Babajide Sanwo-Olu. An average gathering in the state now looks like coat of many colours. From plain materials, residents have also moved to more fashionable fabrics and designs with state government, corporate organisations, business brands, entertainers and countless fashion-conscious individuals settling for branded and customised face masks. Some fashion designers now blend the face covering with the outfit for their high-profile clients. The state Commissioner for Health, Professor Akin Abayomi, seems to have set the pace in this regard.
However, as they say, not all that glitters is gold. Beyond the fashion statement, health officials are concerned that not all fabric-based fashionable face masks are protective of the wearers and a simple test to confirm the reliability of masks has been explained by health workers. A popular online doctor, who practises in the United Kingdom, claims that if a user wants to know the effectiveness of his/her fabric-based face mask in protecting them from the coronavirus pandemic, a burning candle should be blown out while the mask is on, covering mouth and nose. If the air from the mouth is able to put out the burning candle through an escape from the mask, he says such a mask, regardless of its beauty, is useless.
Spreading COVID through mask?
Many residents, however, appear undisturbed by the reliability test, and with the seeming determination of the state government to enforce the protection regulation, a thriving industry seems about to be born in the state for its 22-million strong citizenry. The streets of Lagos are now literally paved with fabric-based face masks and the protective item is fast becoming the commonest commodity in countless neighbourhoods. The rising business, as expected, is also throwing up a lot of challenges for the state government, residents, health workers, security agents, among other stakeholders. With nobody doing any medical suitability test on the millions of fabric face masks being sold, there are growing worries that the infection rate, which has been on the increase on a daily basis, will not come down anytime soon.
Beyond the lack of standard and quality control, the enforcement of the state government's regulation on social distancing and face mask, which has been largely acknowledged to be effective, is also allegedly seeing a rise in dubious dealings by officials of public and private enterprises. In nearly all government offices, it is now boldly written that visitors without face mask are not allowed to do businesses with them. Same for many private concerns like banks, telecoms, sales outlets, shopping malls, pharmacies and bakeries. Some officials of these business outfits have also allegedly gone rogue in enforcing the no-face mask, no-entry regulation. Apart from security personnel of banks and other offices where the elite of the state usually transact daily business, turning the social distancing enforcement to an opportunity for extortion by allowing in ahead of others those who can grease their palms, some public offices are now said to be into face mask rental business for desperate clients without face mask.
For example, a couple claimed they were at the Ikoyi office of the Nigerian Immigration Service (NIS) to collect passport only to discover another applicant who was done at the office return his face mask to some officers who had a mini basket containing several face masks with them. The husband, who told the story on Twitter, said the returned face mask was simply thrown into the basket without any medical treatment and it was discovered that the NIS officials were renting the item out at the rate of N1,500 per applicant and couldn't be bothered about decontaminating the used ones before reissuing them to others. The allegation generated uproar on social media.
Saturday Tribune got across to the national spokesperson of the NIS, Mr Sunday James, on Thursday morning. He denied the development, saying that the Ikoyi office is the model centre for the service. He described the couple who raised the allegation as liars, wondering why applicants without face masks would rent one for N1,500 when there were mask vendors around selling at N100. The story, according to him, is in the imagination of the tellers.
Not reliable?
Speaking on the reliability of fabric-based face masks, Dr Olatayo Mahmud of the Police College Hospital, Ikeja, said it was not absolutely dependable but it was compulsory to be used so as not to spread the virus.
He said: "If we look at it from the perspective of the size of the virus, face mask is not 100 per cent dependable. But it is better to use it as a protector, especially when one sneezes or coughs, so as not to infect the people around us. Face mask can only serve as a preventive measure; it cannot prevent the virus because the virus is so minute that an individual can easily be infected. Therefore, if a face mask is used, it is should be discarded immediately, whether you are in an infected environment or not. It is not to be reused but with the tense economic situation in the country, many people prefer to wash and reuse whereas in the process of removing it to wash, the virus can be contracted."
Nigerians will develop better ideas post-COVID-19  –Clinical psychologist
A clinical psychologist and entrepreneur, Ganiyat Olokodana, also opined that human activities during the lockdown are driven by the will to survive the global health emergency and this, according to her, explains the rush into the production and sales of face masks.
While expressing confidence in the ability of Nigerians to cope in the post-COVID-19 challenges, she warned: "It looks like a good business idea but we also have to be careful because COVID-19 is a very contagious disease. So, whoever has decided to go into face mask production has to be very careful so that in the process of producing the face masks, they don't contaminate them. Also, people that buy these face masks need to be extra careful so as not to eventually expose themselves to the coronavirus and other infectious diseases. They need to wash and disinfect them before they start using them.
"To me, the psychological impact of the virus remains the same. It is the same impact it has on many people whose businesses are adversely affected by the lockdown. Many businesses sprang up because of the inability of some businesses to cope with the harsh realities of the pandemic. So, in the same vein, people should be prepared psychologically for the time the COVID-19 will be over, when vaccine will have been developed, when people will return to their normal daily activities. They should return to their former businesses that were not encouraged due to COVID-19. Business is always a cycle, particularly for people in this part of the world. Nigerians are very resilient people. We will move up to other things and even develop better ideas. The new normal has changed. So, the same thing will happen when the COVID-19 and the lockdown are over. People will move on and adapt to changes and invest their time in other things.
I wouldn't say COVID-19 is all about the government making profit because I am not in the government circle. But what I can readily say is that it is all about survival. So, whatever amount the government has to spend to guarantee the health of the nation is welcome. This is not an ordinary disease. Although malaria kills more people, coronavirus is not like malaria because death from COVID-19 is much faster. So, whatever amount the government is spending or claim to have spent can't really be disputed. But we need to remind them that if you are put in a position of trust and you use that to enrich yourself… Well, we know that Nigerians are very spiritual people. We can always ask God to deal with such a person. At a time like this, we cannot continue to query how much people are spending because people are going through a lot."
In its daily advocacy to Nigerians, the Nigeria Centre for Disease Control (NCDC) says: "Wearing a mask alone cannot prevent COVID-19. In addition to mask, wash hands frequently, stay two meters away from others and disinfect commonly-touched surfaces. A face mask can spread disease if not handled properly. Take responsibility. Wash your hands before and after wearing. Do not share and always wash before reusing."
We paid N50,000 bribe –Construction workers
At a construction site located on Abule-Nla Road, west of Lagos Mainland Local Government Area of the state, construction workers scampered to safety when a team of armed men from a police station (name witheld) stormed the site to arrest workers who failed to wear face masks and practise social distancing on the site. The policemen arrested four of the 20 construction workers, while the rest fled.
"I had thought they violated the state's building codes," a resident murmured as he queried the right of the policemen to arrest violators of the social distancing rule.
One of the workers explained what later transpired between the site engineer and the policemen at the police station. He said: "When the policemen suddenly appeared at the site, I thought we had contravened the state building law. But I was surprised when I heard what our offences were. They said they were at the site to arrest us for not wearing face masks and not adhering to the social distancing rule. They took four of us to their station. When the site engineer, Mr Lukman Animashaun, arrived at the site, he sent one of the workers to the station to bail his arrested colleagues but the officer he met said he wanted the engineer to come personally to bail the culprits. Later that day, the engineer went to the station and they collected the sum of N50, 000 from him before the arrested workers could be released."
Speaking on the development, Olokodana said "Personally, I went on lockdown even before the Lagos State government pronounced it officially. I have been on lockdown since March 20. I haven't stepped beyond the bus stop of my home. Fortunately for me, I have both my home and business in the same vicinity. Therefore, I have not experienced either extortion or harassment by the policemen or LASTMA officials for failure to use face mask. But I have heard such stories from my colleagues that some unscrupulous policemen extort them for not using face masks. I know it happens but I have not experienced it. But many Nigerians allow themselves to be exploited. Why do they have to disobey the laws? Once they do, they know to rub the palms of these policemen to get off the hook. It is a two-way thing. Both the agencies that are in charge of maintaining law and order and the bad eggs among the citizens would always make things go wrong. We know there are decent police personnel but we cannot pretend that such things don't happen in our environment."
Police have right to enforce COVID-19 protocols but… –Spokesman
Meanwhile, spokesperson of the Lagos State police command, Bala Elkana, said police personnel in the State have a responsibility to enforce all laws relating to the COVID-19 pandemic. Elkana, during a telephone interview with Saturday Tribune, also stated that the allegation of extortion of construction workers by men from the named station would be investigated if formally reported by victims of the purported extortion.
He said: "The laws relating to guidelines on prevention of the spread of the COVID-19 are to be enforced by agents of the law. And since police officers are agents of law, they are meant to enforce these laws as passed by the federal and state governments. The laws, as passed by the government, must be obeyed. The allegation of extortion of construction workers by our men for not complying with the social distancing rule and not wearing face masks should be forwarded by victims for proper investigation. This is an allegation and I can assure you that once they come up with it, we will investigate it."
'We made money'
Face mask production, for a tailor and chief executive of O.J. Clothing, Ojo Murtala, is a very lucrative business which requires little investment in material and yields huge returns. According to him, the early weeks of the coronavirus pandemic saw him sell a face mask for N500 but this was later reduced as many people later went into its production.
He said: "In the first few weeks of the COVID-19, I sold a face mask for N500. But in subsequent weeks, the price was reduced to between N300 and N250. For me, it was profit all through because I made use of leftover fabrics from the cloth I sewed for customers. However, while some of my customers began to price down the face mask, others felt it should be given to them free. This is the point I stopped its production because it is time-consuming. But face mask production is profitable and it has created ad-hoc employment for many young and old Nigerians, even tailors who had not been enjoying much patronage. I know of a colleague that was contracted to sew 200 face masks at N200 each. He made a profit of almost N30,000 in a short time. Although it is temporary, it serves the economic needs of the people, particularly tailors, during the lockdown."
Since the beginning of the lockdown, a trader in grocery items at Ikotun market, Essien Agiri, engaged in the sales of face masks and hand sanitiser at the bus station to augment her income which was halted by the restriction imposed on trading activities in the state. She sells a face mask for N100, and at the end of the day, according to her, she makes a profit of between N300 and N500 per day. She said: "My daily profit margin varies, depending on my daily sales. If in a day, I sold 15 face masks, my profit is N500 for that day but it is not every day I record such a huge sale. At times, I hardly sell two face masks. But regardless of the sales, the profit from my face mask business has been immense help in feeding my children since markets are shut across the state."
We didn't get govt contract –FADAN president
Viewed from the eyes of Ojo and Essien, the coronavirus pandemic is driven by profit-making concerns for daily survival. But this is not the case for the Fashion Designers Association of Nigeria (FADAN) whose members, according to its national president, Kola Qudus, are yet to benefit from the state government face-mask project.
Speaking to Saturday Tribune on telephone on the impacts of the business of face mask and how it has benefited FADAN members, he said major face mask contracts are from the government but none of the contracts got to his members. He alleged that government gives the face mask contracts to allies to execute. He said: "I don't want to sound discouraging but the truth is that the face mask production business is not a profitable one. The face mask business could be likened to sales of sachet water, the profit margin of which depends on the volume of bags sold. For you to make reasonable profit on face mask production, you must have made large volume but there is a huge barrier to making a large number of face masks: it is an all-comer's affair.
"Everybody is now producing face masks. It is not really what a professional can boldly say he is involved in. The only people that make money from face mask production are those that get government contract to mass-produce it. The highest you can make on facemask is N100 or N200. Therefore, for you to make N10,00 profit, you must have sold 5,000 face masks, which is not an easy task. As I speak, people sell face mask by the roadside for between N50 and N100 and in rare situation N200 per face mask. If the cost of producing one face mask is N300 then how do you intend to profit from such production?
"It is a profitable venture. Only those that get government contract to sew a large volume are the ones making profit from it. The government knows about FADAN but they are not interested in us. It is about who you know. They even contract it to those that know nothing about fashion. Instead of the government giving out contracts involving the production of about 300,000 masks to one person, they could have reached out to FADAN. These are dire times when everybody is looking for ways to survive. If 5,000 face masks are given to each member to produce, it will affect more lives positively than giving N150 million face mask contract to one person. Lagos State government is a smart government, if they want to reach out to the sectoral leaders of FADAN, they know how to do that but that is not their plan."
YOU SHOULD NOT MISS THESE HEADLINES FROM NIGERIAN TRIBUNE
Buy and read digital replicas of your TRIBUNE titles by subscribing through E-VENDING
BREAKING: No Fresh Probe Of Adesina ―AfDB Board Rules
The Bureau of the Board of Governors of African Development Bank (AfDB) on Thursday foreclosed the possibility of reopening the probe of the bank's President, Dr Akinwumi Adesina. At a meeting, the body declared that an independent investigation was not required as demanded the United States of America… Read full story
NCDC Releases New Guidelines On COVID-19 Patients' Treatment, Discharge
The Nigeria Centre for Disease Control (NCDC) on Thursday announced a new case management guidelines for the treatment and discharge of COVID-19 pandemic patients. Its Director-General, Dr Chikwe Ihekweazu, made this known at the Presidential Task Force on COVID-19 (PTF) media briefing in Abuja… Read full story
UN Puts Nigeria's Electricity Access Rate At 57%
No fewer than 110.7 million Nigerians out of a 195.8 million estimated population had access to electricity as of 2018, according to the latest global energy progress report. This represents a 57 per cent national electricity access rate compared with the global average of 90 per cent, says the report launched at the… Read full story
Akinwumi Adesina And AfDB
AFTER the Ethics Committee of the African Development Bank (AfDB) had returned a 'not guilty' verdict on the bank's president, Dr. Akinwumi Adesina, who had been accused by a group of whistleblowers of approving certain appointments and contracts that were in breach of the financial institution's statutory and… Read full story
COVID-19: Nigeria Records 350 New Cases, Total Now 11,516
The Nigeria Centre for Disease Control (NCDC) has confirmed 350 new cases of COVID-19 in the country, bringing the total number of confirmed cases to 11,516. The centre disclosed this on Tuesday night via its… Read full story
COVID-19: African Nations Get $9.8bn As IMF Supports 66 Countries With $23bn
The International Monetary Fund (IMF) has provided over $23 billion in emergency financial assistance and debt relief to 66 member countries facing the economic impact of the coronavirus pandemic. According to information sourced from IMF's website on Thursday, sub-Saharan Africa got the highest support of $9.81 billion… Read full story
Osun Relaxes Curfew, Now 9pm To 5am
The governor of Osun State, Mr Adegboyega Oyetola, on Thursday, announced a new set of guidelines that would guide the second phase of the gradual reopening of the state's economy, following the lockdown imposed by the government in the wake of the COVID-19 pandemic… Read full story
COVID-19: Nigeria Experiencing Steady Rise In Maternal, Child Mortality ― PTF
The Presidential Task Force (PTF) on COVID-19, on Thursday, lamented that the country is experiencing a steady rise in maternal and child mortality as a result of disrupted essential services, due to the COVID-19 pandemic… Read full story
Through Facebook, Three Brothers Kidnap, Murder 55-Yr-Old Mother Of Five Children
Three brothers of one Emmanuel family, Johnson, Gideon and Success, have been arrested by the police for the kidnap and murder of one Mrs Janet Ogbonnaya. One of the three brothers, Johnson Emmanuel, had lured the woman, a mother of five children, via Facebook from her Gwagwalada home where they allegedly… Read full story
Police Give Account Of How 21 People Were Killed In 2 LGs In Zamfara
Zamfara State police command has said 21 people were killed in attacks carried out in two local government areas of the state. This was contained in a statement signed by the police image-maker… Read full story