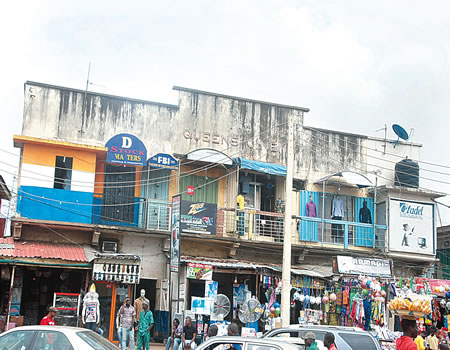 KINGSLEY ALUMONA reports that the cinema industry in the country has come full circle having resurrected from years of being in a limbo, noting that the new cinemas are a great departure from the past and could achieve unparalleled success only if they could stay the course.
The story of cinemas in Nigeria is that of rising and falling and then rising again. Its history and development could generally be classified into four major eras: the colonial era, the golden age era, the home video era and the new emerging cinemas.
During the colonial era, mobile cinemas were the only means of movie exhibition. The earliest feature film made in Nigeria was Palaver, produced by Geoffrey Barkas in 1926. Other notable films produced in this era were Sander of the River (1935), The Man from Morocco (1945) and Men of Two Worlds (1946). As of this time, many of the cinema houses were located in Lagos. They included Rex, Regal, Royal, Capital, Casino, Kings, Central, Odeon, Corona, among others. Some of them had branches in some parts of the country. The cinemas did not only exhibit full length movies, but also showed short documentaries depicting celebrations and colonial achievements.
The golden age era was between the late 50s to late 80s, which marked the rapid expansion of cinema business in Nigeria. With this era came the influx of Indian, Chinese, American and Japanese movies. The posters of these foreign movies, whose main actors were very popular, littered the walls of buildings and cinemas. At this period also, Nigerian movies, producers and actors were gradually gaining relevance, especially in western Nigeria, where theatre and movie practitioners such as Moses Olaiya Adejumo, Jab Adu, Ladi Ladebo, Hubert Ogunde, Sadiq Balewa, Isola Ogunsola held sway.
The home video era was the period between the early 80s and mid-2010s. Though it was novel then but it spelled doom for the cinemas as the possibility of watching movies in the comfort of their homes gradually kept movie fans away. That period also launched into being what was later to become known as Nollywood, Nigeria's home-grown movie industry with its own practitioners and ingenuity without government support. Evil Encounter (1980) is believed to be the first film released directly for a television audience, while Living in Bondage (1992) marked the dawn of the home video era in the country. By early 2000s, at least five movies were produced every day in Nigeria. At the peak of the era, around 2006 to 2008, Nigeria prided itself as the third largest movie industry in the world with almost 200 movies released every month. Unfortunately, this era experienced the rise and height of piracy, with the Alaba cartels as major culprits.
The transformation
Today most of the cinemas had been renamed having been transformed into ware-houses, shopping plazas, malls and churches. In Sabo area of Ibadan, the building housing the old Scala Cinema had been demolished and replaced with a one-storey mall now known as Fatshed Shopping complex.
Babagana Ubawa, who now runs a bureau de change business in the building did not know much of its history but could only offer an explanation. "I think they closed because the business was not thriving like it used to be," he said.
The old Rex Cinema in Dugbe shares the same glorious past with other cinemas but it is now a one storey shopping complex known as Oba Oluyole House.
"Then, they usually show two movies in a day, from 6 p.m. to 10 p.m. They showed mostly Indian, Chinese, American and some Yoruba movies," said Adewole Nasir, who owns a shop next to the building.
Queen's Cinema also in Dugbe area was so popular that it gave the entire community where it is located its name till today. Like others, it has been transformed but its name is still clearly visible on the one-story building that housed it, which is now a shopping complex.
Longinus Augustine, who owns a shop in the complex, spoke passionately about the defunct cinema which used to be a beehive back then.
"It was the first cinema of its kind where children went to have fun. Then, they used projectors, not television sets. I loved the cinema culture. I am happy some of them are gradually coming back again," he said.
Other cinemas have not remained the same. Odeon Cinema at Oke-Ado area of the city is now a church called Power Cathedral, a church under Word Communication Ministries (WOCOM) led by Apostle Sunday Popoola.
KS Motel, at Total Garden, which had an equally popular cinema then scrapped it decades ago and replaced it with event halls. Alawada Cinema at Yemetu is currently nothing to write home about. Tabantari Cinema at Elekuro is also a shadow of itself just as Cinema de Baba Sala at Agbowo and other smaller cinemas.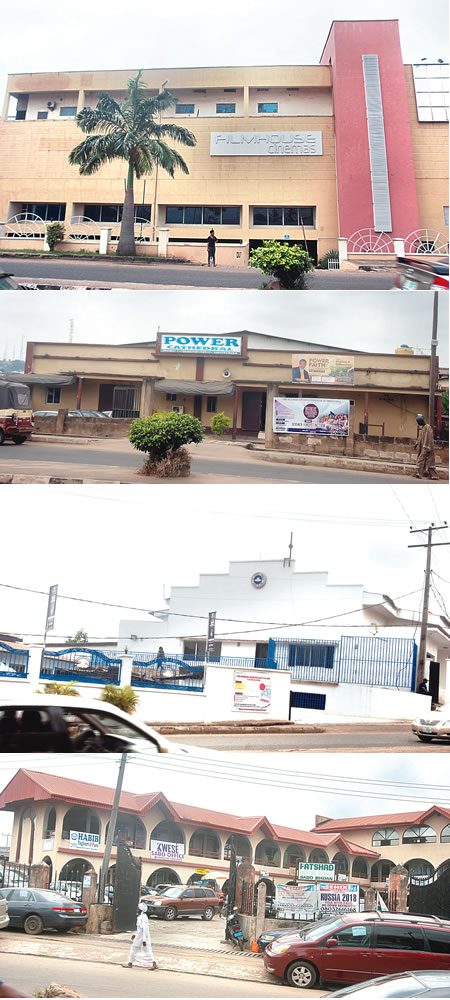 Why they closed shop
Sunday Tribune investigation discovered that one of the reasons the old cinemas died was bad government, including military dictatorship. During the military era, a lot of actors, film producers and cinema operators were haunted, barred and even jailed.
"The military saw the creative artiste as a potential catalyst for change, one that needs to be watched and, if possible put in chains," Laolu Ogunniyi, a movie producer, who used to watch movies in the old KS Motel Cinema, said.
The economy was also culpable. In the mid-90s, due to a weak naira, vital funding, logistics and equipment that require foreign exchange to procure were hampered. This also affected distribution, maintenance of standard film studios, advertising and remuneration for actors. Even the cinema-goers found it difficult to purchase tickets. All these made it difficult to produce quality movies and to effectively run the cinemas.
"Then, we use to shoot on celluloid," said popular actor Prince Jide Kosoko, noting that "For celluloid, post-production cannot be done here. It has to be taken abroad. Also the filmmakers then would take a film to the cinema on a weekend, say, Friday to Sunday. By Monday, the film is out in the market, selling on videos. Naturally, people resented it, and rather than go to the cinemas, waited for the film to be released and bought it at cheaper rate instead.
A movie producer and an active player in the nation's movie industry for decades, Tunde Kelani praised the high level of professionalism in the industry at that time, noting that it contributed to that glorious era
"The level of professionalism in the creative industry was staggering. We had a sense of belonging. Nobody was in it for the money alone," he said.
The new era
This era began in 2004 when Ben Bruce, through his Silverbird Group, took a bold step to set up the Silverbird Gallery that houses a cinema facility in Victoria Island, Lagos. With the success recorded by Silverbird, other potential investors then saw the socio-economic benefits of modern cinemas and embraced the business. This led to the establishment of more contemporary cinema houses like Genesis, Ozone, Filmhouse, Viva, among others, with branches in major cities in the country. Consequently, the increase in these cinema houses led to competition and better client services.
The locations of these modern cinemas are not only strategic, but also inviting. Many of them are located in mega malls in major towns and cities. The activities and relationship between the cinemas and the other businesses in the malls are mutually dependent. For instance, someone who goes to eat in a restaurant in a mall or shop for other items may be tempted to watch a movie, or at least, know the trending movies in the cinema world.
"There is a symbiotic relationship between the other shops in a mall and the cinema," said Desmond Wasiu, a manger of a cinema in Cocoa mall Dugbe, Ibadan. Continuing he said: "Many people who patronise the malls end up watching a movie. Sometimes, people who come just to watch movies in a cinema buy one or two things from the malls," he said.
Modern cinemas have a structure that guards their operations. They do not show any movie at any time. They do not work in isolation. They collaborate with distributors, which are registered independent film-booking and distribution companies, to fix a time and day that is suitable to show a movie. Then, one would wonder: Among the thousands of movies produced every month in the world, how do these cinemas know the right one to show?
Osita Obiokonji, the branch manager of Filmhouse in Dugbe, Ibadan, made this simple. "We know the movies that are generally trending, that people would like to watch. Location and culture play a major role too. For example general Nollywood movies could be shown in all cinemas irrespective of location. But you cannot show a Yoruba movie in Hausa land, or a Hausa movie in Igbo land," he said.
The box office sections of modern cinemas are interesting places to behold. Specially designed with flat-scream television sets that advertise upcoming movies, and areas where mouth-watering refreshment like soft drinks and eye-catching snacks are sold, one would wonder if this is just a place where tickets are being purchased. Some cinemas may decade to have their ticket and their refreshment sections in one place. Others prefer them at different place not far from each other.
For most cinemas, the ticket prices depend on a lot of things such as the time of the week—weekdays or weekends; holiday periods for underage children, teenagers or adults; and the type of movie – ordinary or blockbusters. The general ticket price ranges from N500 to N2000, depending on the cinema. Again, depending on the cinema, the ticket price may come with come complimentary refreshments like popcorn and soft drinks.
Perhaps, the major difference between the old and the modern cinemas is the innovation and technology that are sustaining the modern ones. It is also almost impossible to keep up with the state-of-the-arts tools these modern cinemas boast of. The exotic seats, IMAX screens, classic audio-visual effects, colourful lights, and air-conditioned viewing rooms could take a first-timer's breath away. With all these, and more, movie watching could not be more exciting and memorable.
One could easily mistake the relaxation area of a modern cinema – with its leather couches or plastic seats and enticing bright lights arranged in an alluring manner – for a lounge. In this section, family and friends could chat and eat while waiting for the movie they have come to watch. However, some cinemas allow only the refreshments bought in their cinemas to be eaten in their relaxation areas or taken into their viewing rooms.
Adverting is critical to the survival of modern cinemas. Movie synopses on fliers or handbills displayed at some strategic points in a cinema house are not enough for publicity. For adequate promotion of the cinema and the movies, many communication channels are needed.
Despite the increase in cinema halls in Nigeria, the cinema-viewing culture is still not encouraging. Patronage is still relatively low. A lot of things may be responsible for this. The high level of illiteracy and poor economy has a role to play. Many people believe that the cinema is only for the rich and the elite. Others perceive it as a waste of time and money. A greater percentage of the movie enthusiasts prefer to download films from the internet or buy a CD and watch in their homes.
On a positive note, cinemas, to a great extent, contribute positively to the economy. They create both direct and indirect jobs. More importantly, they help to checkmate the danger of piracy.
There is no doubt that modern cinemas have come to stay. In many ways, with their technology and innovation, they have recorded some level of success. However, just like other businesses, they have their own unique challenges.
Moses Babatope, a film producer and the CEO of FilmOne, a chain of cinemas, summarised some of the major challenges in cinema and film distribution business.
"It ranges from low skill-base in cinema exhibition and film distribution to cost of marketing and advertising, access to data, cinema-going culture, limited screens and locations, piracy, censorship, lack of enough quality content, lack of government support for the sector and absence of lobby group to protect the interest of distributors and influence legislation," he said.
While the cinema culture had endured and grown over the years in other countries, the one in Nigeria was dead but is just experiencing a rebound. The country's movie industry popularly known as Nollywood is said to be third largest in the world, behind Hollywood (United States) and Bollywood (India). However, while statistics of cinema screens across the world shows that Nigeria, with almost 200 million people, probably has 200 screens with majority of them in Lagos, Port Harcourt, Abuja and Ibadan, it is a far cry from the US with about 40,000 screens and India with about 13,000.
The sustainability of this new breakthrough is, however, dependent on several factors and development in the country as it was before the collapse in the 80s. As they say, those who fail to learn from past mistakes are likely to repeat it; one only hopes that this would not be Nigeria's fate in the years to come.