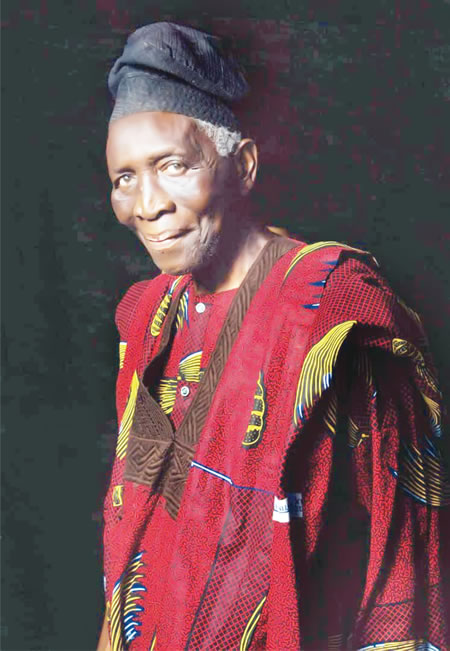 Reverend John Adegoke Okesiji, retired as a pastor of the Baptist Church in Nigeria. In this interview with SEYI SOKOYA, the astute church administrator, who turned 90 yesterday, speaks on how the Baptist church was founded and other issues. Excerpts:
It is on record that you played a major role in the development of the Baptist Church in Nigeria. Could you recall some of the roles you played?
I thank God for the opportunity and grace to be part of the history and development of the Baptist Church in Nigeria and the fact that we are still seen as one of the advisors of the church till date. I served in various capacities as a pastor. I recalled that the church, as a body, used to have a convention every year, but at a point it was split to regions. So, in order to set up the Western States convention, I was appointed the chairman of the Western States Baptist Conference in 1971. I was later appointed on the school's board in 1972 in Ibadan. I moved round Ijebu, Abeokuta, Ekiti and Ondo and it was successful. I presided over the first inaugural meeting. I was part of the executives too and we managed the affairs of the convention for six years. I was also the secretary of the Western states of the convention for eight years during the military era of Muritala Muhammed. I stepped down for some time and was later re-appointed as the chairman until Osun State was created in 1991, but Osun said they were leaving in 1993 and they are qualified to go. I was still made the chairman of the Oyo East Baptist Conference for eight years. So, today each state such as Ogun, Ekiti, Ondo and Osun have their own conferences. While that Oyo East, where I was made the chairman, has become Ogbomoso, Oke Ogun Oyo and Ibadan conferences. Honestly, it is my joy that these conferences started from the small thing I did in 1972. I was also given the responsibility as the chairman to see the possibility of improving on the seminary school, now known as the Baptist College of Theology and I thank God for the success the committee recorded over the task. I am delighted that it has become a big school to the extent that it is now offering a degree. A few months back, I was named after one of the buildings as a recognition of my contribution towards the development of the school. I was ordained at Isokun as a Reverend and the last church I was posted to as a presiding pastor was Oke-Elerin Baptist Church, Ogbomoso and I was there for 31 years. Above all, I retired at Ogbomoso in 1998 after 44 years of service.
With your wide experience in the ministry, why do you think the Baptist church is more deeprooted in the western part of the country?
The first missionary, Thomas Bowen, was sent to Nigeria in 1850; he waited a little in Liberia before he eventually came to Nigeria. He came in through Badagry. Around that time, the Idaomi was at war with Abeokuta. Meanwhile, the missionary was an ex-solider-turned- a cleric. So, when he got to Abeokuta he was received by the Anglican and Methodist churches. Though his destination was Igboho, as a result of his war experience, he was an adviser to Abeokuta to ensure defeat the Idaomis. He later proceeded to his main destination in 1852. According to history, when he got to Oke-Iho, the then Aare-Onakakanfo solocited his assistance having heard that he helped the Abeokuta to defeat Idaomi. So, he sought his assistance to save Ijaiye from Ibadan and that was where Baptist started in Nigeria. He was there for a while before he moved to Ilorin, where he was rejected but was received by Ogbomoso. This is why Ogbomoso seems to be our centre in Nigeria. The Baptist Church started in 1858 in the land and the church in Isokun was the first Baptist Church. Foreigners were pastors of the church from 1858 to 1909. From 1909 when the Alaafin sent away all missionaries; the indigenes became the presiding pastors of the church. The first Black pastor spent 27 years and another Black took over and retired in December 1963. I took over as the third Black pastor of the church. Bowen started in Isokun and I served for 31 years. His effort in the establishment and the development of the Baptist Church was one of the major reasons  the church's university was named after him.
You have been around since the colonial days, given your age. What is your imppression about the state of affairs, especially in the Christendom today?
I was mature before we gained independence and I know how life was then. In fact, I started teaching in 1948 at the 21. I was in Fiditi with my wife when Nigeria gained independence. There is no one that witnessed that period then that would not be sad with the situation of things now. Nigeria hold a lot of promises then because God has been very good to us as country. We are rich in almost everything, but we waste all our benefits. This is why we are not developing as a country. I have been privileged to travel abroad; I saw how America was. I also had the privilege to be appointed into the government boards of the then Western State twice; I was part of the state schools' abroad for three years. Five of us were appointed into the borad  and we managed all secondary schools and teachers' training colleges. In 1994, I was appointed into the Christian Pilgrims Welfare Board for three years. I knew how things were then. God really loves this country. We should blame ourselves as a people for the sorry state we are today.  The church where we spent virtually all our life is not what it used to be again. Things have has gone bad. It is  painful that all these things are happening, but we are trusting God for a divine restoration.
Are you saying you are not satisfied with the state of affairs even in the church now?
Before now, there were different Christiangroups in Nigeria. The Roman Catholic stood separately; we had the Christian Council of Nigeria, which constituted Anglican, Methodist, Baptist, Salvation Army and Presbyterian. We also had the African Instituted Churches. This comprised the Christ Apostolic Church; The Apostolic Church, Cherubim and Seraphim Church.  But in 1980, during the tenure of Second Republic, President, Alhaji Shehu Shagari, the Christian bodies went separately to the government for almost similar things. Shagari was the one that challenged the Christian body to come together as a voice; so, that was how the Christian Association of Nigeria (CAN), was formed. However, it is unfortunate that CAN has polluted the Baptist Church doctrines and that of other churches in many ways, but I am more concerned about the Baptist Church. Our mode of prayers and worship has changed. The Bible teaches us that we should always end our prayers in the name of Christ and if the things we requested for are according to the will of God, He will surely answer our prayers. All human beings seek the face of God for many things, but God, who knows everything, may not grant our request because it might harm us at that particular time. The Baptist Church believes in quiet doctrine and not shouting on God. Our songs are now different from what they used to be. It is uncalled for. It is painful that all we did then are beingd upturned even in our lifetime. I pray that we go back to our root before it is too late.
You just clocked 90, yet you remain agile. What is the secret?
I am grateful to God that I clocked 90. I thank Him for everyone that He surrounds me with: my darling wife, children and grandchildren. I came across a quote in one of the books I read, which states: "Give me a befitting living, instead of a befitting burial." So, my entire family is giving me a befitting living; they take care of me; they never allowed me to have a troubled heart. Personally, I am not slack, even at old age. I once trekked twice from Okeho to Oyo; it is about 25 miles. At a time, I ran away from home where I had to trek from Ago-Are to Ofiki and on the same day, I walked from Ofiki to Oyo. I engaged in several athletics, such as running and high jump. I also played football as a youth; I was the captain of my school's team and it still amazes people that I still walk around even at 90. Now, I do little physical exercise every morning and all through my ministry, there has not been times I didn't do exercise. There was also a time I bought a gun to hunt animals for my wife to cook.
What is your most unforgettable experience in life so far?
My experience in life is not different from what anyone could pass through (in life). I had the time of joy, as well as the time of trouble. For instance, I am the only child my mother had for my father. In order to please the other wife, I had to wait till my younger one was old enough to go to school before I could be enrolled in school. So, I started school at 12. In fact, I was more than mature before I could go to school. Another thing was that I was made to live with different people. Initially, I thought I was being hated, but at the end of the day, I realised that it was a way to train me and I was loved by all the people I lived with then. My greatest joy in life is that I got married to someone I love so much; we are from the same church and state.We understand each other very well. All these things make a enjoyful and peaceful life. I also realise that God favours me; I always record a remarkable achievement in whatever I lay my hands on. I make a good mark in whatever project I embark or wherever I have worked, and we are still reaping the benefits till today.
At what point did you receive calling?
I think it was through the help of God. It was when I was to proceed on my education. I was rejected at school because I was considered too old. In fact, I was told at the point of entry that it was a boys' school and not for men. So, I had to teach for some time and along the line, I fell in love with the ministry work. Aside the fact that my father was also a cleric, I went to a theological school, the Baptist Seminary. I was fortunate to be among those that were given scholarship and as God would have it, I was posted to the Baptist Boys' High School, now Olivet, where I was once rejected. My scholarship was extended to the seminary. In fact, my wife also benefited from it too. We were both tutored on pastoral work the second time I went to the seminary.