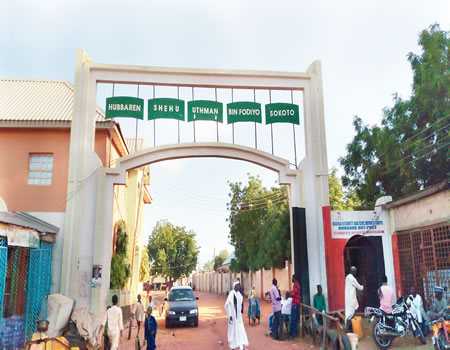 The tomb of Uthman dan Fodiyo, founder of the Sokoto caliphate alongside those of his family members, disciples and other sultans, is today a centre of attraction mostly for the Fulani, researchers and tourists generally from around the country and the sub-region, writes OLAKUNLE MARUF.
At this time of the year, millions of Muslims are currently in Saudi Arabia  to perform the annual Hajj ceremonies. However, in an inauspicious place in Sokoto scholars, tourists, special envoys, historians and others pay visit on a daily basis to 'Hubbare', the tomb of foremost Islamic Jihadist, Sheikh Uthman dan Fodiyo. For some, the visit to the tomb is spiritual in nature – to offer prayers for solutions to diverse personal issues.
Hubbare is derived from the Fulfude (language of the Fulani) word 'Hubbe' which means 'a grave' where the remains of every Muslim is finally laid to rest after the funeral rites. The Hubbare in Sokoto has been in existence since 1817, the year dan Fodiyo died. It also houses the tombs of some of dan Fodiyo's family members, disciples, contemporaries and companions.
The Hubbare, located in the middle of the town along Old Market area, not too far from the palace of the Sultan of Sokoto, also houses the graves of some past sultans of the town.
It may look like an ordinary graveyard, but to many people it a sacred place. From Kaduna to Katsina, Kano, Adamawa, Yobe, Kebbi, Zamfara, Niger and some neighbouring African countries, people often gather on a daily basis for different reasons.
The tomb is located in what used to be dan Fodiyo's personal residence, a spacious enclave consisting of the main tomb – a small room decorated and covered with a black cloth with Arabic calligraphy on it and others belonging to his two sons – Hassan Dan Shehu and Muhammad Sambo.
The Hubbare has hundreds of graves within the premises, including those of seven past sultans of the Sokoto caliphate who reigned at different periods. The list of other sultans whose graves are in the Hubbare includes Sultan Muhammadu Maiturare, Sultan Ahmadu Rufai, Sultan Attahiru ll, Sultan Hassan Dan Muazu, Sultan Abubakar Sadiq lll as well as Sultan Muhammadu Maccido, who died in the ill-fated  ADC plane crash in Abuja in 2006.
Among the tombs of the sultans, only that of Sultan Maccido is isolated from the rest and close to the graves of Dan Fodiyo's wives – Gabdo, Jimmu, Shaturu and Hauwa'u. Visitors are also allowed to enter this room.
When Sunday Tribune visited the Hubbare, it was a hive, as numerous visitors from both within and outside the state, including neighbouring countries, were seen engaging in different activities. It was gathered that most visitors who come to the Hubbare to offer special prayers believe that any prayer offered within the vicinity would be answered.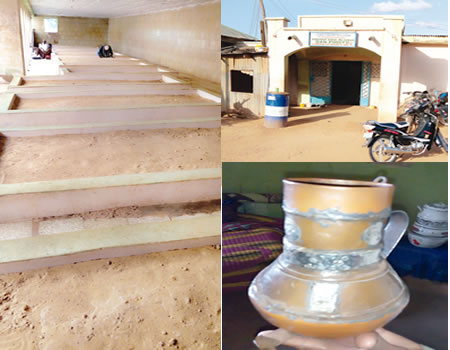 Sunday Tribune  also observed that there were many underprivileged people within the Hubbare who collect alms from visitors. Unlike other beggars elsewhere in the town, alms given here are deeply appreciated.
Situated inside the same compound is a Quranic school where Sheikh dan Fodiyo taught his students from far and near during his lifetime. Preserved alongside other artefacts is a traditional cup called "Shantalin Shehu" which dan Fodiyo used in drinking water.
Visitors seeking special blessings would pour water inside the cup to drink, with the belief that they would be healed, blessed and their problems solved.
It is on record that close to a thousand people visit dan Fodiyo's tomb daily apart from Thursdays and Fridays which attract far more visitors than other days. The door to the Habbare is open from 6.00a.m am till around 10.00 p.m daily, including Saturdays and Sundays, while admission to the compound is free
Mallam Isah Abubakar, the guide of the historical sacred compound, while speaking to Sunday Tribune confirmed that Europeans and Americans also visit the tomb for research and tourism from time to time. He also confirmed that as many as 1000 people visit on a daily basis from within and outside country and beyond.
According to Abubakar, the Fulani visit the Habbare more than any other ethnic group in the country. Some of the Fulani visitors are from neighbouring countries like Chad Republic, Mali, Cameroun, Niger, Senegal and others. Most of them, after visiting the tomb, would proceed to Minanata area of Sokoto metropolis where a well dug by dan Fodiyo is located, to drink the water. Others would go to Wurno Local Government or Gwandu in Kebbi for similar purposes.
One of the visitors to the tomb, Mallam Muhammadu Bello from Gombe State, told Sunday Tribune that he came with four friends to offer special prayers for their businesses.
"I visit here regularly to offer prayers concerning my business, and I always feel the impact of my prayers each time I come around," he explained.
Another visitor to the tomb, Sanusi Abubakar from Borno State, disclosed to Sunday Tribune that in his community, before anyone travels for Hajj in Saudi Arabia, such person must first visit dan Fodiyo's tomb to seek his blessings, for the pilgrimage to be accepted.
Abubakar, however, called on the Sokoto State government to explore the tourism potential of the Hubbare by turning it into a very big tourist centre where it could provide job opportunities to unemployed youths and also generate revenue.
Dan Fodiyo lived between the year 1754 and 1817. He is credited with the founding of the Sokoto caliphate in 1809 and was an Islamic teacher, writer, leader and jihadist. He was also a teacher at Maliki School of Islamic jurisprudence and a follower of Quadiriyyah order of Sufism. He lived in Gobir town until the year 1802, where he was motivated by a scholar, Sheikh Umar Jibril, who inspired him with reformist and revolutionary ideology, while under increased repression by local authorities. He later led his faithful into exile.
The exiled group later became a political and social revolutionary movement that spread from Gobir throughout northern Nigeria to Cameroun. He was said to have declined most of the pomp of rulership associated with a man of his status at that time. While developing contacts with religious reformists and Jihad leaders across Africa, he later passed the actual leadership of the Sokoto Caliphate to his son, Sultan Muhammadu Bello. Dan Fodiyo wrote more than 100 books in his lifetime, mainly on religion, Islamic government, society and culture
He developed a critique of existing African Muslim elite for what he saw as their greed, paganism, violation of the standards of Islamic sharia law, as well as heavy taxation on the people by the emirs of that period. He also encouraged literacy and scholarship, especially among women, while several of his daughters emerged as scholars and authors.
Till today, his writings have continued to be relevant, where millions of Muslims in the West Africa region consider him as an Islamic revolutionary and a divinely inspired reformer of Islamic ideals which has kept people trooping into his burial place on a continuous basis even after more than two centuries of his death.