Why I'm on a mission to make African commodities market more accessible, profitable — Ayodeji Balogun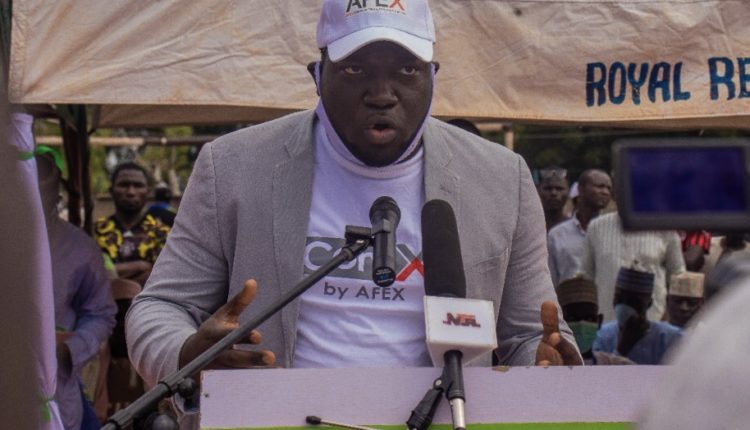 Ayodeji Balogun, the CEO of AFEX Commodities Exchange, is a commodity trader, farmer and entrepreneur. He speaks with NURUDEEN ALIMI on the challenges and opportunities in the African Agriculture commodities market, and how his company, AFEX, works to make the sector attractive and profitable:
Tell us about your entrepreneurship journey. What inspired you to venture into commodity trading?
I grew up in a family where business was a way of life. I have a very entrepreneurial mom. Interestingly, my dad was a plantation farmer. He had moved out of working for the government to setting up his plantation and being a part of that ecosystem was just a way of life for us. On the other side, we also had a business that was led by my mom. She started selling the farm produce and then grew into the business' larger parts, trading commodities and consumer goods. In my teenage years, I followed the trucks to the market to distribute vegetable oil and follow up with the marketers. When I think of trading and doing business, commoditiestrading wasn't something I learnt. It was something that was part of me growing up. It's been my second nature.
How has the Nigerian commodity sector evolved since you started ventured?
If you looked at my full involvement when I was 20 going to 25, I think the most significant part of selling was wheat flour, sugar, and rice. Our primary market was the baking sector. I remember the first 50kg bag of sugar I sold then was N1,320 per bag. Today it is over probably 10 to 12 times that price. So a few things have changed. Today, we refine almost all the sugar we consume. Unfortunately, we still import raw material, but at least there is value addition through processing within the country. Wheat flour has remained relatively the same. We still import the wheat we consume in the country; four to five metric tons annually; which is one of our food import bills' largest drivers. Looking at it on the business side of things, the business still has very slim margins; huge competition, heavy operations, high bank indebtedness for players because it is challenging to build and accumulate capital. The business also requires heavy logistics reliance for operations.
The players have changed, but the market has remained the same. When you think of commodity trading in the last set of 30/40/50 years, you think of Ido in Lagos, Oke Arin, Darlington in Lagos, and then you move up North Bodija in Ibadan, Agbin in Ijebu Ode has also been on the map for some time. Then you go up North further, Singa market in Kano and those are major markets that control most of the commodities: consumer goods, and trade flour within the country. The number of players has increased; it is a very heavy women reliant sector.The people that drive trade in the country are primarily women. It is one thing that shows the entrepreneurship, passion, and resilience that come with gender. African women are passionate and resilient to go through and operate despite all odds.
What is your prediction of the African commodity sector in the next five years, and what in your opinion needs to be done to make the industry more accessible to Nigerians?
It is difficult to look at the commodities space in five years, considering the significant shifts that should happen. I prefer to look at it from a 10 to 15-year horizon because you get a sense of how shifts are and what could happen. Few drivers will influence how commodity will be in Africa; One is AFCTA, the success, and its policies. Will AfCFTA be an African agenda or will it be a playing a script written by the West? In the next half-century, AfCFTA will be the next phenomenal thing to transform the continent. Still, we need to do it intelligently; Africa needs a common selfish agenda that it pushes forward. Secondly, I think one of the things I haven't seen or that has never happened previously is the best minds' involvement- the most talented, most educated,most exposed talents in the agricultural commodities space. It has never happened on the continent, and with this infusion of talent comes capital, and with capital comes growth. There will be a significant change over the next few years. I bet on talent transforming the way we do things over the next five to 10 years horizon.
In your opinion, how can a structured commodity market help unlock Africa's agricultural potential and what impact does the commodity sector have on the livelihood of smallholder farmers?
You see, at the start of the season, a producer knows the cost of all the things he needs to produce on his farm, he can estimate the cost but has zero control over prices. So there is a huge cloud of the unknown around revenue, and this influences how much is invested in production.
Additionally, a financier that wants to fund production will find it impossible to do so because there is no level of predictability or certainty around it. So it becomes difficultto get finance because it is challenging to demonstrate the capacity to pay back the loan.Both producers and financiers are, therefore, reluctant to invest adequately in such operations.
The capacity to reduce the volatility or the uncertainty or ensure a risk management framework around the produce, volume and the price will help develop the sector. It gives you the confidence to go and be 'bullish' about your investment. It helps whoever will come to finance you to have a level of certainty and stability needed to finance you and make you grow and expand. And that is what an organised commodity market does. There are several commodities market models with the most advanced and most futuristic being the commodities exchange. Primarily, this is because it brings a centralised structure that creates fairness and transparency around price discovery.
ALSO READ: 'Increased penetration of agricultural insurance will improve food production'
It also brings in the sanctity of contracts to ensure that you can buy and sell anonymously and get settled. When there are disputes, there is a structured manner on how to resolve them, and not only can you sell when you produce, you actually can sell from the point of when you are planting or planning to plant.
As the CEO of West Africa first private commodities exchange, how did you build a successful company in a short time, and how would you describe yourself? A commodity trader, farmer, or entrepreneur?
I think I am a commodity trader. (Laughs) It is something of self-identity. It is like when you have a footballer that even owns a football club; he will never describe himself as a football club owner, he will always describe himself as a footballer. I think trading commodities is that thing that I don't need to think about or prepare for. I go into a deal and negotiate, trade, and make calls. The journey has been a hard one. It is been challenging, and it came from a very resounding vision of our founding investors – Tony Elumelu, Nicholas Berggruen, and Jendayi Frazer. This was also supported from the beginning by Rwanda's Government, who sought to create an institution that unlocks capital for the continent and more precisely unlocks capital for the least served on the continent, the smallholder farmers.
Our smallholder farmers that produce the food we eat are the most financially excluded, most impoverished, most uneducated in the continent. It is a sad truth that we must confront and address. That was and is the vision.
The COVID-19 pandemic has disrupted a lot of sectors. What impact has it had on the commodity sector, and what do you recommend as the way forward?
You look at the current recession, GDP numbers, agriculture was one of the sectors that remained in growth levels while other sectors have fallen into recession. It was also true of the last recession we had about two to three years ago; agriculture retained over four per cent growth just because it is challenging for people to eat less than what they currently eat. That is just talking numbers and being an economist. But when you look at the pandemic's effect on the ways of life, a lot of people faced a loss. In the southern part of the country, you had the people who will grow their early crop around March/April/May and couldn't get to the farm.
You have people who produce cash crops like cocoa and palm oil that rely on Migrants labor, which was suddenly unavailable because the people who had gone on holidays haven't come back. In the North, it affected most people producing perishables like vegetables and the likes, that needed to go from the North to the South.
Luckily when it was time for the major production for the year which is around May/June/July, things had opened up. The economy was better off; however, we did have significant fertiliser flow challenges across the country. Fertiliser is a major raw material that affected farmers' productivity because fertiliser prices went up almost three times at the peak of the price. This affected a lot of farmers and a lot of people. So, we probably would have a reduction in our gross annual output from a food volume standpoint. We likely will have the effect of that come in late Q2, early Q3 of 2021, except we have stronger efforts to activate a dry season farming to cover up for those gaps. What COVID-19 did in our general food system or general business landscape is to exhibit the fragility and cracks within the entire value chain.                               
What advice do you have for anyone interested in investing in the Nigerian commodity sector?
The first rule of investment is knowledge. So, you have to know what you are doing and know what it is. As an investor, you have to understand the market's investment options, the risk indication of all of those options, and what protection you have as well as the risk-adjusted return of these investments. If you can't take the pains of finding that knowledge, then go through an investment advisor or a broker that can help you. That is a must for everybody. When you look at the value chain, the risk-return is probably most optimal around the post-harvest market and trading. When you go into processing, value addition, you get into the lack of power, inadequate infrastructure, huge CAPEX kind of risk, and investors have to understand the risks across geography and value chains.
What are your prediction(s) for 2021?
It is hard for anyone to predict what will happen in 2021. Generally, my philosophy is to obsess over five years, obsess over today, and live through everything in between. I spend a great deal of time thinking about the long term, and I spend a great deal of time worrying about today like this week at the longest and every other thing I stay present and take it as it comes. I think that is part of growing up and doing business early in a very volatile, unpredictable environment. You see that things will change and next month could be so different from this month, so why worry? I have a perpetual belief that things will be difficult when it then comes, I ask how do I deal with this. When you win, you celebrate your win, when you lose, you learn, and you move forward. Year 2021 is hard for anyone to predict, but I am not the person to plan for next year. For me, it is just another day and another week.