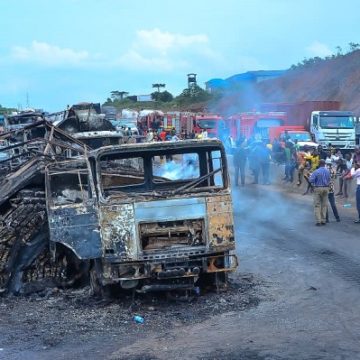 Two persons lost their lives and no fewer than 13 vehicles got burnt in the early hours of Tuesday, as a fuel tanker exploded at the Ogere end of the Lagos -Ibadan Expressway.
The incident, according to the Public Relations Officer, Babatunde Akinbiyi, happened at about 4.00 a.m. when a tanker fell and spilt its content while another one laden with fuel in a gridlock exploded.
Akinbiyi said the fire incident was put off with the spirited effort of the men of the Fire Service, the Federal Road Safety Corps (FRSC), the Nigeria Security and Civil Defence Corps (NSCDC), and members of the public.
The State Deputy Governor (Engr) Noimot Salako-Oyedele led government delegation to the scene of the incident while submitting that quite a lot of valuables were lost as a result of the inferno.
She confirmed that two persons died in the incident after she had received a brief from officials of FRSC and TRACE.
Salako-Oyedele appreciated the effort of the officials of relevant agencies, for responding swiftly to the emergency.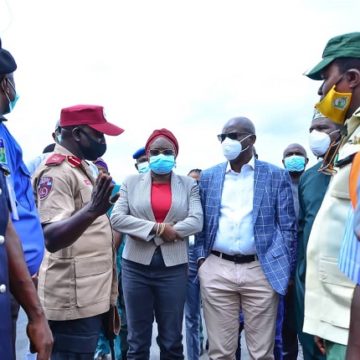 The incident had caused heavy gridlock on the highway as TRACE urged motorists to ply other routes to their destinations.
"Vehicles moving inbound Lagos should go through Saapade-Ode/Remo-Iperu-Sagamu to relink Lagos-Ibadan Expressway.
"In addition, vehicles moving inbound Ibadan should also go through Sagamu-Iperu-Ode/Remo-Saapade to relink Lagos-Ibadan Expressway,'' Akinbiyi said.
In the meantime, the state government had directed the Permanent Secretary, Ministry of Special Duties and Intergovernmental Affairs, Mr Kehinde Onasanya, to be the incident commander, to work and coordinate all agencies towards ensuring the safety of lives and properties and speedy evacuation of trucks to ease movement.
YOU SHOULD NOT MISS THESE HEADLINES FROM NIGERIAN TRIBUNE
FACT CHECK: Did UNICEF Say Blocking Children's Access To Pornography Constitutes Human Rights' Infringement?
CLAIM 1: A Twitter user claims UNICEF said any efforts to block children from accessing pornography might infringe their human rights.
VERDICT: MISLEADING!
CLAIM 2:  A website report shared by the Twitter user claims UNICEF said pornography is not always harmful to children.
VERDICT: MISLEADING-! UNICEF in its report explained that though there are different kinds of risks and harms that have been linked to children's exposure to pornography but there is 'no consensus' on the 'degree' to which pornography is harmful to children.Two killed, 13 vehicles burnt in Ogun tanker explosion
Two killed, 13 vehicles burnt in Ogun tanker explosion