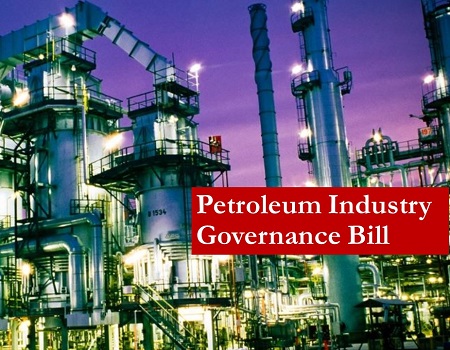 STAKEHOLDERS in the Nigerian oil and gas sector have raised concern over the delay in the President's assent on the Petroleum Industry Governance Bill (PIGB) already passed by both the Senate and House of Representatives.
Former President, The Petroleum Club Nigeria, Dr Godswill Ihetu and Panel Chairman at the 2018 Association of Energy Correspondents of Nigeria (NAEC), on Thursday in Lagos informed industry operators that the PIGB was yet to leave the National Assembly.
He said that this was contrary to the information in the public domain that the Bill was awaiting presidential assent.
He said the information with regard to where about of the Bill was disclosed at the Senate public hearing on June 3.
According to Ihetu, he stated that the Senate let out the information that the National Assembly was yet to transmit the PIGB to the president and that the document was still with the lawyers who were tidying up the legal aspects of the Bill.
"It is therefore unclear whether or not this document has arrived at the presidency", he feared.
He expressed concern that despite several billions of dollars of potential revenue and investment loss, the Bill was still delayed almost after a year of its passage.
He noted that it would be unfortunate if one more year was added to the process before implementation especially as the Bill recognises the urgency in completing the remaining three.
Ihetu, therefore, urged stakeholders to mount pressure on the government to speed up the process of passing the Bill into Act so as to commence proper implementation.
ALSO READ: Osinbajo orders immediate overhaul of management of SARS, its activities
Another cause of concern raised by the panel chairman was the retention of the Petroleum Equalisation Fund ( PEF ) in the PIGB.
He argued that rather than outright abolition, it had been allowed to exist for another indefinite transition period than to be phased at a non-specific date.
Also speaking on the issue, the Deputy Managing Director, Deep Water District of Total Exploration and Production, Ahmadu-Kida Musa, said that the PIGB was the first in a series of four proposed Bills that constitute the legal framework for the Petroleum sector reforms of the federal government.
Musa said that the three other Bills were currently undergoing various legislative processes at NASS.
"As it is usually the case with new legislation, especially one as fundamental as this, there are bound to be some initial concerns. But, we believe that these concerns can be easily addressed through dialogue and legislative public hearings. Our thoughts and concerns on the PIGB and rest of the proposed bills had been articulated by our umbrella organisation, the Oil Producers Trade Sections (OPTS) of Lagos Chamber of Commerce and Industry," he said.