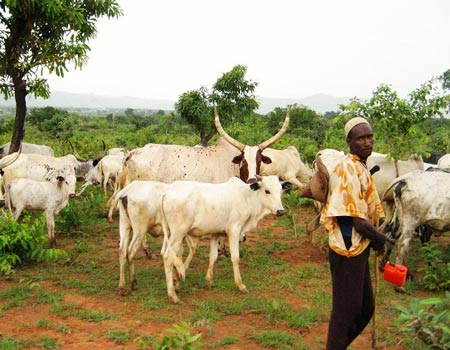 THOUGH he is against the anti-grazing laws enacted by some state governments in the country which has led to violent clashes between herders and farmers resulting into loss of lives, a re-known Islamic Scholar, Sheik Usman Dahiru Bauchi, has advised all herders and cattle breeders to restrict their cattle to where they can adequately care for them in order to forestall future clashes. 
Sheik Dahiru Usman Bauchi who addressed journalists in Bauchi 

Monday

 on the recent clashes opined that there should be rule of law in the affairs of the government in order to promote peaceful coexistence among Nigerians regretting that many innocent lives have been lost needlessly while properties have been destroyed.
He also expressed worry that hostilities between farmers and herdsmen have degenerated to the level whereby several people have lost lives and rendered homeless, pointing out that there should be tolerance and mutual understanding between farmers and herdsmen residing in the various communities.
Dahiru Bauchi said that, "If a person who is a resident of a community has cattle to take care of and does not have where to rear them, he should be advised to restrict the animals to a place and buy feeds as well as provide water for them, instead of grazing near farmlands where the cows may encroach into people's farms."
He added that, "In case the person does want to buy feeds and provide water for the
cattle
, he should be advised to relocate to another environment far from farmlands and if the person refuses to comply with these options, communities should not take laws into their hands, but should resolve the matter by reporting to the authorities."
The Islamic Cleric further said, "I am not saying this because I am a Fulani man, but because I want things to be done in an orderly manner where each and every citizen in the country will be given a fair hearing."
While calling on the federal government to find a lasting solution to the clashes between herdsmen and farmers in the country, he strongly condemned the killings of innocent persons that followed the recent clashes in Benue, Taraba, Adamawa and Plateau states.
He then stressed that herdsmen should be provided with grazing reserves to avoid continuous clashes between them and farmers.