Plateau PDP tackles Lalong over midterm report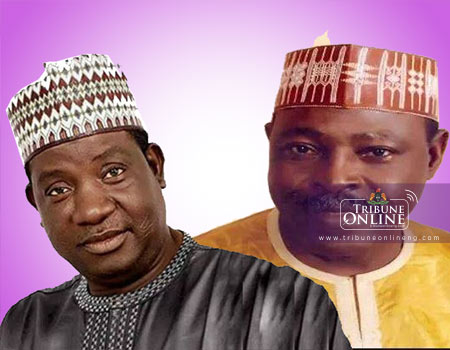 The Peoples' Democratic Party has challenged Governor Simon Long to explain how its spent over N97 billion received in its first year, N18 billion taken as loan from a commercial bank, N4.5 billion on exotic cars and why the administration could not commission a project in two years of the administration.
In a swift reaction, Governor Simon Lalong dismissed the figure and the allegation that his administration has not been able to complete a project two years after he was sworn in saying the opposition should come out with figure and stop frivolous allegation.
Addressing newsmen on Tuesday, Plateau State Chairman of Peoples' Democratic Party, Hon. Dasmishi Sango said APC led administration in the state is marked by uncanny excuses for non-performance and also eager to take loan from banks while still complaining that his predecessors had left huge debt.
"He tried the desperate and unfaithful step of investigating his predecessor through a judicial commission of Inquiry, but where is the result to show for flagrant waste of state resources. Two years into governance, Governor Lalong report card shows him low on credit.
"These are figures we can authenticate, they should come out and contest it if they feel what we are saying is out of context, these are figures we can defend, we are engaging them with facts, let them come out," he challenged the government.
"So bad is it that they cannot even celebrate fifty years of the existence of the state. Instead, commercial prayers season were organized. In addition, funds are being wasted on celebrating carnivals in a state where basic functions of the state cannot be provided."
"We have followed development in other states where golden jubilee celebrations are used to commission special projects. The Plateau state government, to the contrary, has nothing to commission" he said.
The State Governor who responded through his Special Adviser on Media, Mr. Daniel Manjang said the PDP in the state is being economical with the truth and frivolous in its claim and challenged the party to come up with documentary evidence of all the money they alleged the government had collected.
Governor Lalong who said there are a lot of projects completed by his administration waiting commissioning added that it is not compulsory for the government to include commissioning of projects as part of the celebration of his two years in office.
"Commissioning is an item on its own which will soon be done in all the 17 local government areas of the state. Life does not beginning and end with commissioning of project, there are projects ready for commissioning across the state and that would be done at appropriate time.
"We refused to be stamped by the so call opposition party, especially the Peoples' Democratic Party. We would not join issues with them because it has more problems at hand and my advice to them is to come up with constructive criticism that would advance democracy and governance in the state," he advised.