MAKINDE: Setting good example on assets declaration
MOSES ALAO writes on the public declaration of assets by the Oyo State governor, Mr. Seyi Makinde and the responses that have followed the action, amid growing calls for more examples in that direction.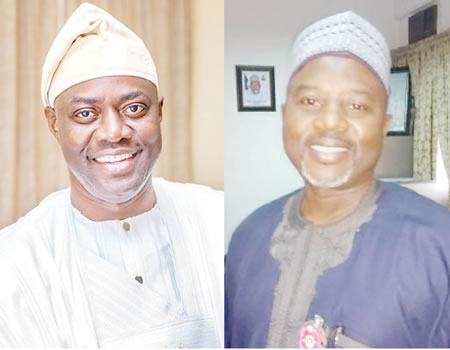 The decision of the Oyo State governor, Mr. Seyi Makinde, to make his assets declaration public has, again, reopened the discourse about the transparency and accountability demands of public offices in Nigeria, reenergising the advocates of open government whose demand it is that the financial worth of public officials should not be shrouded in secrecy.
Already, the action has begun to attract commendations for the 51-year-old governor, with his party, the Peoples Democratic Party (PDP); its presidential candidate in the 2019 general election, Alhaji Atiku Abubakar; Socio-Economic Right Accountability Project (SERAP); Centre for Anti-Corruption and Open Leadership (CACOL); former chairman of the National Human Rights Commission, Professor Chidi Odinkalu; Senator Shehu Sani and a host of others lauding his decision.
Governor Makinde had, on 28 May, 2019, in line with the provisions of Section 185 Subsection 1 of the 1999 Constitution (as amended) which indicates that "a person elected to the office of the Governor of a State shall not begin to perform the functions of that until he has declared his assets and liabilities as prescribed in the Constitution…" declared his assets with the Code of Conduct Bureau.
Having satisfied that constitutional provision, however, the governor, on Monday, 15 July 2019, in a move that appeared to have beaten the imagination of not a few people, went ahead to make the content of the assets declaration form submitted to the Bureau public.
In all, the governor declared assets worth over N50 billion in cash, landed properties within and outside Nigeria, vehicles, Eurobond, shares and debentures as well as the current values of his over four companies.
In the assets declaration form marked OYSE/2019/001, a copy of which was sighted by Sunday Tribune, Governor Makinde declared N230,742,296.01 [Two Hundred and Thirty Million, Seven Hundred and Forty-Two Thousand, Two Hundred and Ninety-Six, One Kobo]; N4 Million and 30,056 US Dollars as a total of cash in hand and in the bank as of 27 May, 2019.
The governor had a total of 11 accounts in Nigeria, including United Bank for Africa, 1017878806, with N11,839,125.78; United Bank for Africa, 3001872782, with $800.71; Keystone Bank, 1001470027, with N260,807.29; Keystone Bank, 1002942118, $2,327.13; Keystone Bank, 1007279662, $3,111.64; First Bank of Nigeria, N549,359.32; First Bank of Nigeria, 2018512766, $23,638.81 and STANBIC IBTC, 9300204883, N218,082,167.61, among others.
The source of the funds, the form indicated, were proceeds of doing business.
The form had also shown that the governor's properties, including buildings, undeveloped properties, vehicles, and household furniture, generating sets and other items in Nigeria, the United States and South Africa were worth N2,624,800,500 [Two Billion, Six Twenty-Four Million, Eight Hundred Thousand and Five hundred Naira]; 4,400,000 US Dollars and 4,457,554.04 South African Rands respectively.
Some of the properties owned by the governor, as reflected in the assets forms, included a demarcated premises comprising 6 bedroom detached house with an adjoining 3 bedroom bungalow with appurtenances within 3074.23 Square Kilometres in Ibadan worth 255,000,000; a four Bedroom Bungalow with appurtenances in Ibadan worth N30,000,000; a three-storey building with appurtenances in Ibadan, worth N340,000,000; a five-bedroom detached house located at Victoria Garden City, Lagos State worth N160,000,000; a three-bedroom apartment in Lekki Phase 1, Lagos State, worth N80,000,000; a 12,141.351 square metre parcel of land in Lekki, Lagos State worth N1,100,000,000; [One billion and One Hundred Million Naira]; a detached House partly on two floors with a two-room servant quarters in Port Harcourt, Rivers State, worth N74,000,000; 6-bedroom apartment lying on a 7,540 Square Feet located in Cir. Spring, TX 77389, the United States of America worth $2,350,000; a jointly-owned 6,000 Square Feet Apartment also located in Spring TX 77379, United States of America worth $1,000,000 and a 3-bedroom duplex in Pretoria, South Africa worth 4,357,554.04 ZAR.
The assets forms further showed that Governor Makinde is worth $3,793,500 in Eurobonds, while the current value of his six companies in which he has over 33,730,000 units of shares stood at N48,150,736,889 [Forty-Eight Billion, One Hundred and Fifty Million, Seven Hundred and Thirty-Six Thousand, Eight Hundred and Eighty-Eight].
With the public declaration of assets, the governor had more than fulfilled the provisions of the 1999 Constitution as amended.
The Fifth Schedule, Part 1 of the 1999 Constitution (as amended), which further provides backing to assets declaration states that:
"11. (1) Subject to the provisions of this Constitution, every public officer shall within three months after the coming into force of this Code of Conduct or immediately after taking office and thereafter— at the end of every four years; and (b) at the end of his term of office, submit to the Code of Conduct Bureau a written declaration of all his properties, assets, and liabilities and those of his unmarried children under the age of eighteen years. (2) Any statement in such declaration that is found to be false by any authority or person authorised in that behalf to verify it shall be deemed to be a breach of this Code."
But by his action, Governor Makinde went beyond the requirements of the law, which political analysts noted was always employed as a shield for corrupt politicians to hide their wealth while in public offices so they could dip their hands in the public till.
By making the content of the forms submitted to the Code of Conduct Bureau public, observers of political events in Oyo State maintained that Governor Makinde has left the ball in the courts of opposition politicians and critics of his government, who must now match the example he has set out or prove any of his claims in the forms false.
While reacting to the Oyo State governor's step, well-meaning Nigerians, lawyers, civil society stakeholders and residents of the state all agreed that the governor had, indeed, taken a step in the right direction with the open declaration, noting that the action will give a fillip to the clamour for open government and transparency.
Interestingly, thousands of reactions that have trailed Makinde's public declaration on Facebook and Twitter had been drawing a comparison between Makinde and President Muhammadu Buhari, stretching the discourse about transparency as the president begins his second term of office.
The duo of President Buhari and his vice-president, Professor Yemi Osinbajo, had, in 2015, released to the public the content of their asset declaration forms, a development which turned out to attract more criticisms than commendations, because their actions fell short of the standard set by the late President Umaru Yar'Adua, who set the tone for public assets declaration in the Fourth Republic.
The duo of Buhari and Osinbajo were criticised for merely mentioning their assets in shares, properties, and companies without letting Nigerians know the current value. In fact, the vagueness of their acts was largely encapsulated in the statement which indicated that the president owned a number of cars donated to him as gifts.
For instance, while President Buhari declared that he had a cash asset of N30 million, his declaration showed that that he had seven houses including two mud houses; several vehicles including officials cars; shares in Berger Paints, Skye Bank and Union Bank as well as 270 heads of cattle, 25 sheep, five horses, birds and economic trees in agriculture holdings.
In Osinbajo's case, apart from cash assets, the vice-president talked about having three houses, three vehicles, and some companies.
While the president and vice-president received mixed reactions for their steps, most governors elected in 2015 made it clear that they had no plan to toe that path.
However, in a move that shocked not a few Nigerians, the Oyo State governor, on Monday, made good his promise to openly declare his assets. Makinde had given an indication to his huge wealth during a governorship debate organised by an Ibadan Radio Station, Splash FM, when he said his companies were paying tax returns of N1.5 billion annually. But if anyone had been left in doubt as to the level of the governor's sincerity, the open declaration of assets has put paid to the doubts, with many commentators across different social media platforms commending the governor.
In their separate reactions to Governor Makinde's action, Atiku, SERAP, and Odinkalu commended the governor for showing an example to others, while the Alumni Association of the University of Lagos, where Makinde graduated from, also hailed the governor on the step.
Atiku had, in a tweet on his verified Twitter handle, described Makinde's action as a trail-blazing feat, adding that it was a testament to integrity and accountability worthy of emulation.
In a tweet on its Twitter handle, @SERAPNigeria, the civil society organisation applauded Makinde's step as "a bold move and commitment to transparency," noting, however, that it would appreciate his invitation to carry out the verification of the assets.
Also on his Twitter handle, Senator Sani described Makinde's action as a "moral challenge to the messiahs of transparency, angels of change and saints of anti-corruption."
Similarly, Odinkalu, through his verified Twitter handle, said the governor's action has rekindled faith for lot of people in the possibility of a different kind of politics.
He tweeted: "Oyo State's @seyiamakinde has done what @Mbuhari (who promised to be transparent with his assets) refused to do- he's made his assets public. Makinde rekindles faith for lots of people in the possibility of a different kind of politics. Thank you, Mr. Governor."
A public commentator based in Oyo, Abubakre Ajao, had also maintained that Governor Makinde's public asset declaration should be seen as a bright spot in the nation's daily darkening political firmament, noting that the comprehensive nature of the asset declaration could only be compared to the one by the late President Umaru Musa Yar'Adua, who went into the annals of history as the first politician in recent times to publicly declare his assets.
"What we read and heard about the declaration of assets publicly by the Oyo State governor, to me, is the only encouraging news from the country in the last two weeks, which have been marked by reports of killings, kidnapping and all that. The step, I think, is a silver lining in the nation's dark cloud of politics and I think all well-meaning Nigerians should applaud the governor and demand that all other public officials toe the same path. Yes, we have occasions where other officials including President Muhammadu Buhari and Vice-President Yemi Osinbajo, in 2015, declared their assets, but what Makinde did is, to me, what should be regarded as public asset declaration."
But with Makinde's action and wide acceptance among Nigerians, the question observers have begun to ask is who will be next to follow his step? Will the demand for transparency and accountability gain more traction in the coming days or will things go back to the usual mode as the president, vice-president, state governors, and other appointees go about their businesses?  Why is it that of the 29 new governors sworn-in on May 29, 2019, only Makinde of the PDP that has dared to come clean? These are the questions that will continue to agitate the minds of civil liberty organisations interested in accountability. And this must have informed the response of CACOL, in a statement by its Executive Chairman, Mr. Debo Adeniran, in which it described Makinde's action as "a step forward in broadening the frontiers of accountability and responsibility of office."
The organisation had noted that it expected other public office holders to follow suit, saying: "While it may not be constitutionally or statutorily compelling for any public official in Nigeria to publicly declare his or her assets on assumption and after completion of tenure, it is a step forward in broadening the frontiers of accountability and responsibility of office for our political leaders to publicly make available what they have acquired before getting into public service and after leaving their respective offices. This would enable interested members of the public to individually cross-check their claims and report any probable fraud perpetrated. It is our expectation that other public office holders would follow suit while we expect the governors and others who have so declared their assets to repeat the same routine after the completion of their mandatory terms."
But who will be the next to heed the call to accountability? Who will answer that call next?