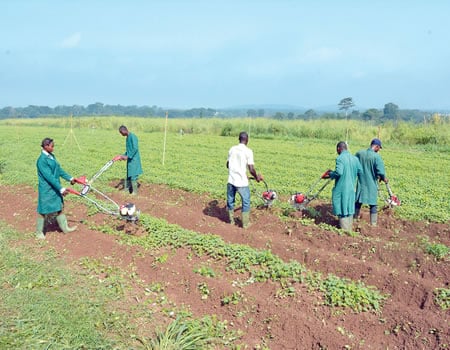 The Kogi State Commissioner for Agriculture, Mr Kehinde Oloruntoba, of Friday has said that the state government will spur the development of agriculture.
A statement signed by Mr Tunde Oladunjoyelo, World Bank's Media Consultant on the FADAMA programme in Abuja, said that Oloruntoba expressed the commitment during a tour of some farms and infrastructural projects.
The projects are executed under the FADAMA III Additional Financing (AF) programme.
Oloruntoba said that the state government was building a rice mill with a capacity of processing 50 tonnes of rice per day at Omi, Yagba East Local Government Area of the state.
He said that the mill, which would be completed before the end of the year, would facilitate the production of the Confluence Rice brand.
He lauded the state FADAMA Coordination Office for its excellent service delivery.
Mr David Apeh, the Special Adviser to the Kogi State Governor on Agriculture, also said that efforts were underway to produce rice in large quantities through the FADAMA III AF programme.
He said that the FADAMA project had a tremendous impact on the economy of the state and the nation at large, adding that the rice mill, under construction in Omi, would boost the country's rice processing capacity.
Also speaking, Mr Paul Ogunmola, the State Project Coordinator, FADAMA III AF programme, said that Kogi was renowned for rice production, adding that over 4,000 hectares of rice plantation was under cultivation.