Ebonyi State governor, David Umahi has said that the state has been freed from dictatorship, adding that his movement from the Peoples Democratic Party (PDP) to the All Progressive Congress (APC) is a blessing to the state.
Umahi stated this at Ecumenical Center Abakaliki, where he officially defected alongside his deputy and thousands of others.
The event was attended by Governor of Kebbi State, Atiku Bagudu; Alhaji Abubakar Sani of Niger State and Alhaji Badaru Abubakar of Jigawa State. South-East APC leaders including Senator Orji Uzor Kalu, Dr Ogbonnaya Onu, Sen. Rochas Okorocha, Dr Chris Ngige, Dr Uche Ogah, Dr Chukwuemeka Nwajuba, Imo State governor, Hope Uzodinma and others were absent from the event.
Umahi urged the party members not to castigate the National Assembly members from the state who are still in PDP. According to him, they are still in PDP for business as APC takes over the state.
HE said: "Let me tell you something, let your heart not fail you. No man has your destiny. When mere men tell me that I will regret this movement, I have examined myself and I have consulted God. There is a saying that says that if serving God, there is no heaven, that the peace of righteousness on earth is enough reward. The reward of freedom; freedom from dictatorship, freedom from one or two people deciding the affairs of men is gone. We are free at last and we have moved into blessings.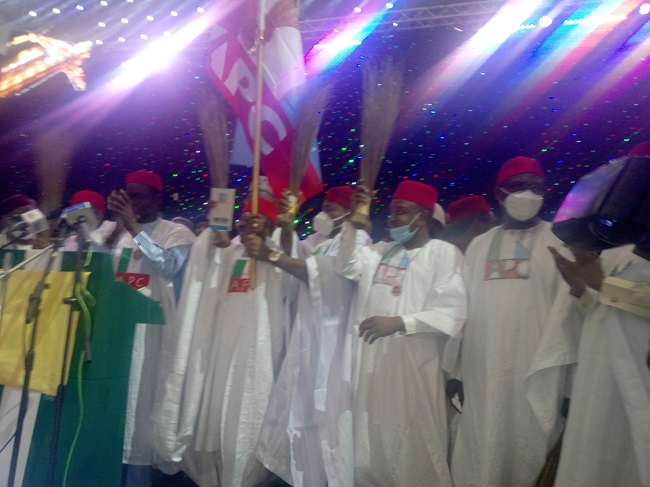 "I have sacrificed myself, for the interest of South-East and Ebonyi State, in particular, I sacrificed myself. We have dwelt so much in one political party and it is time to move to the centre. We are so grateful to God who directs our affairs. We thank Mr President so highly who has helped us to develop this state, we are grateful to him. The help of Mr President has transformed our state, Ebonyi
"This movement is the will of God, you cannot truncate the will of God. Today, I can boldly say that our state is 99.9% APC. The 0.01% is the room I have left for my National Assembly members. Do not castigate them, they are looking for something and when they get it, they will come back. Don't castigate them, they are my children and I love them so much.
"We have three members of the elders' council, do not castigate them. They are my children, I am the father of the state, they will come back, we are together. They no dey do opposition in Ebonyi State (there is no opposition in Ebonyi), they will come back.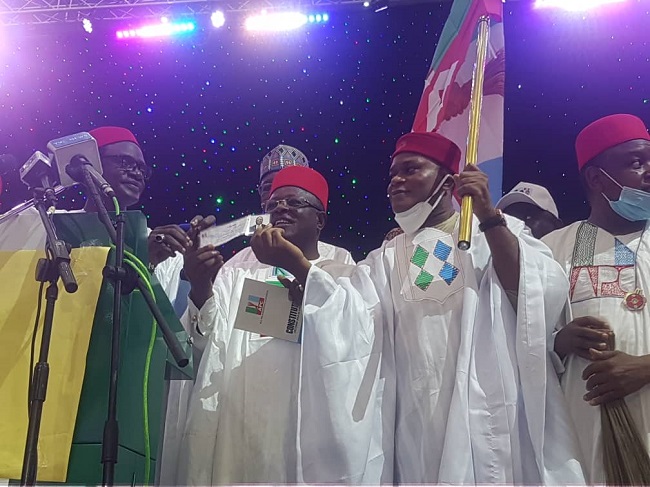 "This new house that is built on trust, that is built on justice, that is built on equity and fairness. This new house that is built on love is going to accommodate all of us. Together we are stronger, the bigger the better. Let us together approach the throne of God with boldness, we will not remember yesterday. There is no victor, there is no vanquish in this marriage. It is a marriage that is consummated by God and therefore no bitterness. We as PDP people, we forgive everyone in APC and we have drawn assurance that everyone in APC has forgiven PDP. I have dissolved the elders' council to accommodate our brothers and sisters that are coming from APC and this is very important to note.
"South-East will move to APC. We have to launch out to the centre, we are tired of empty promises, we want action now. As my deputy governor has said, we have moved into APC, the governor united with his deputy in one together with 110 exco members with 1200 appointees of Executive Assistants, Senior Technical Assistants and Technical Assistants. We have 374 liaison officers, we are together in this movement.
"We have 400 appointees of boards and commissions, we have 560 management committee members, we have 130 supervisors, we have all the 13 local government chairmen and all the vice-chairmen and all the legislators everywhere in Ebonyi State. We are all together in this movement. Above all, we have 3 million Ebonyians that have embraced this party that is developing our state, 3 million Ebonyians together in this journey to APC."
Handing over the APC flag to Governor Umahi, the Chairman National Caretaker/Extraordinary Convention Planning Committee (CECPC), Mai Mala Buni, noted that Governor Umahi and his supporters have been received.
He then commended Umahi for performing great in governance. He then urged the governor to do justice to all members across the state.
"Your intention to join APC is timely; it's appropriate because you are coming to our party at a time we have started rebuilding the party. And to rebuild this party, we have started with reconciliation and now we have started the second phase which is membership across the country.
"Today marks the new beginning in the political history of Ebonyi State. Your Excellency, I know you are a man of justice. You will do justice to all manner of members across all levels of the state from ward, local government to the state level."
The 15-man State Caretaker Working Committee chaired by Hon. Stanley Okoro was also inaugurated at the event.
YOU SHOULD NOT MISS THESE HEADLINES FROM NIGERIAN TRIBUNE
ICYMI: CBN Lists Business Activities Eligible For N75bn Youth Investment Fund
THE Central Bank of Nigeria (CBN) has revealed main business activities and sectors in the Nigerian economy that are eligible to access its N75 billion Youth Investment Fund…
#EndSARS: Fr Mbaka Asks Buhari, Past Leaders To Apologise To Nigerians
Controversial Catholic priest and Spiritual Director of Adoration Ministry, Enugu, Nigeria, (AMEN), Rev Fr Ejike Mbaka, has taken a swipe at President Muhammadu Buhari and past leaders of the country demanding that the President should apologize to the country, especially the youth, on behalf of himself and his predecessors, for causing Nigerians so much pain…