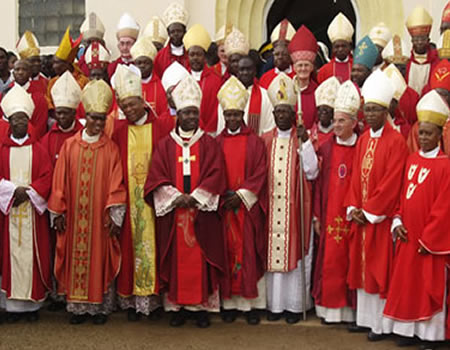 Catholic bishops of Ibadan province have decried the "now-familiar, siddon-look" attitude of the federal government towards arresting intermittent attacks by Fulani herdsmen on Nigerians.
Drawing from the recent killing of 75 Nigerians in Benue state by herdsmen, the bishops at their meeting held at Jubilee Centre, Ibadan, said it was high time government and security agencies rectify its lack of preemptive action and delay in reacting to crisis all over the country.
Describing the trend of herdsmen attacks as a "bloody charade" that should stop, they urged government at all levels to consider widely accepted ways of cattle rearing without infringement on the rights of citizens of the country.
As contained in a communiqué signed by their President, Most Reverend Gabriel Abegunrin and Secretary, Most Reverend John Oyejola, the bishops also urged the federal government to apprehend and prosecute all those behind the several killings in the country.
While condoling with the family of the bereaved, the bishops called on government at all levels to ensure that Nigerians coexist in peace in any part of the country.
"The continuous conflicts provoked by so-called Fulani herdsmen in Nigeria attained a tragic climax with the brutal slaughter of over 70 people recently buried in Benue State, with a little-coordinated effort from the Federal Government to prevent or assuage the tragedy.
"The unfortunate, by-now-familiar "siddon-look" attitude of the Federal government to such tragedies involving cow-herders in parts of the country has made many Nigerians question whether animal rights could indeed be placed above human lives.
"Most people wonder who owns these "sacred cows" anyway, because of which farmlands and human life could be so wantonly destroyed. All hands must be on deck to put a stop to the bloody charade witnessed so frequently from encounters with Fulani herdsmen.
"Lack of preemptive action and delay in reacting to crises all over the country, on the part of the government and the security agencies, must be rectified so that innocent lives may henceforth be protected.
"We also call on the government at all levels to support the legitimate yearnings of peoples all over Nigeria to live and thrive in peace within their rights as citizens of Nigeria. Surely, cattle-rearing is practiced in other countries in Africa and the world.
"We, therefore, urge that our governments consider improved ways of catering for cattle with minimum stress to other legitimate professions, as is done elsewhere in the world and apprehend and prosecute all those who have brought so much pain upon so many people in Nigeria," the communiqué read.
In what they said had become a national embarrassment, they further beckoned on the federal government and security agencies to do more with regard to curtailing incidences of kidnapping and prosecuting perpetrators of those crimes.
The bishops, however, noted that in spite of the improvement in agriculture, power supply, Nigerians still experience very hard times.
They warned that Nigeria faced a most uncertain future unless government found a credible solution to the problems of unemployment, human trafficking, terrorism, kidnapping, nepotism, religious bigotry, and corruption.
"Nigeria is still going through very hard times. We may be able to point out areas of improvement in power supply, agriculture and other matters in some parts of Nigeria. Unfortunately, our woes today seem to weigh far more than these blessings.
"We challenge the government and competent authorities in Nigeria to be more responsive to their responsibilities. If we do not find a credible solution to problems of unemployment, human trafficking, terrorism, kidnapping, nepotism, religious bigotry and corruption, Nigeria might face a most uncertain future.
"We call on our people to continue to work and pray to bring about God's kingdom of justice peace and love. God's plans for our country like for all his children are good and enduring. Ours is the duty to take advantage of his promise and steadfastness," the communiqué also read.
The bishops also berated the attack on citizens in Ilorin on New Year day as mindless, calling on the government of Kwara state to live up to its promise to bring the perpetrators of the act to justice.
In this light, they noted that it had become imperative at the federal level to sincerely ensure that the fundamental right of every Nigerian to freedom of worship is protected.
"We firmly denounce the Ilorin attack which was directed at innocent homebound worshippers and citizens after the New Year vigil worship. This and such acts all over the country only add to the bad image which Nigeria already bears in the eyes of the world, as one of the least safe countries for Christians to live in.
"We cannot insist enough that the government of Kwara State fulfills the now-cliched promise to bring the perpetrators of this act to justice, support the restoration of damaged structures and work hard with sincerity to prevent future occurrences, so as to restore the confidence of our people," the communiqué further read.