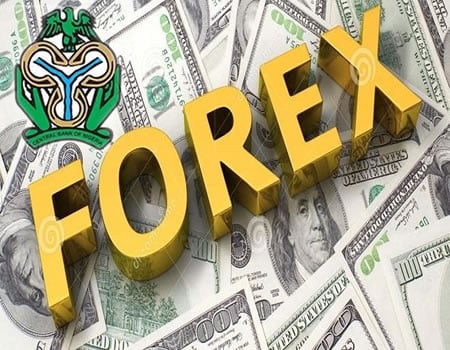 CENTRAL Bank of Nigeria (CBN) has sustained its intervention in the inter-bank foreign exchange market by injecting yet another sum of $210,000,000 into various sums of the market on Tuesday, August 14, 2018.
At Tuesday's trading, the Bank offered the sum of $100,000,000 as wholesale interventions and allocated the sum of $55,000,000 each for Small and Medium Enterprises (SMEs) forex window and the Invisibles sector, for customers requiring forex for Business/Personal Travel Allowances, tuition and medical fees, among others.
Confirming the figures in Abuja, the Acting Director, Corporate Communications at the CBN, Mr Isaac Okorafor, said the Bank was pleased with the performance of the naira, noting that the currency had continued to enjoy stability against the dollar and other major currencies of the world in recent times.
Okorafor reassured the public that the Bank would continue to intervene in the interbank foreign exchange market in line with its resolve to ensure liquidity in the forex market and maintain stability. He reiterated that the steps taken by the CBN in forex management had resulted in further reduction in the country's import bills and accretion to its foreign reserves.
ALSO READ: Awoniyi's daughter joins Kogi House of Reps contest
It will be recalled that the CBN last Friday, August 10, 2018, intervened in the Retail Secondary Market Intervention Sales (SMIS) to the tune of $327 million in the agricultural and raw materials and CNY 69 million in the spot and short-tenure forwards.
The naira continued to maintain its strong stand against major currencies around the globe, exchanging for N360/$1 in the BDC segment of the market on Tuesday.
Meanwhile, the CBN will today (Wednesday), sensitize stakeholders in Abuja and the adjoining States on the Bilateral Currency Swap Agreement between the CBN and the People's Bank of China (PBoC) signed on April 27, 2018.