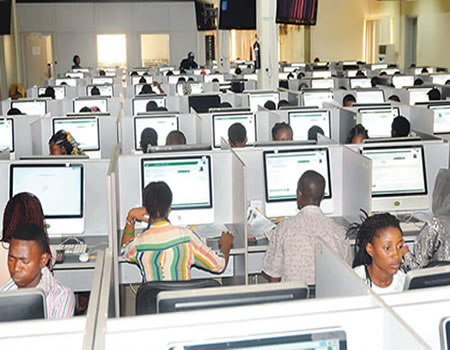 RECENTLY, the Borno State government presented a cheque of N5 million to Israel Zakari Galadima, the candidate who had the highest score at the 2018 Unified Tertiary Matriculation Examination (UTME) organised by the Joint Admissions and Matriculation Board (JAMB). Galadima is from Biu Local government Area in the southern part of Borno State. The  state Commissioner  for Higher Education, Usman Jaha, made the presentation at the office of the Registrar, Covenant University, Ota, Ogun State, to which Galadima has gained admission to study electronics engineering. According to Jaha, Governor Kashim Shettima's only request was for him to remain focused and graduate with a First Class honours.
ALSO READ: How Oyo NURTW chairman, Fele, died in Abuja, aged 58
As a matter of fact, Governor Shettima later announced full scholarship for Galadima when he hosted him and his mother, Jummai Galadima,  a Lagos-based banker, at the Government House in Maiduguri. Responding, Galadima, whom the governor nicknamed JAMB king, enthused: "I am touched by the governor's gesture and I know that sacrifices were made to support me. I assure the governor and everyone here that by the grace of God, in years to come, I will give back to the people of my state, Borno."
In a clime where excellence in academics and other areas of endeavour hardly attracts recognition, it is always good to appreciate whatever effort is made to encourage those who excel. The Nigerian state, which is supposed to provide a positive direction for the people, especially the very critical youth population, has all too often been found willingly or inadvertently promoting base ideas and practices. To take a recent example, contestants in the Big Brother Nigeria (BBN) reality show, a programme which in no way fostered the intellectual development of the country's youths and was defined, among other infelicities, by acts of immorality on television, have in recent times been treated as superstars and feted by the state and society. They have been given state reception, cash rewards and scholarships. Some of them have in fact been given chieftaincy titles.
Against this backdrop, we believe that the decision of the Borno State government to reward a student who showed exceptional ability in a public examination (UTME) is commendable. By honouring Galadima, Governor Shettima and his cabinet are not merely appreciating academic excellence, they are in fact telling the state's youths that it pays to be focused on, and succeed in, their studies. The youths are thus being encouraged to emulate, and possibly surpass, Galadima's record, rather than taking to gambling, consumption of hard drugs and crimes, vices which have assumed alarming dimensions in recent times.
Yet, commendable as the Borno State government's action is, it can only engender lasting excellence when institutionalised. As we maintained in our previous editorials, rewarding excellence cannot and should not be subjected to the whims and caprices of whoever happens to be in power. In this connection, we encourage Governor Shettima to liaise with the state House of Assembly and put in place a bill targeted at rewarding academic excellence in the state. That way, a leeway would have been provided for healthy rivalry among the youths of the state. On the part of Galadima, we advise him to pay more than a passing attention to his own promises to the governor and justify the confidence reposed in him by the state government through dedication to his studies. That is the best way to show that his performance in the 2018 UTME examination was not a fluke.
We salute Governor Shettima for recognising excellence and wish Mr. Galadima success in his academic pursuits.