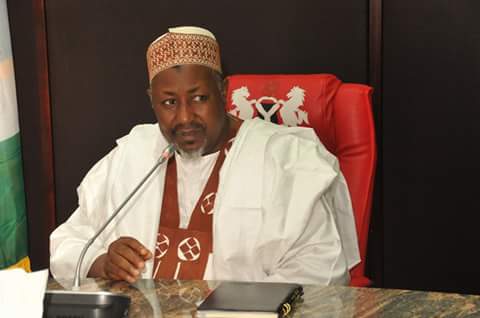 THE Jigawa State governor, Alhaji Muhammadu Badaru Abubakar yesterday commissioned his second term bead campaign off in the heart of Dutse capital city of the state.
The campaign office which had been provided by some youth volunteers in the state is aimed at to promote the activities for the President Muhammadu Buhari and governor Muhammad Badaru Abubakar campaigns against 2019 with a view to providing a clue for their second term.
Commissioning the campaign office titled "Buhari/Badau 4+4 Campaign Organisation", governor Muhammadu Badaru Abubakar attributed the development with the dividend of democracy enjoying by the youth and entire people of the state under President Muhammadu Buhari through laudable achievement of the government of Change.
The governor who was represented by an APC chieftain in the state Alhaji Isah Muhammed Gerawa commended the youth for their foresight and their commitment towards sanitising democracy.
Alhaji Isah Gerawa who is the Chairman Gerawa Global Engineering vow that "this is an indication of recognition and satisfaction by the people and youth imparticular who were the larger percentage of our population with the present administration of Buhari and Badaru."
He added that "by the grace of God the ruling APC would repeat what had happened in 2015, the party to swaps all elective position in 2019."
Alhaji Gerawa donated a bus to the organisation to ease them in opening the campaign offices in all the 27 loc" government areas.
Speaking earlier the state's APC chairman, Alhaji Ado Sani Kiri congratulates the people of the state for accepting the agricultural policies of Governor Badaru.
Kiri Said that Jigawa state has discovered it agricultural potentials since the ruling party came on board in 2015.
He further called on people to exercise more patience as they would soon ripe more dividend of democracy.