ANC executive to meet as pressure mounts on Jacob Zuma to resign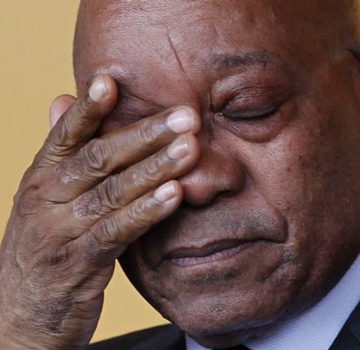 South Africa's ruling African National Congress (ANC) will convene a special meeting of its top executive body on Monday, amid mounting pressure on the president, Jacob Zuma, to step down.
The decision comes after nearly five days of talks between Zuma and the deputy president, Cyril Ramaphosa, who took over the leadership of the ANC in December.
Zuma has overseen a tumultuous nine years in power marked by economic decline and numerous allegations of corruption.
The ANC, in power since the end of the repressive, racist apartheid regime in 1994, has been thrown into crisis by an increasingly chaotic transfer of power from the incumbent president to his deputy and rival.
The need for an emergency meeting of the national executive committee, which has the power to instruct Zuma to resign, suggests the president has yet to agree to leave office. According to ANC rules, all members, even elected officials, fulfil their functions according to the will of the party.
Ramaphosa thanked South Africans for their patience in recent days after attending a church service at Cape Town's Anglican St George's Cathedral on Sunday morning, looking relaxed and allowing parents to take pictures of their children with him.
St George's Cathedral was at the forefront of the anti-apartheid struggle and during a Christmas mass service last year its archbishop, Thabo Makgoba, called on the new ANC leadership to act "quickly and decisively" to replace Zuma as head of state.
"We've been well empowered as we move ahead and we'd like to thank you very much, and we'd like to thank the congregation for their total support as we manage this transition, as we move ahead," Ramaphosa told reporters.
The 68-year-old union leader turned tycoon was in Cape Town to help launch year-long celebrations to mark 100 years since the birth of the former president Nelson Mandela.
The ANC called off a special meeting of its executive body to discuss Zuma's future scheduled for last Wednesday. The annual state of the nation address, traditionally given by the president to parliament, has been postponed until further notice.
Analysts say the uncertainty and delay are damaging the ANC. But forcing Zuma to resign would anger the powerful faction within the ANC that is still loyal to the president.
Ramaphosa, who only just won a bitterly fought internal election to become president of the ANC, has the support of only just over half the members of its top decision-making body. Zuma retains significant support in the party's youth and women's leagues, as well as at a local level in some provinces.
A senior ANC source told Reuters that the executive committee would meet at 2 pm (1200 GMT) in Pretoria on Monday.
Ramaphosa has said he wants the president, who faces 18 counts of corruption mainly relating to an arms deal nearly 20 years ago, to have a "dignified" exit and told MPs last week that he has ruled out any formal amnesty or impunity.
Unless he is successfully impeached, Zuma, whose second term ends next year, will keep his salary and many of the perks of office, including healthcare, security and significant benefits for members of his family.
Zuma's premature departure would consolidate the power of Ramaphosa, who has been his deputy since 2014. Ramaphosa would become president, in accordance with the constitution.
Local media have tipped Lindiwe Sisulu, an ANC stalwart and daughter of liberation struggle veterans Walter and Albertina Sisulu, as a likely deputy president.
Supporters of Ramaphosa, who is seen as the standard bearer of the party's reformist wing, say it is essential Zuma is sidelined as early as possible to allow the ANC to regroup before campaigning starts in earnest for elections in 2019.
The ANC has weathered such crises before. In 2008 Thabo Mbeki stood down as president a year before the end of his term after the ruling party formally requested his resignation over allegations he had misused his power. His deputy then took over, until Zuma led the party to another victory in the 2009 elections and became president.