When Adebutu became Odole Oodua
The ancient city of Ile-Ife was agog with celebration last Saturday as eminent personalities from different walks of life stormed Ile Oodua, where the palace of the Ooni of Ife, Oba Enitan Adeyeye Ogunwusi, is located, to witness the installation of the business magnate, Sir Kessington Adebukunola Adebutu, as the Odole Oodua.
For Adebutu, the founder of Premier Lotto, who is popularly called Baba Jebu, his philanthropic activities and contributions to the cause of humanity was a point of reference, as the event witnessed the presence of industry captains, political stakeholders, celebrities in social circles, and different groups, that thronged Ile-Ife to witness his installation as the 4th Odole Oodua.
Adebutu's kind gestures stand him out as a man of rare humanitarian pedigree. He founded the Kessington Adebukunola Adebutu Foundation (KAAF) in 2005 as a corporate vehicle for his philanthropic activities, and has, through KAAF, provided assistance to a large number of individuals in the society regardless of ethnic, religious and political affiliation.
Interestingly, the title of the Odole Oodua inhibits him (Adebutu) from taking any other traditional title in Yorubaland, because of the high-ranking nature and value of Odole Oodua.
2023: Why Igbo man must be president —Nwodo
Historically, the story of Odole Oodua is an offshoot of the story of Oranmiyan or rather the story of Oranmiyan himself, who was the first Odole in the history of Oodua people, who are popularly referred to as the Yoruba.
After the earliest era in the history of the Ife people, referred to as Ife-Oodaye, when the process of creation started by Obatala Alabalase had been furthered by Oduduwa Atewenro, there existed Oranmiyan, a great prince of Ife, who was fathered by both Oduduwa and Ogun, two of the outstanding personages in Ife history.
Oranmiyan grew up to become a warrior of distinction and had his name modified in expression of pride and glory trailing his distinctive heroism. Hence, "oran" took two suffixes 'mi' and 'yan' to form a single word 'Oranmiyan'. Therefore, morphologically speaking, the word Oranmiyan is a derivative of the addition of three Yoruba morphemes.
He was a younger brother of Obalufon, who also reigned as Ooni of Ife. In the manner in which the chieftaincy title of Odole Oodua reminds of Oranmiyan's history, the part of Oranmiyan's son, Oba Eweka (who later ruled Benin after Oranmiyan had returned to Ife) in the history of Oranmiyan cannot be left out. Oba Eweka was said to have reigned for 35 years and succeeded by his son, Uwakhuahen.
Oranmiyan's exploits, interventions, legacies and progenies dotted every significant page of Benin history. For instance, his progeny, Oba Eweka has been described as the greatest, most reverred, dynamic and successful monarch to have reigned in Benin kingdom under whom Benin was completely transformed religiously, politically, socially, militarily.
In a nutshell, Odole Oodua is a special office designed from time immemorial for the purpose of assisting the Ooni in rallying all the people of Oduduwa origin wherever they are for unity, peace and progress. This is the reason the holder of the title is expected to act as a close ally of the Ooni, whose position as the father to all imposes so many responsibilities that in turn require the need for capable allies for effective coordination of affairs put in the care of Oonirisa.
However, considering the magnitude of his role as the Odole Oodua, Adebutu, shortly before his installation, said: "I have the capacity to cope with the accompanying challenges that come with Odole of Ile Oodua, bearing in mind that this title had hitherto been bestowed on the late sage and Premier Western Region, Chief Obafemi Awolowo, and late Chief G.O.K. Ajayi."
Speaking during the coronation ceremony in Ile-Ife, President Muhammadu Buhari tasked Adebutu to see his new traditional title as an opportunity to promote Yoruba cultural heritage and values.
Represented by the Minister for Interior, Mr Rauf Aregbesola, he described Yoruba ethnic group as great in Nigeria, saying "before somebody can be conferred with Odole Oodua title, such a person must be eminent and he must have contributed immensely to humanity and the society."
Buhari continued: "I am happy that Sir Kessington Adebutu is being conferred with this title today and I pray that his reign as Odole Oodua would be eventful. I am sure you know the significance of this title bearing in mind great Nigerians, including the late sage and former Premier Western Region, Chief Obafemi Awolowo and late Chief G.O.K. Ajayi, who in the past held the title of Odole Oodua.
"We were aware of the positive impacts of these past two Odole Oodua. They ensured that there was healthy relationship between Yoruba and other tribes in Nigeria. But I believe that you (Adebutu) would do more than that.
"You have been a philanthropist, who usually helps the poor and the needy in the society. As the holder of this title, you should provide exemplary leadership as you have always been. I want to remind our traditional rulers to be agents of peace, unity and development in their respective domains.
"We must all strive to preserve and promote our cultural heritage. I want to commend the Ooni of Ife, Oba Enitan Adeyeye Ogunwusi, for leading the vanguard of monarchs promoting our cultural values. As Odole Oodua, you should play active role in promoting Yoruba cultural heritage and values.
"The task of promoting the study of Yoruba Language in Nigerian universities is a major assignment for the new Odole Oodua. Endowment of chair of knowledge of Yoruba Language in Nigerian universities should be the main priority of Odole Oodua."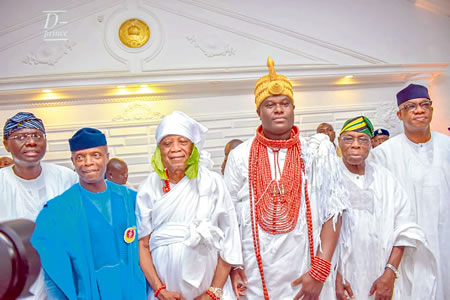 In his remarks, the son of Sir Kessington Adebutu, Hon. Ladi Adebutu, commended the Ooni of Ife for honouring the family with the conferment of the Odole Oodua title on his father.
He said: "We are part of you and will always be ready to support you. This is the source of mankind. Yorubaland will not lag behind in Nigeria. We need to sustain the unity and peace in Yorubaland and the entire country. The challenge of Mr President regarding the promotion of Yoruba cultural heritage and values would be the reflection of thought for the new Odole Oodua."
Earlier, Adebutu, who was driven in a chariot to the Ooni's palace, later proceeded to Igbo Eede monument, where Oranmiyan's staff is located and Ogun shrine for installation rites.
After the observation of the traditional rites, he came back to the Ooni's palace where he was presented with the Odole Oodua staff and bronze sword as instruments of office.
Dignitaries at the event included former President Olusegun Obasanjo; Vice President Yemi Osinbajo; Lagos State governor, Babajide Sanwo-Olu; Ogun State governor, Dapo Abiodun; former Governor of Ogun State, Otunba Gbenga Daniel; ex-Governor of Ogun State, Chief Segun Osoba; Senator Oluremi Tinubu and the Chairman, African Newspapers of Nigeria (ANN) PLC, Dr. Olatokunbo Awolowo Dosumu.
The list also included Osun State Governor, Mr Gboyega Oyetola; Chief Ayo Adebanjo; Senator Babafemi Ojudu; Publisher of Ovation Magazine, Chief Dele Momodu; Aare Ona Kakanfo of Yorubaland, Otunba Gani Adams; General Oladipupo Diya (rtd), among others.