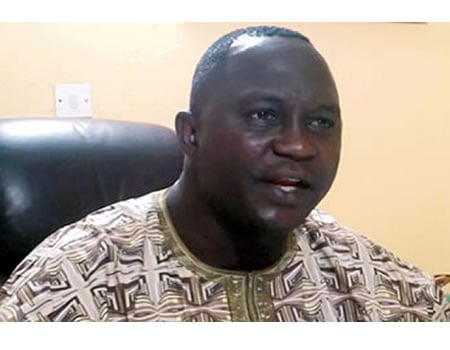 NATIONAL President of Nigerian Labour Congress (NLC), Alhaji Ayuba Wabba has accused Benue State governor,  Samuel Ortom administration of not being transparent in the handling of the federal government intervention accrued to the state.
Wabba who led members of the national executive to the state to Makurdi, Benue State capital on Monday decried the outstanding salaries owed workers in the state.
Governor Ortom had at the inauguration of provinces four and three of Redeemed Christian Church of God in the state last Sunday submitted that the intervention received so far from the government was not enough to clear the outstanding salaries of N69 billion he inherited from his predecessor.
Ortom said that the state wage bill hovers between N8.4 billion to N8.7 billion with the implementation of new minimum wage to primary school teachers which his predecessor did not implement.
He noted that by his record, the state workers are being owed seven months, local government workers 11 months while 13 months outstanding pension arrears.
Wabba spoke to newsmen after meeting with Benue State working committee at the state secretariat of Nigeria Labour Congress in Makurdi.
"It is unheard of that in Benue, state civil servants are owed seven months salary, 11 months for local government workers and 13 months pension arrears, it shows the ingenuity of the state government."
"I was telling the members today that the situation of Plateau and Benue were similar in 2015 but today due to the ingenuity  and the transparent utilization of the Paris club, bailout refunds, Plateau government has liquidated all the salary arrears."
"We are here in Benue to strengthen  our members and also to urge them to represent effectively the interest of workers because there would be always contestation  about how we are able to prioritize our interest."
"The situation in Benue is very precarious that is why I have to make this journey to Benue, we had an interface with leaders of the union and thereafter they have to meet on their own to take some far-reaching decision to be communicated to us in few days ahead."
The NLC said that the national leadership of NLC has met and written the president that all the previous interventions must be accounted for before the release of further tranches.
"We have just officially written to Mr president that the subsequent release of tranches should be predicated on how accountable they have been made to account for all the three interventions, the bailout and the two tranches of already paid."
Speaking on the proposed new minimum wage, the national president explained that their struggle now is apt because as from 2018 there will be distraction when politics set in and resources will be committed to campaign.