The river of fortune
MUHAMMAD SABIU explores the situations of the communities surrounding the Kaduna River, which has given life support to both the old and the young.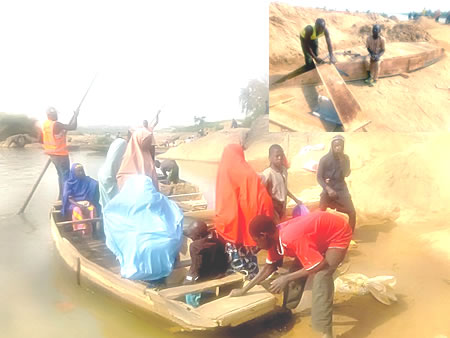 MANY Nigerians are familiar with the history of Kaduna as a city and especially the river from which it derived its name. One version claims Kaduna was coined from Gbagyi word meaning river. The Gbagyis, a sub-group in the northern part of the country, were said to have inhabited the area before Lord Lugard came to make the small settlement the headquarters of the Northern protectorate.
Another version of how Kaduna came by its name said the river was crocodile-infested and from the word kada, which is the Hausa word for crocodile and its plural form Kaduna, the city got its name.
APC, PDP supporters clash as FCT minister takes campaign train to Jiwa district
However, what is clear today is that the city is thriving and the river which gave it its name is similarly not lacking in various commercial activities. Rafin Guza, one of the settlements on the banks of River Kaduna is located in Kaduna North Local Government Area of the state with a conservative population of about 200,000 people.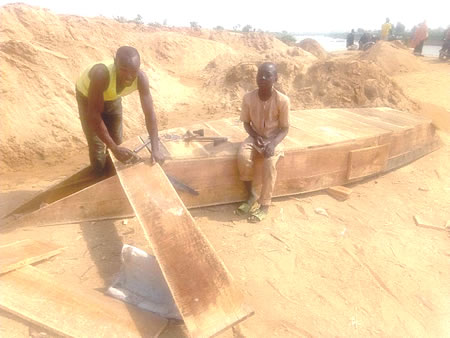 River Kaduna whose source was traced to Jos in Plateau State has over the years provided a source of livelihood to hundreds of youths who besiege the river bank every morning to eke out a living.  When Arewa Live visited the community, it gathered that these youths were not only from the surrounding villages and towns bordering the river but many of them came from Kano, Katsina, Sokoto, Kebbi and even the neighbouring country of Niger Republic.
Ayuba Jibrin, who is more or less the leader of those working around the river bank, told Arewa Live that he has been making his daily living there for over 50 years, disclosing that many of his contemporaries had passed away.
He said many youths have made the river bank their operational base as it provides them solace and a source of living where they do all sorts of petty jobs, from the gathering of sand to building of canoes. Pointing to farm lands, Jibrin said some of the youths are also farmers.
"Most of the buildings in Kaduna metropolis were built with the sand collected from the river," he said in the bid to confirm that the river has provided huge commercial activities to sand miners. Beyond that, he said the inability of the government to connect all the communities that surround the river, allowed the youths to build thriving water transportation business.
"…because there is no bridge to connect the surrounding villages, canoe transportation in the river has become a brisk business for the youths."
"Most of the youths you see here today that's what they do. The heaps of sand you see are collected by them and the tipper drivers you see around come to buy from them. Some of them are also into canoe construction," he revealed.
But while the youths are happy doing what they do and barely surviving on the little money they make daily, Jubrin said residents of the surrounding villages are not happy. They are at the receiving end of government's inactivity in their communities.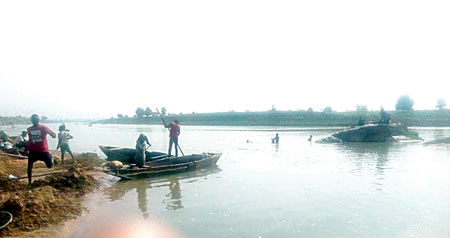 "There are not happy because they lack motorable road, health care centres and schools. In fact, pregnant women had to be ferried before they could get ante-natal care. Most of the parents have to enroll their children for school in Rafin Guza, Kawo, Unguwar Dosa, because they are all located in the metropolis," he lamented.
 Profitable business
Findings by Arewa Live revealed that a typical day for the canoe boys starts as early as 6am and ends by 6pm. Haliru Usman is one of the youths engaged in canoeing business by Kaduna River. A holder of the National Certificate of Education (NCE) he disclosed to Arewa Live that though he is supposed to be somewhere in a classroom teaching, he has no other job than the canoe business. "It is from here I feed my family," he said.
Looking back with nostalgic feelings, he said he had no regret about what he's doing. For him, ferrying passengers across the river is more profitable. "We make cool money here. I don't think I would earn what I'm earning if I had decided to take up teaching."
Another canoe boy, who simply identified himself as Shamsudeen. told Arewa Live that the river had been a source of joy. According to the 32-year-old, since he left primary school, he decided to fend for himself by trying his hands on different odd jobs.
At the beginning, Shamsudeen said, he started as a driver. He recalled that a wealthy man bought a car and gave it to him and after working with the car for few months, the owner of the car collected the car and sold it. Dumbfounded and confused, he decided to come to the river bank and he eventually became a labourer.
"I used to pack sand and load it on tippers for a fee. Later, I became a canoe owner and started ferrying people across the river. I charge between N20 and N30 per trip and usually five people are being ferried in a canoe at a time.
"But if we are conveying sand packed from the river to a tipper we charge the driver between N4,000 and N5,000 per trip. On the average, we can make up to N30,000 in a day," he said.
Apart from canoe transportation, other youths had found the construction of canoe a profitable business. According to Isiaka Ibrahim, who specialises in the construction of canoes, the cost of building a good one is about N23,000.
Ibrahim could not hide his happiness. According to him, he "derives joy from doing the job and it is financially rewarding." From the proceeds, he is able to take care of his family and aged patents.
Speaking in the same vein, Musa Babanta who discovered the profitability of working around the river 10 years ago remarked that canoe construction has helped him to financially support his children and siblings educationally. He told Arewa Live that he is currently sponsoring his brother's education at Kaduna Polytechnic, spending as much as N70,000 on his (brother's) registration.
Babanta, however, said in spite of the gains, some of those who are into the business still want government's intervention and support by giving them loans to enable some of them who are not too buoyant to boost their business and to own canoes.
Babanta also opined that a bridge should be constructed to link the over 30 villages in the area like Mashigi, Unguwar Kudu, Makwalla, Daurari, Unguwar Tudu, Kurmin Kaduna, Iza, Namaje, Gobarawa and Danyamma, among others.
Graciously, the Kaduna river is a natural phenomenon that is not about to disappear. In other words, as long as the river exists, the people making their living from it can be rest assured that they have a job until they become too old to work.