Resign or get sacked, MAN tells workers with fake certificates
•Says Covid-19 delaying simulators arrival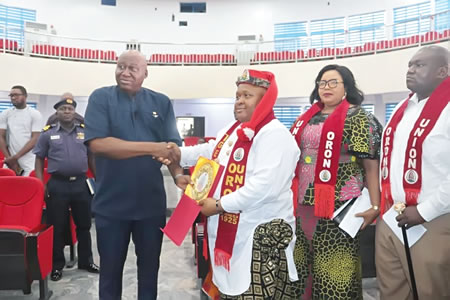 Management of the Maritime Academy of Nigeria (MAN) has advised workers with fake certificates to either resign or get sacked. This is even as the MAN management announced the employment of an Indian Master Mariner into the Academy's workforce.
Disclosing this to newsmen recently in Oron, Akwa Ibom State, the Rector of the Academy, Commodore Duja Effedua (rtd) stated that the Nigerian Youth Service Corps (NYSC) and other academic boards had already sent in certificates confirmation of most of the academy's workers to his office, thereby exposing those that enrolled into the academy's workforce with fake certificates and credentials during employment processes.
According to Commodore Duja Effedua "We are awaiting more inputs from the West African Examination Council (WAEC) and the National Youth Service Corps (NYSC) over these issues. As at last Friday, the NYSC has given us five names of workers with fake credentials, and they assured us that in the next two weeks, we will get more.
"We have found some workers with fake credentials for NYSC, WAEC and the National Examinations Council (NECO). We have asked these set of workers to resign, and failure to do so, we will hand them over to the Independent Corrupt Practices and Other Related Offences Commission (ICPC)."
On the simulators of the Academy that are being expected, the MAN Rector lamented that the COVID-19 outbreak has delayed its arrival.
"Our simulators are trapped somewhere due to the Corona virus pandemic. They are been shipped from India but cannot move further due to the COVID-19 scourge. Most ports and airports are closed, that is why we have found ourselves where we are concerning our simulators.
"As soon as the pandemic subsides, we will conclude the arrival of our simulators and commission them, alongside the new main gate, the survival pool and other projects."
The Rector also disclosed that the Academy has secured the services of a foreign Master Mariner from India. In his words, "We have secured the services of a Master Mariner from India. His name is Captain Rajar Thinam. He should have joined us but for the COVID-19 pandemic that made us to ask him to hold on,.
"Once the issue of COVID-19 is over, he will be joining the ranks of Master Mariners in the fold of the Academy." The MAN Rector added.