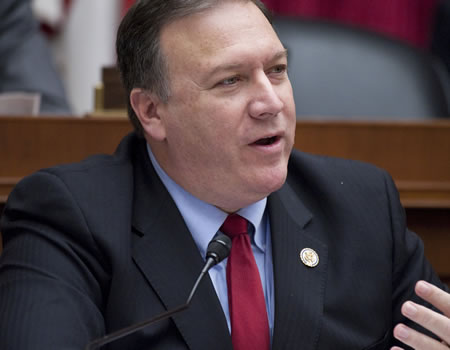 US Secretary of State Mike Pompeo has nearly doubled promotions of top American diplomats as he seeks to restore diplomatic ties with a workforce alienated by his predecessor, Rex Tillerson.
Since taking over in April, Pompeo has lavished attention on diplomats demoralized by the former oil executive's distant management style, reluctance to consult in-house experts and inability to get personnel choices through President Donald Trump's White House.
The charm offensive by the former Republican lawmaker and CIA director includes resuming the hiring of diplomats' family members when posted abroad, cheerleading emails to staff about his travels and a push to replenish the top ranks of US diplomacy, officials said.
The most tangible sign of Pompeo's effort may be the State Department promotion lists, disclosed internally since August 31 and reviewed by Reuters, which show Pompeo has sharply increased the number of diplomats promoted to three of the top four ranks.
According to a provisional agency document circulated internally on Friday, Pompeo recommended doubling the number of "career ministers" – the second-highest rank in the US foreign service – to eight from four.
Pompeo also proposed nearly doubling those promoted to the third rank, "minister-counselor," to 68 from 35 the year before.
For the critical level of 'officer counselor'- the entry point for the "senior" foreign service and the hurdle at which many careers in the up-or-out system founder – he increased the number by more than 50 percent to 97 from 63.
The State Department had no immediate comment on the data.
An official who declined to be identified said the final number of promotions for fiscal 2018, which ends on September 30, could exceed those published over the past few weeks, in part because the lists do not include some people recommended for promotion who have yet to complete mandatory career management programs.
Tillerson, who cut promotions in six out of the seven top ranks, said at the time he did so because of earlier hiring surges and because the agency's "position base" would "contract over the next couple of years."
That decision, and Tillerson's embrace of roughly 30 percent budget cuts that Trump proposed but Congress largely rejected, angered many department employees, for whom protecting one's budget is an axiom of bureaucratic warfare in Washington.
Tillerson, whom Trump fired via a tweet on March 13, argued in a Nov. 28, 2017, speech that he had inherited an agency budget that was at a record high and was unsustainable. A Tillerson spokeswoman did not immediately reply to a request for comment.