Pompeo meets Turkey Erdogan on missing journalist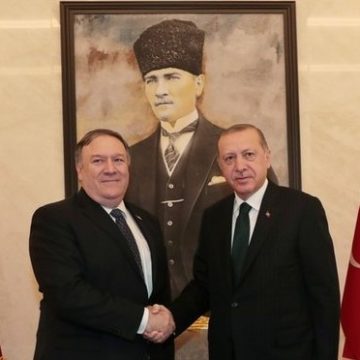 United States Secretary of State Mike Pompeo met Turkish President Tayyip Erdogan in Ankara on Wednesday following talks with Saudi Arabia's king and crown prince about the disappearance of journalist Jamal Khashoggi.
US President Donald Trump, who dispatched his top diplomat to address the crisis, has given Saudi Arabia the benefit of the doubt in Khashoggi's disappearance, even as US lawmakers pointed the finger at the Saudi leadership, and Western pressure mounted on Riyadh to provide answers.
Turkish Foreign Minister Mevlut Cavusoglu has said Pompeo would bring information about the case to Ankara, two weeks after Khashoggi vanished when he visited the Saudi consulate in Istanbul to collect documents for his planned marriage.
ALSO READ: LAUTECH protests new tuition increase
Turkish officials have said they believe Khashoggi – a prominent critic of Saudi Arabia's Crown Prince Mohammed bin Salman – was murdered and his body removed. Turkish sources have told Reuters the authorities have an audio recording indicating that Khashoggi was killed inside the consulate.
The Saudis have strongly denied the accusations, but US media outlets have reported that they will acknowledge Khashoggi was killed in a botched interrogation. Trump has speculated that "rogue killers" could be responsible, but gave no evidence to back up that theory.
After meeting with King Salman and the crown prince on Tuesday, Pompeo told reporters that Saudi Arabia has committed to conducting a complete investigation into Khashoggi's disappearance Reuters reported.
How the crown prince, often referred to as MBS, emerges from the Khashoggi disappearance is a test of how the West will deal with Saudi Arabia in the future. At issue will be to what extent the West believes responsibility for Khashoggi lies with the powerful young ruler.
"In each of those meetings, I stressed the importance of them conducting a complete investigation into the disappearance of Jamal Khashoggi. They made a commitment to do that," he told reporters traveling with him after boarding the plane for Ankara.
"They said it would be a thorough, complete and transparent investigation," he said. "They indicated they understood that getting that done in a timely, rapid fashion so they could begin to answer important questions."