Our committee capable of uniting Lagos PDP ― Oyinlola
•begs stakeholders for cooperation to bring back party to the winning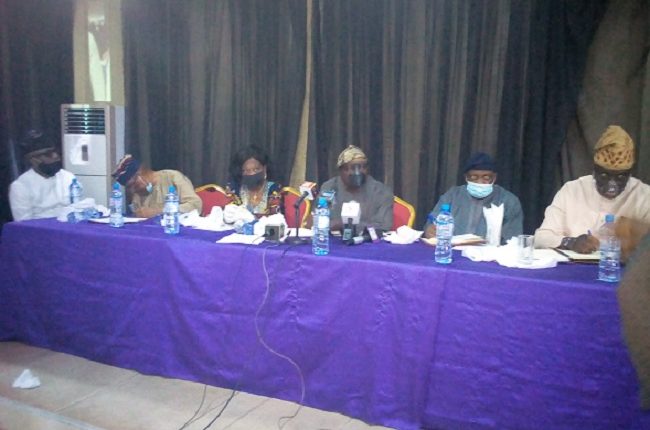 Chairman, South-West Peoples Democratic Party (PDP) Reconciliation Committee, Prince Olagunsoye Oyinlola, on Thursday, assured that his committee has the wherewithal to address the problems confronting the Lagos State chapter of the party and bring about peace and unity to the fold.
Oyinlola, who is also the former military administrator of the state, gave this assurance while addressing newsmen, shortly after meeting with some party stakeholders, at a parley which took place at Airport Hotel, Ikeja.
This was just as the party chieftain, who was former civilian governor of Osun State, urged PDP leaders and faithful to cooperate with the committee to enable it to bring back the party to the winning way as, according to him, Nigerians were now for PDP to come back due to failure of the ruling All Progressives Congress (APC) led government to fulfil promises made to them.
PDP chieftain present at the stakeholders' parley, including the former chairmen of the party, Hon Sentoji Kosedo and Dr Adegbola Dominic; Alhaji Fakunle, former House of Reps candidate, Fatima Muhammed, Chief Ola Apena, Hon Rahman Owokoniran, among others, had spoken, affirming former Deputy National Chairman of PDP, Chief Olabode George as the leader in the state, urging that other leaders must be made to realise such to enable the party to resolve its crisis and move forward.
They had suggested that the party in the state would be at peace, united and be able to win the state if only just five leaders, including Chief George, Dr Bimbo Ogunkelu, Chief (Mrs) Aduke Maina, were brought together and united.
"One thing that must be done is to get to the root cause of the problem and like I said we are still going to meet the stakeholders who are concerned with what is happening in the party and until that is done, we might not be able to proffer the solution.
ALSO READ: Nigeria exits recession, grows 0.11 per cent in Q4 2020
"The people mentioned, they are all known to me. Please don't forget that I was once a military administrator of this state and none of them is new to me. I think I am a step ahead in getting the solution.
"They (party faithful) should please cooperate with the committee, let's bring back our party to the winning way. The people are yearning for PDP to come back because for every promise made by the APC led government, it is a promise not fulfilled and I don't see why we should not be elected," Oyinlola said.
Speaking further, the former Osun governor harped on the need for the party leaders and members to unite, recalling that the party lost to APC in 2015 because of lack of unity, adding that Nigerians could today see clearly that APC had never been equal in performance and keeping promises.
"We were in power, one of the things that took us out was the fact that we refused to unite and that was why we allowed them to come in and they took overpower. But today, today every Nigerian knows very well that the government of APC has never been equal in performance and keeping promises," he said.
On former Governor Ayodele Fayose, Oyinlola said his name had not featured at the parley because it was scheduled to discuss the issue of Lagos State, and not Ekiti State, where Fayose is from, and, therefore, did not see any reason why he should mention anything about him.
He, however, noted that the group that Fayose is leading is an issue that should be of concern to everyone in the South-West PDP, saying that steps were being taken to resolve the issue and make sure that the party was one in the zone.
"I have not mentioned Ayo Fayose because Ayo Fayose is not from Lagos State and we have come to discuss the issue of Lagos State and I don't see any reason why I should have reference to Ayo Fayose.
"The group that he is leading is an issue that should be of concern to everyone in the South-West and I think steps are being taken to resolve the issue and make sure that we are one in South-West," Oyinlola stated.
Our committee capable of uniting Lagos PDP ― Oyinlola
Our committee capable of uniting Lagos PDP ― Oyinlola
Our committee capable of uniting Lagos PDP ― Oyinlola