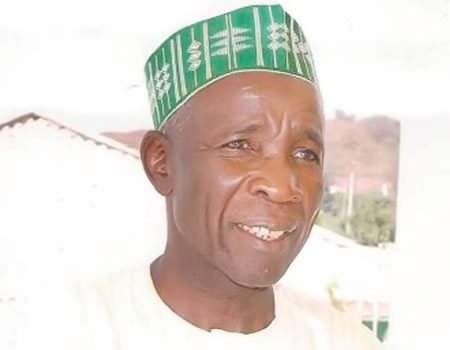 Chieftain of the defunct Congress for Progressive Change (CPC) and chairman of a factional group, the Reformed All Progressives Congress (rAPC), Alhaji Buba Galadima, has said there is no basis for negotiation between his group, the Presidency and the APC National Working Committee led by Comrade Adams Oshiomhole. In an interview aired on Monday by Channels Television and monitored by Sunday Tribune,  Alhaji Galadima said his group's irreducible demand from the national leadership of the ruling party and the Presidency was the dissolution of the APC NWC and conduct of a fresh Congress and national convention. TAIWO AMODU brings excerpts:
YOU are a friend of President Muhammadu Buhari and a strong member of the APC. Why are you involved in this struggle against the party?
I have suffered many deprivations, intimidations, arrest, detention, questioning and several times too.
But that was under Obasanjo?
Of course. I have even been on trial for treason. No politician living today has suffered those inconveniences that I went through and it was our conviction that we would build an egalitarian society, an inclusive society,  where the common man will be the bedrock of our policy and that the son of Mr.  Nobody can be Mr. Somebody. Today, this isn't what obtains in the country and our party, which we laboured and sacrificed to form, has become comatose. We were accusing the Peoples Democratic Party (PDP) of constitutional infractions, dictatorial tendencies and high-handedness and we told the Nigerian people, they accepted and voted for us that we would do better than the PDP. That when we come in, we would provide leadership, we would do constitutional democracy, where everybody that has the right can have opportunity to aspire to any position and the people would give him the mandate. It is also on record that we promised to secure the lives and property of every Nigerian. It is also on record that as at then, when we were so pissed off and petrol was selling for N87.00, a bag of rice was selling for N7, 000 and a dollar was exchanging for N160, we felt we could do better. We thought and said could bring the price of petrol to N40, that we could get a bag of rice being sold for N4,000 by reducing the hardships of the common people.
But what is happens today? Is life under this our government more meaningful again? You can be killed anytime. For those of us who are Moslems, you want to go to Kano from Abuja, it isn't the length of time from Abuja to Kano, five hours that's the matter. But you have to be awake, praying to God that you should arrive at your destination safely. That isn't the kind of society we intended to build. This isn't the kind of society that people are excluded in all manner of ways and nobody gives a damn what has happened. We aren't communicating with the people. Nobody can rule Nigeria successfully without communicating with them and giving them their right to know, because government isn't about secrecy. We voted them into power and they owe us explanation on every action they take and we can question them. This is the situation and I felt that as an upright citizen of this country, I should come out, get some people to support me and try to right the wrongs.
This is where we are and I want to say that I am prepared for this fight and I am most fulfilled by the kind of words of solidarity and support that I get from all nooks and corners of this country, irrespective of tribe, religion section or even creed, irrespective of sex and age. We are on track. We are encouraged by the support of the people, to right the wrongs, to make sure that Nigeria is governed under the rule of law, where if a court makes a pronouncement the government is under obligation to respect the views of the court. Once that is thrown aboard, we are descending into dictatorship.
Let me ask you this: you have enumerated a number of points here about your disappointment with the party and government. Did you at any point raise this with your friend, President Buhari?
He is my friend, he is my leader and he is the president of Nigeria. Therefore, even if there is no friendship, I have to respect him for two things: he is older than I am by nearly eight to 10 years. He is the president of my country and I have to respect him, but that's where it ends. When there is an issue of principle, even if somebody is my father, I am known to politely tell him that "sir, father, this is wrong."I won't look at it the other way. But being president, I Buba Galadima, I can't go to the Villa and start shouting at the gate that I want  to see Mr. President or that I want to advise Mr. President! Of course, he knows we have come a long way—from 2002 to date.
I have enumerated all the inconveniences I got by working with him and not working with him as just a follower. No. As a colleague in a movement and as somebody that has worked tirelessly 24 hours a day to build this empire that some people are sitting on. Don't believe all these social media people they have assembled in Utako or Jabi to be abusing me, with all manner of falsehood. Those who are Buharists today were those who, in the past, sat down at Transcorp Hotel and wrote a result against us and called Buhari all manner of names. But today, they are his Man Friday. If I am your friend and we meet everyday and you don't see me in one week, what are you expected to do? For me, I will try to find out why I haven't seen you. Ask Buhari when you get to him whether he has looked for me. But I have sent messages which he got. If those people that I talked to don't tell him the correct thing,  at least he knows that I bare my mind in the press and he listens to radio; he may even watch this interview and he knows that I don't lie, I don't double speak, I speak my mind: What is in my mind is what my heart says.
So, even now that I am having this interview with you, I am sending messages; he doesn't need to call me, it is enough to act on what I am saying. Nigeria is a plural society; you can't exclude certain people and be allowed to sleep. You shouldn't allow people to hold their own perceptions. A lot of perceptions that are falsehood but because the government isn't communicating, they are now becoming reality. It shouldn't be but the man has assembled a nonentity cabinet, the man has surrounded himself with sycophants. The problem of Nigeria is that of ignorance and sycophancy. They make leaders believe that they are God. Nobody is God.
You have said you can't reach Buhari. But apart from those of you who belonged to the CPC, there are others making similar allegations: the new PDP, they are alleging marginalisation and there are others as well. You are a member of the APC; did you make efforts to reach the party to forestall this total breakdown instead of resorting to rAPC?
Let me tell you something: the CPC, which I represented in the coalition in the APC has been garnering 12 million votes between 2003 and 2012. So, as far as votes are concerned, we are a block. But today, I can't talk of three key appointments from that group, except the president. All those 12 million votes, he knows that there isn't a single one of them that I don't know.
You mean you can't mention three appointments given CPC?
I can't. If you know, please help me.
Abubakar Malami, Bayo Shittu and Nasarawa State governor, Tanko Al-Makura
You are speaking to a student of history, Tanko Al-Makura is an elected person but we are taking of appointments. Adebayo Shittu is the most senior CPC man that is in this government and he doesn't talk to me again. He is the only person that gathered more votes as a gubernatorial candidate of the CPC from the southwest. So, I accept him but he is one. But there are others in Zamfara State and others. Over 753 of our key members were killed in Kaduna. In Zaria, over 300 people were killed by the police and army during elections. I can tell you that over 20,000 of our supporters had been affected between 2002 to 2015 and I am the only one as the custodian of the record. The National Secretary of CPC knows the relatives of these people and members of their families. Today, we are in government, as I talk to you, there are members of the CPC party that were arrested and detained, jailed for flimsy charges and are still in court. Is that the legacy? And people who are strangers are coming in. That Malami you just mentioned, can't he go to the prisons and find out? People are being killed and there is no compassion. The chairman of the party never visited any community where people lost their lives. Today, I want to say without fear that more people are being killed in Zamfara than any other part of the country. It is an APC state, yet the chairman of the party doesn't find it expedient to go and commiserate with the people of Zamfara.
But the president has been in Bauchi; he has been to Benue and Taraba.
Because he is seeking re-election. Does that make him a compassionate man? Because now he is looking for reelection. Is that the kind of society you want to build? You use us as an example, whether this government is good or bad. I see people running up and down saying they are pro-Buhari people. We had worked with him for 16 years and we are being treated this way and those who lost their lives because of his ambition haven't been catered for, haven't been recognised. Yet, people that are just coming are there around him.
So, nobody could do what I have done because it is on record. The same with Alhaji Sule Hamman, he was the Director-General of the Buhari Organisation that was the vehicle that promoted General Buhari, that sold him to Nigerians. Today, Alhaji Hamman has never, since Buhari became president, exchanged telephone greetings with him. He was never invited for even his inauguration. Is that the kind of person you are promoting?
I am not promoting him; I am just doing my job.
Then, you should side with the truth, fairness and justice.
That's why we are taking to you. Now, what is it that you plan to do now, because you led senators, House of Representatives members and other aggrieved chieftains into the rAPC?
(Cuts in)Let me tell you something before you finish, 75 per cent of Nigerians are in support of what we are doing. If the party doesn't know; Adams has called me names.
Has he met you? 
Why do I need to meet him? He is a usurper.
Oshiomhole is the chairman of the APC at the moment.
Who elected him? What were the processes?
There was a convention.
Can they defend it in a court of law?
But until the court decides, he is the chairman.
But I am also the national chairman, until the court decides.
You are national chairman of rAPC.
Yes, I am the national chairman of Reformed APC and we are booting them out! Look, anything that is done under Oshiomhole's signature, it is a nullity. When the court declares that his election is null and void, anything under his signature is going to the winds.
Are you talking about the forthcoming party primaries for governorship, presidential and other elective offices?
Well, I don't know, I am just telling you. I am not a lawyer. But we hold the cutting edge.
So, what do you plan to do?
They must do what is right.
ALSO READ: Shake-up in the army, GOCs, others moved
In this case, what's right?
What is right is to follow the rules of the party on how delegates were supposed to emerge, how congresses are done and how the national convention is managed, according to the Constitution of my party, the constitution of the country.
What is wrong with what they did?
Look, it is subjudice. I am in court and I don't want to go to jail.
There were congresses at wards, local government and states; of course in some states there were difficulties, where you had parallel congresses.
In 24 states!
Sir, what do you intend to do, what is your group's game plan?
The game plan is simple: we have promised Nigerians that we would follow the rule of law, that we would do constitutional democracy and that nobody should be deprived of his right. So far it is an APC government. Once we come to that path, I am done. Then, I might have assisted the country. Even as of now, I've made people very relevant. Those you have to give one year notice to seek appointment to see them, now they leave their doors open for everybody to come in. Those people who feel they have contributed and have been neglected; now people are visiting their houses to plead with them.So, even if we stop at that, we have tamed the monsters.
But it doesn't look like you intend to stop at that?
Why should I? Those who know my pedigree know that I don't fight and run away. I fight to a logical conclusion.
In this case, what will be the logical conclusion?
The logical conclusion is that the party must do what is right: dissolve the convention, do fresh congresses and start all over again and do exactly what the constitution says. That's my condition.
Will there be time for that?
Well, that's left for them. Why did they do the wrong thing in the first place? They must suffer for it so that nobody does it again. All my life, I have fought for justice and I am fearless in doing that. They are planning to arrest me as I speak to you. They are planning to kill me. Adams Oshiomhole was quoted by the press that Galadima would be crushed. What does that mean?  I'm going to write an open letter to the president to secure my life…
But you know you are playing a dangerous game. I hope you know that?
Of course, I know the consequences but there is nothing too big a sacrifice to make for my country and to salvage you and the rest of Nigerians. There's nothing!