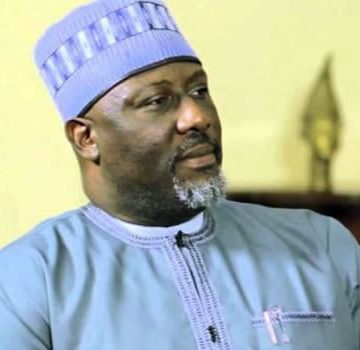 OKUN indigenous groups and township associations in Lagos on Thursday said they are in support of electoral processes to recall Senator Dino Melaye representing Kogi West Senatorial District from the Senate.
The groups gave this position in a release signed by Rotimi Ajibulu and Adebukola Ebenezer, saying Okun residents in Lagos were happy with the process, insisting that Senator Melaye had been a bad ambassador of the Okun people.
Ajibulu is a former executive member of the Federation of Okun Students, while Adebukola is the President, Lagos State chapter of Okun Progressive Association.
The duo, who recalled how they had rallied Okun residents in Lagos to campaign and work for Dino's emergence as a Senator in 2015, said they were disappointed in the manner the senator had portrayed the Okun nation.
"Prior to the election, Senator Dino met with various groups and associations from Okun nation and other towns within the Kogi West Senatorial District in Lagos seeking for our support. We in turn formed a think-tank team that spoke to our people at home to support Dino.
"However, today we acknowledge that it was our greatest mistake. In fact, supporting Dino was a tragedy. He has proven us wrong, he has brought lot of disgrace and shame to the Okun people. We totally support his recall from The Senate and urge all our people back home to follow suit," the groups said.
The groups also warned the embattled senator to stop dragging names of respected Okun indigenes and elders into his woes and wait for the verification of signatures by the Independent National Electoral Commission (INEC).
"We also reject the idea of ethnicizing Senator Dino recall process. In the first instance, he has failed the Okun nation, who against all odds supported his ambition in 2015. This recall process should not be seen has a personal battle of the Okun nation as Senator Dino is portraying.
"His effort to galvanize support from the Okun people that he abandoned after giving him massive support during the election has hit a brick wall," the groups affirmed.
The groups, while commending the turnout of Okun people to sign the recall petition, urged them not to succumb to harassment and intimidation to back out from the lofty and legendary process it had embarked upon.
"We understand the pressure on Okun people to back out of this recall process. We must not bow to mal-representation, dishonesty and thuggery.
"The Okun nation has a long list of notable and responsible people it can put forward to represent them. Senator Dino is just a mistake of selection," the groups said.