With 72 hours left before the expiration of the deadline given by the Central Bank of Nigeria (CBN) for all to deposit old N200, N500 and N1,000 notes, IFEDAYO OGUNYEMI looks at how the currency swap affects traders, shoppers and ordinary citizens at the lowest rung of the Nigerian society.
Just like every market day, Mrs Mary Suraj, a puff puff seller, had gone to get flour, sugar and other ingredients needed for the week when her regular supplier at Awolowo Market in Sagamu Local Government Area of Ogun State delivered the unpleasant news. Her supplier would not collect the old notes from Saturday (yesterday), the next market day.
The middle-aged woman told Sunday Tribune that the supplier had notices posted at different spots in her store, stating that the old notes are no longer acceptable for transactions.
Not that she hasn't heard the instructions since the new and redesigned notes started circulating in December 2022, but this time, it felt real. Her fears grew as she has only collected a few of the new notes herself.
"Most of my customers are schoolchildren who take these snacks to school in the morning. Would I also not ask them not to bring only new notes?" she asked Sunday Tribune during the visit last Sunday.
Like many of the people Sunday Tribune spoke with, the major concern is that the new notes are not well circulated. While a few of them have new notes of N200, N500 and N1,000 denominations in their possession and to transact with, others do not. A reasonable fraction of Nigerian citizens have only seen the new notes once or a few times while some others have neither held or possessed one.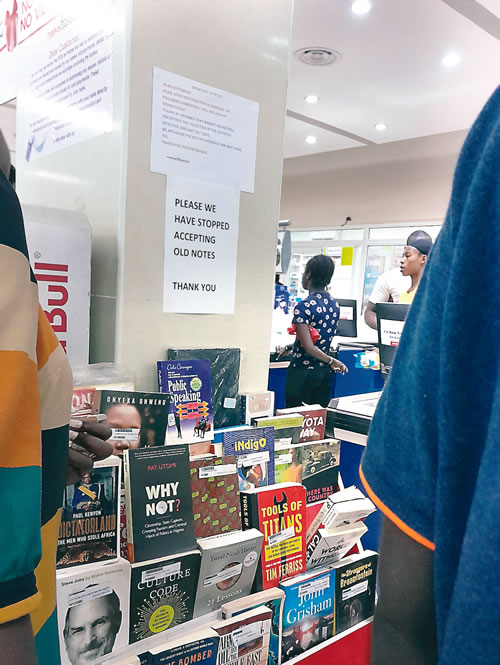 The genesis
It would be recalled that in October 2022, the Central Bank of Nigeria (CBN) announced the introduction of the redesigned N200, N500 and N1,000 notes in line with provisions of sections 2 (b), 18 (a) and 19 (a) and (b) of the CBN act 2007. The CBN governor, Godwin Emefiele, said the new notes were introduced as a result of concerns with the management of the old series of banknotes, and currency in circulation — particularly those outside the banking system in the country.
The concerns, according to Emefiele, included the worsening shortage of clean and fit banknotes, increasing ease and risk of counterfeiting and the fact that about N2.73 trillion (representing 80 per cent) out of the N3.23 trillion currency in circulation as of September 2022 was outside the vaults of commercial banks and supposedly held by the public.
The old notes have coexisted alongside the redesigned notes since its formal introduction in December and would remain until January 31 when the old notes would cease to be legal tender. Invariably, the transition period would only last 47 days but the CBN ordered all deposit money banks (DMBs) to return the old notes to the CBN on October 26, 2022.
According to Emefiele's projections, the redesign of the currency will help rein in the currency outside the banking system (including in the hands of terrorists and kidnappers) into the banking system, make monetary policy more efficacious and deepen CBN's drive to entrench cashless economy.
In spite of these projections, the new policy has sent chills down the spine of all stakeholders and citizens alike as they fear that there are not enough new notes in circulation to replace old notes with just 48 hours to the expiration of the January 31 deadline.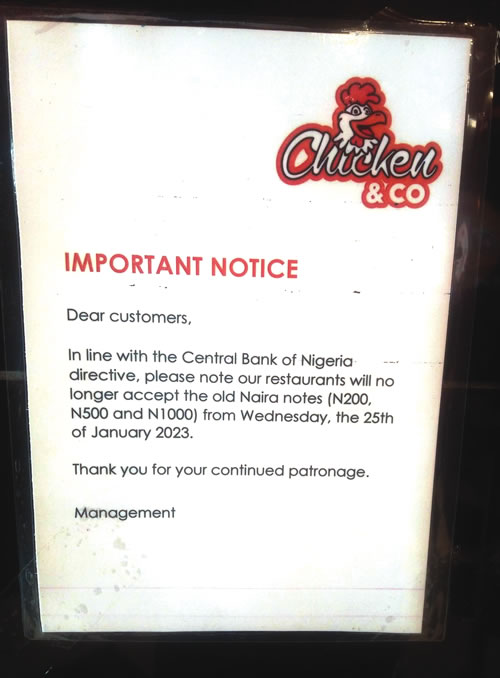 No going back on deadline extension — CBN
Another resident in the area and a tricyclist, Olugbenga Adebiyi, whom Sunday Tribune spoke to in Sagamu, equally expressed fears that there are not enough new notes to go around as he hopes that the deadline would be extended.
CBN governor, however, foreclosed hopes that the deadline would be extended. Speaking at the end of the first Monetary Policy Committee (MPC) meeting for the year on Tuesday, Emefiele said: "Unfortunately, I don't have good news for those who said we should shift the deadline. My apologies. We believe 100 days are adequate for people to turn in their old naira notes. We do not see any reason to talk about a shift because people could not deposit their old notes."
Adebiyi, who is unbanked, said the policy had started creating a ruckus between motorcyclists and passengers as well as others who make a living on cash.
"I have only collected it (new note) once. I was given a N1,000 note and I returned the change in old notes. I presumed he collected the notes because the deadline is still relatively close.
"I neither have business in the bank nor with the POS machines. I make sales through cash daily and I get foodstuffs with it. Even those who go there don't have new notes as they tell us. Government can't just cancel the money like that.
"I cannot stop collecting the old notes because that's where I make a living and eat from. How do I feed?" he asked.
An assorted meat seller at Molete Market in Ibadan, Oyo State, who identified herself as Mrs Adesola, told Sunday Tribune she may stop collecting old notes by Monday.
he told Sunday Tribune that meat sellers from the North from whom she gets supplies "do not accept the old notes from us. When I went to the meat market this morning, the old notes were rejected from me. I was asked to go and change them to the new ones before buying. They said the old notes are not accepted in the North anymore, so they have stopped accepting it from customers here."
Bola, a grocer at Bodija International Market, Ibadan, has had problems restocking her store because her supplier would not collect old notes anymore. She does mobile banking instead because the ATMs do not supply new notes.
She said: "I cannot turn away customers with old notes because I would not make as many sales as I would like. So, I usually ask them if they can pay via transfer, but if they can't, I just collect the old notes."
For Adeola (not real name), one of the vegetable traders at the market, her suppliers still collect the old notes. "I have seen the new notes with other people, but I haven't received them myself. I will keep collecting the old notes till I can't spend them again. My supplier still accepts it from me, so I can keep collecting it."
Church, retail outlets reject old notes nationwide
Checks by Sunday Tribune showed that different sections of the Nigerian markets and outlets where cash is being used to transact businesses have equally stipulated a deadline to which they will stop collecting the old naira notes in fear of the CBN deadline. Some of these instances have surfaced on Twitter.
A Rivers State-based broadcast journalist, Lerabari Deeyor, tweeted that the outlet of Market Square, a grocery retail store located in the Choba area of Port Harcourt, has stopped collecting old naira notes ahead of the January 31 deadline given by the CBN to the surprise of shoppers inside the outlet.
She also alleged that Point of Sales (POS) operators in some parts of the Rivers State capital charge an extra N100 for issuing new notes to residents.
One of the notices found at Market Square read: "Important notice!!! Dear customers, in line with CBN's directive in changing the following currencies: N1000, N500 and N200 respectively, please be informed that Market Square will discontinue the collection of the old notes effective January 24th 2023. We apologise for any inconvenience this may cause you. Thanks for your patronage."
Another notice posted above the old one presumably after the expiration of their Tuesday deadline read, "please we have stopped accepting old notes."
The same scenario played out at the Market Square outlet in Yenagoa, Bayelsa State, according to a tweet and photographs of stranded customers posted by Ala Matthias on Wednesday, January 26th who claimed the management of the outlet rejected the old naira notes.
The popular eatery, The Place, with outlets in Lagos and Ilorin, was said to have put up a similar notice in some of the outlets, stating that it would no longer accept old naira notes for transactions from Saturday, January 28, 2023. Other outlets including Chicken and Co in Sagamu, Ogun State and Ibadan as well as the Old English Supermarket in Ikeja GRA, Lagos State, stopped accepting old notes on Wednesday.
In another tweet, a Lagos-based Catholic priest, Fr Francis Ezeh, was seen advising churchgoers not to bring the old naira notes to church as offering. A photograph accompanying the tweet had Thursday, January 26, 2023, as the deadline.
"For Nigerian Catholics! Don't bring old notes to church as an offertory collection when you know it will be out of use before 31st January 2023," the tweet read.
The same thing was observed by Sunday Tribune who went to eateries and retail outlets in Ibadan, the Oyo State capital, to monitor how the transition was going on as the deadline approaches.
At the FoodCo outlet located at Ring Road, Sunday Tribune observed a notice posted at the entrance warning customers that the old notes would no longer be acceptable from the close of business on Friday, January 27, 2023. "This is to enable us to evacuate and lodge the old notes before the CBN deadline," the management said.
Both the Chicken Republic outlets located at Challenge and Ring Road also said they won't accept the old naira notes beyond January 25, 2023, as contained in a notice posted at their entrances.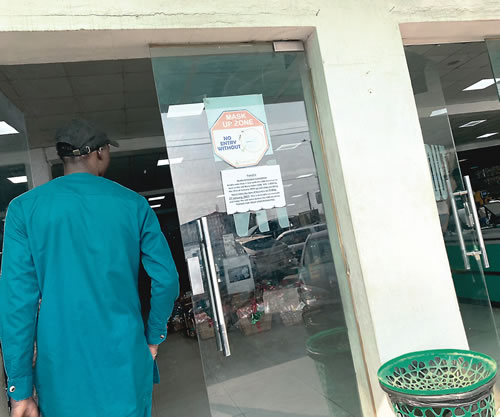 Palpable fears in rural communities
In spite of the CBN's stance, there appears to be more fear in rural communities which have no banking services or are hard to reach.
Borno State governor, Professor Babagana Zulum, had raised an alarm that the search for the new notes has caused unnecessary economic hardship in Internally Displaced People's camps and other liberated areas within the state, adding that for more than 10 years, only Maiduguri, Biu and Jere have functional banks among the 27 local government areas in the state because of Boko Haram insurgency while some parts of the state are either unmotorable or inaccessible.
"If as a governor, I do not possess the new naira notes currently, what of a poor person in the village or on the streets? Just last week, the Borno State government approved the release of the sum of N800 million to cushion the hardship faced by our repentant Boko Haram terrorists. How does CBN expect these repentant terrorists who are still under the custody of our security operatives to come out to exchange their old naira notes or open an account with commercial banks?" Zulum asked.
Similarly, in Yobe State, the story remains the same. On Monday, former Comptroller General of the Nigeria Immigration Service (NIS), Muhammad Babandede, in a tweet, said he "spoke to a few (people) in Geidam, Yobe State – the situation is critical. No single bank in town due to insecurity, POS has stopped collecting old notes and they don't have the new ones. Transactions have stopped. Children, old and poor, are crying because they can't sell or buy food."
Cash swap scheme to the rescue?
In a memo dated Saturday, January 20, and signed by its Directors of Banking Supervision and Payments Systems, Haruna Mustafa and Musa Jimoh, respectively, CBN said it established Cash Swap centres across the 774 local government areas of the federation in partnership with Deposit Money Banks (DMBs), mobile money operators, super agents and agents, to enable rural dwellers to seamlessly change their old naira notes for the redesigned ones.
"The bank is launching a cash swap programme in partnership with super agents and DMBs. The programme enables citizens in rural areas or those with limited access to formal financial services to exchange old naira notes for redesigned notes.
"The initiative takes effect from Monday, January 23, 2023, as follows: The old N1000, N500, and N200 notes can be exchanged for the newly redesigned notes and/or the existing lower denominations (N100, N50 and N20, etc) which remain legal tender.
"The agent shall exchange a maximum of N10,000 per person. Amounts above N10,000 may be treated as cash-in deposits into wallets or bank accounts in line with the cashless policy. BVN, NIN, or voter card details of the customers should be captured as much as possible.
"To promote financial inclusion, this service is also available to anybody without a bank account. Agents may, on request, instantly open a wallet or account, leveraging the CBN Tiered KYC Framework. This will ensure that this category of the populace is able to exchange or deposit their cash seamlessly without taking unnecessary risk or incurring undue cost," the memo read in part.
Discordant tunes over circulation of new notes
It will also be recalled that the CBN, last weekend, issued statements from its branches in the states, saying they have put enough new notes in circulation for a seamless transition.
For instance, the Branch Controller for CBN in Ogun State, Alhaji Wahab Oseni, who spoke penultimate Friday at the sensitisation programme at Awolowo Market, Sagamu, said, in part, "We have supplied enough currencies in Ogun State. The banks have what is sufficient for the public to collect. There is improvement in terms of sufficient supply now in all the banks."
At the New Gbagi Market where CBN Controller of Ibadan branch, Mrs FolakeOgundero, revealed that there's enough circulation of new notes, she said: "Peradventure they make sales on the January 31, they must ensure that they deposit the money in banks before the close of the working hours because old notes would cease to be legal tender from February 1, 2023."
Branch Controller for CBN in Kano State, Alhaji Umar Ibrahim Biu, said "CBN agents are going around to ensure banks comply with the directives of dispensing the new notes via ATM."
But a top official of a first-generation bank in Ogun State told Sunday Tribune that the CBN is not sincere with such pronouncements while accusing it of limiting the commercial banks' access to the new notes despite instructing Nigerians to get new notes from the same banks and their ATMs.
The official, who works in the Cash Management Unit, a department that makes frequent withdrawals from CBN offices in the states for proper circulation in branches of commercial banks, said each time the banks go to make withdrawals in new notes, the CBN always beat down the request by giving the banks something less.
Speaking on the reason behind the scarcity of new notes, the official pointed out that his bank has about N200 million it is allowed to withdraw from the CBN in Abeokuta for most of January but it is yet to do so.
"My unit has about 16 branches in the state. Imagine going to CBN to withdraw N15 million, how much will you give each of the branches in new notes? Let's say we supply a branch a total of N2 million including N1 million of N1,000 notes and N1 million of N500 notes. How do they get by because a single ATM can pay roughly N12 million in one day?" he said.
He further added: "The deadline for the withdrawal of the N200 million cash allotment for this month was Monday, January 23, 2023. CBN also threatened that banks that fail to withdraw all of this cash from its Abeokuta branch will be fined N1 million for each box of the remaining cash. And the same CBN gives us money in trickles. All that they have given us so far is not even up to half of that N200 million cash allotment. In our defence and in anticipation of their eventual action or fine, we have printed all of our requests for huge amounts that were eventually beaten down to smaller withdrawals."
He further urged the CBN to "find a way to work with the commercial banks to find a way to make this transition seamless."
While condemning the strict CBN timeline, he also expressed fear that Nigerians may not be able to deposit their old notes in banks on the last day of the deadline because each bank must collate, sort and transport all notes from its branches before it can deposit same in the CBN.
"Based on CBN instruction, the last day banks can deposit old notes into CBN coffers is January 31, which means the last day we can collect old notes from customers is January 30. What happens to customers that bring bulk cash in old notes around 2:00 p.m. on January 30? CBN closes around 3:00 p.m. and they had given us a warning not to approach their gate very close to the closing time," he said.
Introduction of new notes politically motivated?
BUt is the CBN new Naira policy, politically motivated? The presidential candidate of the All Progressives Congress (APC), Bola Tinubu, in Abeokuta, Ogun State, where he had alleged that certain forces introduce the new notes and are hoarding the same to frustrate his aspiration.
Reacting to the rumours, CBN's Deputy Director, Research Department, in Abuja, Mr Kama Ukpai, who spoke at Eke-Afikpo Market, Afikpo North Local Government Area of Ebonyi State, said it is merely a coincidence that the introduction of the new notes is happening before the 2023 general election, adding that the decision is not politically motivated.
His position, however, stands at variance with statements made by President Muhammadu Buhari during an interview with Premium Times where he said the redesign notes will help reduce vote-buying and voter intimidation during the elections.
"October to December (three months) is enough to get whatever money you have changed through a legal system. I don't know why people are complaining about it (the deadline).
"There's no going back. My aim is to make sure that Nigerians believe that we respect as an administration. Nigerians should vote for whoever they like from whichever party.
"Nobody will be allowed to mobilise resources and thugs to intimidate people in any constituency. This is what I want to go down in Nigeria's history for," the president said.
More reactions from Nigerians
In spite of the president and CBN's position to foreclose the option of extending the deadline, more Nigerians have continued to decry the situation that has put everyone, particularly those who make their revenue in cash, on their toes.
One of them who is a trader in Lagos, Mrs Adenuga said to stock up their wares now, she and other traders make transfers to their suppliers while a majority of those who cannot operate smartphones well go to banks to deposit old notes into the accounts of the suppliers before or after going to the market.
While she does not expect customers who buy goods that are less than N1,000 to transfer into her account, she said "we are still collecting both old and new notes and we are hopeful that the CBN will extend the deadline because the new notes are not in circulation. If there is no extension, I will personally stop accepting old notes from Monday even though it  may be difficult to do so as regards our business.
"What we are seeing mostly now is N1,000 notes, we are not seeing much of N200 and N500 notes. How can you give customers their balance when you don't have new N200 and N500 notes?" she asked.
While a lot of ATMs around Iyana-Ipaja and Egbeda were dispensing new N1,000 notes between Monday and Tuesday, those visited by Sunday Tribune around Ikeja Computer Village on Wednesday and Thursday were not dispensing
A Lagos resident who had come to the area to withdraw money to give his mother for the weekend told Sunday Tribune: "I have been trekking from Iyana Ipaja to Gate here looking for any working ATM but I haven't found any and you know I cannot give my mum old notes. POS agents have old notes but we cannot collect old notes from them now considering the time frame."
A bus driver who plies Egbeda-Oshodi route said his passengers have not started complaining about the old notes because they know the new notes are not much in circulation, adding, however, that unpleasant issues may start arising from next week.
In fear of the deadline, Mama Queen, who owns a small provisions shop at Egbeda, asked her daughter to stock up the shop to reduce the amount of cash at her hand. She said "whatever I sell between now and Sunday, my daughter will take the cash available to the bank on Monday against the deadline."
Checks by Sunday Tribune showed that several commercial banks, including First Bank, Guarantee Trust Bank, Sterling Bank, United Bank for Africa, opened their branches on Saturday to allow residents deposit their old notes. The banks, according to different notices posted across different platforms, will also open on Sunday for the same purposes. It is believed that this move will allow the banks mop-up the remaining old notes that are currently outside the banking system.
Additional reports by Funmilayo Aremu and Vincent Kuraun.
ALSO READ FROM NIGERIAN TRIBUNE 
---
---