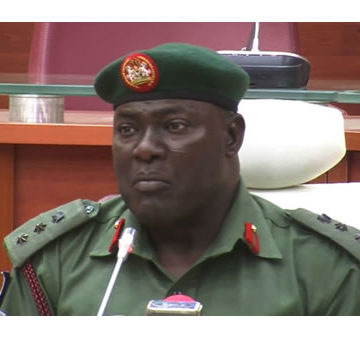 The Nigerian Army School of Public Relations and Information (NASPRI) on Wednesday in Lagos, held a seminar to educate journalists and the public on the dynamics of national security
The seminar with the theme: "Dynamics of National Security, The Role of The Citizens" was held at the 81 Division Officers' Mess, Victoria Island in Lagos.
The Chief of Army Staff, Lt.-Gen. Tukur Buratai, said at the seminar that the army would leave no stone unturned in tackling terrorism.
Buratai was represented by Brig.-Gen. Rabe Abubakar, the Director of Information Management, Department of Civil Military Affairs Army, Headquarters, Abuja.
He said that the Nigerian Army was making great success in the issue of security by establishing Radio Stations in strategic places to preach in both Christianity and Islam ways.
"The Radio Stations established in strategic places are being utilised appropriately.
"We have also created jingles; the essence is to preach true religion and the need to become good citizens.
"We want people to know the truth that there is no religion that teaches killings.
"We believe that with this, we will get to where we are going, and am bold to say that so far, we have done this country proud," Buratai said.
Earlier, the General Officer Commanding (GOC), 81 Division, Maj.-Gen. Peter Dauke, said that success would not have been achieved without the active participation and support of the citizenry.
"This brings to the fore, the roles that citizens have to play in national security, hence, the workshop.
"We see it as one of the windows through which citizens' participation could be galvanised.
"The illusion that national security is purely a government affair is no longer tenable; we are all stakeholders in this drive.
"As you are all aware, the current security challenges facing our nation is info-centric," Dauke said.
The Commandant, NASPRI, Brig.-Gen. John Agim, said that the seminar would make Nigerians to know that they have a role to play in security of the nation.