'My parents are my greatest support system'
Twenty-one-year-old Maryam Gomina from Adavi Local Government Area of Kogi State emerged as the best graduating student during the convocation ceremony of the Ibrahim Badamasi Babangida University, Lapai, Niger State. She spoke with ADELOWO OLADIPO on her experience through the university, and her plan for the future.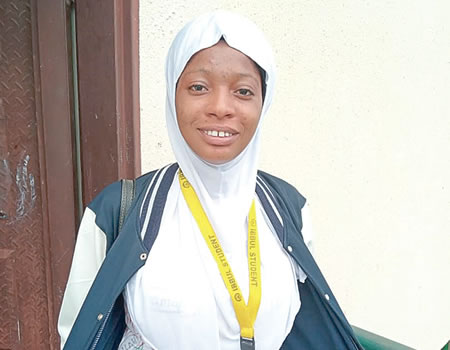 Tell us a little about your background
I am an indigene of Adavi Local Government Area of Kogi State, but I was born and brought up in Suleja Local Government Area of Niger State. I am from a polygamous home. I am the last of five children from my mother's side. I had a happy childhood and I have lived my entire life in Suleja, Niger State.
Can you recall how your academic performance was in both primary and secondary school?
They were great. I actually won a scholarship during my primary school for computer training.  I attended the United Baptist Nursery and Primary School, Suleja; and for my secondary education, I attended Government Day Secondary School, Gauraka, also in Suleja.
How many times did you apply for the Unified Tertiary Matriculation Examination before you were offered admission into the university?
I sat for the UTME only once. I actually wanted to study Biochemistry then, but I was given Physics and now, I am glad for it.
Your siblings also attended the Ibrahim Badamasi Babangida University, Lapai, and they also recorded outstanding performance. Does this brilliance run in the family?
I think so, because my siblings also graduated with First Class in IBBU, Lapai, and the two of them were retained by the university. Honestly, it was with the help of the Almighty Allah, our family and friends.
At what time during your studies did you notice improvement in your academic performance?
I started doing well from my first year in the university with a Cumulative Grade Point Average of 4.59 then.
So, were you surprised in your final year when your name was mentioned that you had emerged the best overall graduating student?
When I received the news of my very brilliant performance recently, I was shocked because I didn't know I was the best graduating student; but I am grateful and happy that my hard work paid off. I am grateful to my family, especially my mother. In fact, I was shocked when my name was called up because I never knew that I was the best graduating student in the entire school. I never knew I had the highest CGPA amongst other first class students in the school.
Now that you have been offered admission by the university's management to pursue your master's degree programme, what future do you foresee for yourself in the next couple of years?
I intend to become a lecturer, by God's grace, as I plan to give back to the society and impart knowledge to the younger generation of Nigerians. In fact, there are a lot of misconceptions about Physics, especially being a female in the field. So, I hope to venture into research and contribute more to the field.
Who can you describe as your role model in your academic pursuits?
My role model is my elder brother, Mahmoud Gomina, who also graduated in Physics with a first class degree five years ago in the same university.
In your undergraduate years in the university, how did you cope and from whom did you derive your inspiration or support
My parents have been my greatest support system. Even with the little they had, they still tried their best to make me comfortable and support me. That is why I was motivated to make them proud, and I am happy I got to do so.
If you have the opportunity to advise other students and collegues your , what would be your advice to them?
Know yourself; don't be deceived by anyone. Believe in yourself and trust in God.