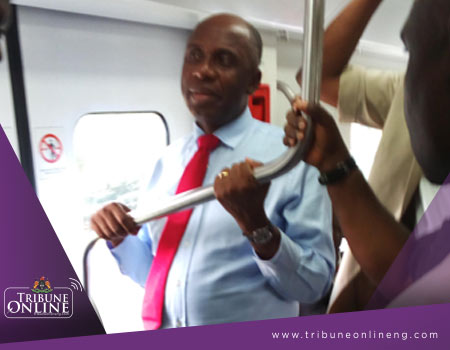 Minister of Transportation, Rotimi Chibuike Amaechi, has set up a committee to investigate the executive of the Amalgamated Commercial Tricycle and Motorcycle Owners Repairs and Riders Association of Nigeria, ACOMORAN.
The directive was contained in a letter directed to the National President of ACOMORAN, Alhaji Muhammad Sani Hassan, informing the association that the ministry had set up a committee to investigate the petition against the 'fake' executive members of the association.
While the letter, which was signed by the Deputy Director, Mass Transit Administration, Mrs. Foluke Oke, for the minister did not give details of the petition, it invited the affected members to a closed door meeting with the ministry to deliberate on the allegations contained in the petition.
Reacting to the letter, Alhaji Hassan described the step by the ministry as recognition of the fact the association had a genuine case, urged ACOMORAN members to remain calm as the minister had listened to their cry and intervened.
He expressed the association's confidence in the ministry's ability to handle the issue.
It would be recalled that Alhaji Hassan had, few months back, raised the alarm over a faction of ACOMORAN which held an illegal meeting with the Minister of Transport, Amaechi, at the Shehu Musa Yar'Adua Centre in Abuja.
He alleged that the faction led by one Alhaji Shehu Maihula Babangida unlawfully changed the registered name of the association from Amalgamated Commercial Motorcycle Owners and Riders Association of Nigeria (ACOMORAN) to Amalgamated Commercial Motorcycles Owners, Repairs and Riders Association and adopting its CAC registration number, without due recourse to the Board of Trustees (BoT), an act which he described as criminal.