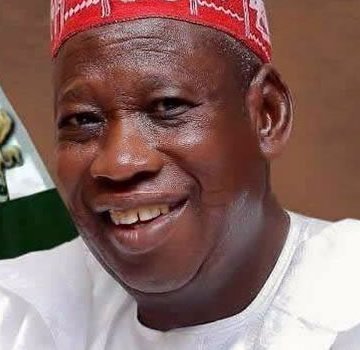 KANO state governor, Abdullahi Ganduje, has accused his predecessor, Senator Rabiu Kwankwaso, of attempting to control his government from outside, saying that his resistance to this move is the cause of their problem.
The governor who was Kwankwaso's deputy, recently announced that his separation from his former boss was final as he did not see the two of them ever settling their rift.
Speaking to State House correspondents in Abuja on Tuesday, he said even though both of them had been inseparable politically, something had since gone wrong in their relationship as the former governor insisted on controlling him from outside.
Asked about his relationship with Kwankwaso, Ganduje said: "Well, as you know we were very good friends.
"In fact, my politics cannot be complete without Kwankwaso and the history of Kwankwaso politics cannot be complete without me. But somewhere somehow things went wrong.
"But we believe in politics, you will get to a point you cannot rule and manage a state and then you are being controlled from outside.
"You know that one is very very difficult to happen if you look at the psychology of leaders."
The governor described as propaganda the trending videos of underage voters purportedly emerging from last weekend's council election in Kano state.
According to him, the videos were pre-arranged by detractors as he insisted that the council election was conducted in a free, fair and credible manner.
He added: "That was propaganda. You can ask the national observers who went there. They held a press conference; all those pictures were children from school assembly. It is not true. It is part of the propaganda.
"Let them go back to the states and ask the people did they queue up and vote in the election? So, we don't even need to respond to such falsehood.
"Ask those who are credible and who witnessed the election. I think that is the most important rather than rely on the social media where things are crafted, and take pictures that were prearranged. We don't rely on that."
Meanwhile, Bauchi state governor, Mohammed Abubakar, has assured that state chief executives will not abuse state police when it eventually comes into being.
Also speaking to correspondents at the presidential villa, Abuja on Tuesday, he admonished that people should look beyond fear on manipulation and think of institutions.
When asked whether state governors won't abuse state police, the governor replied: "I do not think so. There will always be fears but we should not think in terms of individuals in Nigeria. That is our bane. We should think in terms of developing institutions.
"When we develop institutions and the plain truth, they take care of the indiscretions of individuals."
He explained why governors are in support of the initiative, saying that it will engender true federalism.
According to him, "Well, the nation is a federation. The Constitution of the Federal Republic of Nigeria provides for a federal system and in the federal system, the federating units are all independent in their own sphere of influence.
"We copied the Constitution from the American Constitution and if you go to America you discover that there is County Police, there is State Police and the Federal Police.
ALSO READ: Kano APC Crisis: Presidency summons Ganduje, Kwankwaso
"If we are going to engender true federalism, that is probably the beginning."