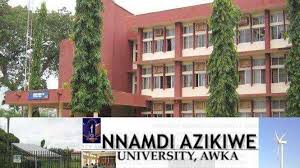 THE management of the Nnamdi Azikiwe University (NAU) Awka, yesterday disclosed that the institution has organised training for no fewer than 7000 fresh students in Leadership and Entrepreneurship programme.
In an interview with newsmen yesterday, the Dean Students Affairs Prof Stanley Udedi said resource persons including captains of industries, politicians and Director Chike Okoli Centre for Entrepreneurial Studies, Professor Ngozi Anyikwa briefed the students on various topics during the training.
According to the Dean, the event which took place at the Basil Oli Hostel, had the theme: 'Leadership and Entrepreneurship for Sustainable Education', pointing out that the fresh students were exposed to diverse topics, ranging from acquiring entrepreneurial skills while in school, and encouraged the freshmen to take advantage of Chike Okoli Centre's capacity as a foremost skill acquisition centre to build themselves as creators of labour.
ALSO READ: UNILAG commends Buhari for TV station approval
Prof Udedi said they were warned not to tow lazy path considering the high unemployment situation in the country, just as he highlighted some of the measures put in place to ensure that students remain the primary focus of the university. "One of such measures included the inauguration of a Student Education Endowment Fund to help indigent students that can't afford their tuition or living expenses, with the hope they pay back when they graduate and are gainfully employed".
He commended the NAU Vice-Chancellor and Chairman of the event, Prof. Joseph Eberendu Ahaneku (FAS); the Deputy Vice-Chancellor Academics Professor Charles Esimone for their support to make the event a worthwhile.
While inaugurating a committee that would look into how such fund will be sourced and administered in a sustainable way, Prof Udedi
further reiterated his commitment to ensuring that students studied in an ambient environment, devoid of harassment whilst their need are promptly responded to.
The Vice-Chancellor of Unizik Prof. Joseph Eberendu Ahaneku (FAS) in his opening remark, expressed his delight at the huge turnout of students and commended the students for being the lucky few to be admitted of the thousands of candidates that applied to the
University.a
He expressed his commitment towards making Nnamdi Azikiwe University a top-destination for intending students by providing the ambience required for academic excellence. He further underscored the need for the freshmen to key into the university's spirit of discipline, self-reliance and academic excellence whilst urging them to leave behind their parochial mindset and worldview now that they were in the university.