Jubilation, fanfare as Oke-Ogun communities get first court
For the people in communities that form Atisbo South Local Council Development Area, Friday, January 10, 2020 was a memorable one as the people led by their traditional rulers trooped to Ago Are to meet with the entourage of the Chief Judge of Oyo state, Justice Munta Abimbola, for the inauguration of the Chief Magistrates' Court. YEJIDE GBENGA-OGUNDARE, who was at the event, reports that the people could not hide their joy that they now have access to justice within their communities.
Atisbo South Local Council Development Area of Oyo State with headquarters at Ago Are in Oke-Ogun zone of the state is made up of about 10 major towns and about 50 farming communities, with an influx of people from different tribes who take part in different aspects of the agricultural chain. And as the communities evolve, diverse aspects of life also grows with the resultant increase in crime.
The town, like all developing communities,  started experiencing issues that could not be amicably settled in the palace, family compounds or police post, as they border on issues of law that go beyond family affairs. But as large as these communities are, there was a dearth of the symbol of justice and issues had to be taken to far communities,  which hampers dispensation of justice.
This led the people, through the most senior traditional ruler, Aare of Ago Are, Oba Abodunrin Oyetunji Kofoworola, to make representations to the Judicial Service Commission in Oyo State through its chairman, who is also the Chief Judge of the state, Justice Munta Ladipo Abimbola, to approve the location of a competent court of justice in the community to cater for the judicial needs of the fast-evolving communities that have become a major economic hub for agricultural activities in that locality.
Their request was granted and a year down the lane, the self -help court project was completed and ready to be opened for use. It was therefore not surprising that the people were ecstatic and couldn't hide their joy in the community when they saw the delegation from the state judiciary led by the number one man, to officially open the new Chief Magistrates' Court for use.
Speaking during the inauguration, Justice Abimbola, who expressed appreciation that the community showed diligence in ensuring the project was a success, reiterated the importance of having a court of competent jurisdiction in a fast-growing locality, adding that Ago Are and other surrounding communities can now exercise their constitutional right of access to justice.
Justice Abimbola said: "Barely a year ago, Oba Abodunrin Oyetunji Kofoworola, the Aare of Ago Are, decided on having a court of record in the town. The community was saddled with the responsibility of providing a modern, conducive and presentable court complex with all necessary amenities. Our presence here today is a confirmation of the fulfillment of the promise. I am therefore grateful and express my appreciation to everyone that made the dream a reality. It is true that where there is a will, surely there is a way
"The right to equal justice is a basic principle of the rule of law. In the absence of access to justice, people are unable to have their voice heard; exercise their rights, challenge discrimination or hold decision makers accountable.
"With the establishment of this court, Ago Are and other surrounding communities can now exercise their constitutional right of access to justice, to seek and obtain remedies against all types of wrongs through the justice system.
"The main purpose of the justice system is to provide justice to every citizen by preventing crime, creating a peaceful law-abiding system, protecting the innocent by finding and punishing those proved to be guilty and helping offenders to stop repeating crimes. Although in our traditional setting, a preferred approach to resolving dispute is by a friendly and peaceful settlement either at the family level or at the police station, this I know is because of our cherished  cultural; value  for peaceful co-existence. Our belief is a ki ti kootu bo ka sore, that is, we can't maintain friendship after litigation in court.
"However, the negative effect of the economic, social and political developments in the society is a decline in standards, morals, dignity, religious faith and honour, with a consequential increase in crime rate such as kidnapping, sexual assault, rape, land grabbing and murder.  Thus, not every kind of case can be resolved through friendly settlement at the palace or police station."
According to him, there are situations where amicable settlement may be inappropriate and detrimental to the interest of the parties, the community and society at large and consequently, the establishment of the court complex is a great achievement to Ago Are and its environs and all Oke-Ogun in general.
"The court provides this community the opportunity to have their cases heard and resolved in a fair and just manner, according to the provisions of the law without bias or favouritism, providing equal protection to all regardless of background. It is of importance to state that the new court complex though situate at Ago Are has jurisdiction covering communities under Atisbo South Local Council Development Area; Ago Are, Ofiki, Sabe, Agunrege, Baasi, Owo and  Kona Owo.
"It is, therefore, our collective duty to ensure that apprehended persons are charged to court, the trial process is fast-tracked and those found culpable are punished. Our sincere gratitude also goes to the governor of Oyo State, Seyi Makinde, for his continued support to the Oyo State judiciary, meeting our respective yet collective mandates for speedy dispensation of justice in Oyo State," Justice Abimbola said.
On his part, Oba Oyetunji Kofoworola expressed joy at the completion of the project and the key role played by indigenes in ensuring its success.
Oba Kolawole said: "Today, we are celebrating the expansion of the frontier of justice with the commissioning of this Chief Magistrates'  Court here in Ago Are. The inauguration of this edifice of justice is expected to be a strong representation of the rule of law, social justice and to ensure that distance or geographical location is not a barrier to our citizens' access to justice.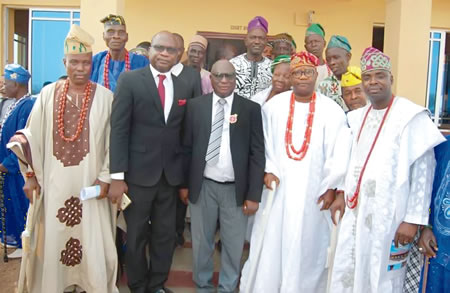 "It is to be noted that Ago Are community is fast evolving as a major economic hub in this locality with vast potential, especially in agricultural products and other related commerce. This, however, has opened the town up to crops of individuals and personalities. So, as the prospects of prosperity begin to manifest, Ago Are will continue to experience influx of people who will engage in different types of economic activities as well as making it a place of residence.
"The resultant increase in social and economic activities will naturally lead to a corresponding increase in disputes, which will require an efficient justice system, as quickly as possible.  It is against this background and many other considerations that we rose as a community and put up effort to reach the Judicial Service Commission with a request to have a symbol of justice dispensation in this community, and the commission graciously acceded to our request by approving the Chief Magistrates' Court, Ago Are.
I appreciate the chairman of the Judicial Service Commission of Oyo State, who is equally the Chief Judge of the state, Justice Munta Ladipo Abimbola, for his efforts in ensuring our dream got official stamp. This new self-help constructed court has been equipped with facilities for the comfort of not only magistrates but everyone including lawyers and members of the public. As a community, we strive to provide a conducive atmosphere for the magistrates and staff to effectively discharge their duties. It is our hope and prayer that this facility will endure as a true temple of justice and a beacon of hope for all who seek refuge, protection and comfort under the rule of law."
The chairman of Atisbo South LCDA, Ayoola Makanjuola Joe, also lauded the people for their efforts, adding that, "the judiciary, as we all know, preserves the sanctity of the rule of law by interpreting the laws where there are conflicts and settling disputes thereby ensuring equity and maintenance of justice. To achieve these lofty objectives, there must be sufficient structural facilities and personnel.
"It is on this note that the good people of Ago Are embarked on the execution of this self-help project as an effective tool for community development that will aid quick dispensation of justice in Oyo State."
Other traditional rulers in the area, including the Aare of Ofiki, Oba Adeoye Gbenga Adigun also led their people to the inauguration.
Indeed, it is the dawn of a new era in justice dispensation for the people of Atisbo South LCDA.