Happiness Akpan Akinwale, a graduate of Political Science and Chief Executive Officer (CEO) of Inems Events, is an entrepreneur and a woman of many parts; she is into hairs, fashion, accessories and event management. In this interview with YEJIDE GBENGA-OGUNDARE, she speaks about her passion for hair and fashion and why event management is more than making money. Excerpts:
As a political scientist, you seem more interested in diverse entrepreneurial activities, what is the link between what you do and your training?
Though I studied political science, I've always known that I will be an entrepreneur. Events planning and management is a passion of mine. And every other line I ventured into was just a means of turning a hobby into a money making venture. It is simply making money from what I love doing and transforming that passion into a thriving business.
What other things do you do? 
Aside event management, I am into fashion outfits and I also have a hair line business. I am also an importer, I import fashion accessories from China. And I also have a wig business
Onnoghen's exit splits Supreme Court
How do you combine all?
Combining these lines together and making them all thrive is fun to me because I am doing what I enjoy. It also entails that I am online constantly, that is what people will call 24/7; I have to be online because my business except the event management line is predominantly online trading. So, I am online selling my goods and at the same time communicating with my clients.  The fact that some of these things are all interlinked as they fall in the fashion industry is challenging but actually interesting.
How lucrative is the business?
The business is very lucrative, every aspect of it. But I must add that you need to get to a certain level before the business can really pay off. For me, I am yet to get to that level that I want but I am not giving up, no matter how porous the industry, I have a vision and I will follow it to the end. As it is, I describe my business as upcoming.
What in your background prepared you for this?
I will say nature because it is just something that came to me naturally. And this is simply easy because I surrendered to the chain of events as scheduled by nature. Everything is simply about nature and creativity.
 What inspired you to go into hairs knowing there are so many people in that line already?
I will like to say that my passion for hair beauty profession started from the early stage of life. As a girl, I was fascinated with hair. And as I grew older, my passion for hair did not decrease until I took a proactive step to turn the passion into a business. Let me state that I am not bothered that many people are into the business; in this life, there is no monopoly in any trade for long, you only have to know what you want, then plan towards it and go for your goal.
The hair beauty industry is large, at what point did you decide that wigs would be part of your business?
Hair and wigs just came along naturally with the fashion line of the business. Event planning was the first but let's say hair came about when I decided it was time to expand. And business expansion must be strategic, so I decided to go for what I know about, so hair came up with fashion. Though, the dynamics of the fashion and hair industry is different and it is highly competitive as well as saturated, I knew it was what I wanted. I only knew I had to be strategic if I would succeed in creating a niche in the industry.  I have always had the zeal to focus on what I love and always ready to learn more and perfect my skills, this is how the business came about.
What is your unique selling point?
It is a fact that the fashion, hair and wig business and even the events management business are really saturated but as a brand, quality is my watchword. Another thing is that no matter your purse, you can get something price friendly from us.  For me, it is quality at pocket friendly prices.
Who are your clients?
My client varies. I can only say they cut across age brackets, background and social status.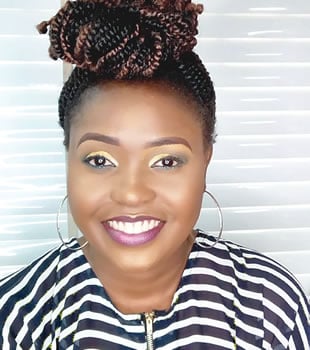 What are your business plans for 2019?
In this age and time, it is suicidal for a business to stay on old ideas and still thrive, there's a need to constantly upgrade and add value. My major plan is to differentiate my line by building the trust level with clients and uphold that trust in this ever-changing marketing world especially because we are an online store. I also plan to widen the reach of the business by connecting more with clients and prospective clients.
What challenges do you face as an entrepreneur?
I will say now our major challenge is finance, this line of business requires a huge capital.   Finance is one of the challenges in every business. Also, because it is an online business, cost of delivery which depends on the destination comes up. There is also the issue of tracking delivery until it gets to clients. One other challenge is time management because my timing must work out with that of the clients and ensure I don't disappoint them.
What are some of the principles or strategies that guide your business and advice for other entrepreneurs?
Never give up on your dream. As an entrepreneur, it's easy to get discouraged when you are alone or not growing fast as you like to, or doubting yourself, it is okay when you feel that way but you should know one thing, giving up is not an option. Especially when you see others on the social media and you think why is your business not like that yet? Network and showcase your business at every opportunity.
How affordable are your products compared to other brands?
I will say every one can get a particular product from us, we cater for all types of budget.
As a professional, wife, mother and entrepreneur, how do you find a balance?
Honestly, it takes the grace of God. Also, having an understanding partner also make it very easy; i have a spouse that is supportive and that support makes the balance possible to achieve.
If you are not doing this, what would you be doing?
I would definitely have ventured into something else like real estate management.
What is your guiding principle?
My guiding principle is embedded in passion for excellence. I don't just love things being done but being done excellently. My passion has always been taking events planning to a different dimension and having a unique touch. This is what my brand stands for and with God on our side, we are achieving it.