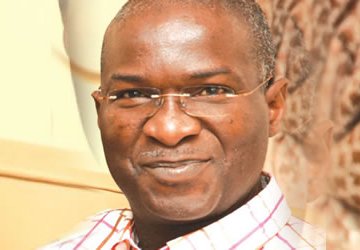 Minister of Power, Works and Housing, Mr Babatude Fashola has stated that out of the estimated MDA debts of about N90Billion claimed by the DisCos, only about N27Billion has been verified as debts owed by the FGN.
The Minister who stated this while delivering a key note address at the 3rd National Council on Power (NACOP) with the theme: "Complete Power Sector Reforms" in Jos, Plateau State on Thursday said there are invoices which show that other parts of the debt are attributable to service points at States and local governments.
He implored states and local governments to insist that their buildings are metered so that they can budget for and pay for energy they use adding that this will turn out to be cheaper than diesel generated power and also help reduce loss of income by DisCos.
"Furthermore, I urge state Governments to set up small teams with audit capacity to verify debts owed by them and their local governments, ascertain the quantum and develop a payment plan which can then be budgeted for. This will help to reduce the liquidity issues and contribute to the reforms" He advised.
The Minister further pointed out that the  Government has finally approved the award of the 3,050 MW Mambilla hydro power project after over 40 years of starts and stops adding solar foot print is growing but not just because of what the FGN is doing but because of what Nigerians are doing in their states.
Fashola who disagreed with those calling for the cancellation of privatisation of power sector by the federal government stated that money realised from the exercise were used to settled staff of the PHCN adding that if cancelled there must be refund which must be paid in dollars with the current rate.
"As we are all aware, there have been comments about how effective privatization has been in the power sector and some people have called for its cancellation which I disagree with.
"However, I agree that there are problems, I understand that 4 (FOUR) years post privatization is a transition period, and some more work needs to be done before the expected benefits of privatization come to fruition.
"That is why we developed the Power Sector Recovery Programme (PSRP) which are a set of policies, programmes and actions aimed at solving Generation, Transmission, Distribution, Liquidity, Metering, Estimated Billing, Energy Theft, Safety and other challenges" he said.
According to him, while the country is beginning to see results of increased generation up to 7001MW on 12th September 2017, Transmission up to 6,700 MW and Distribution 4,600 adding that such result is not yet enough.
Let me state emphatically that everything in the PSRP is based on the 2005 Law and that is why I urge everybody to read it.
In his address, Governor Simon Lalong debunked the insinuation doing the round that Plateau State is in crisis adding that the unfortunate incident that happened in the state capital last week Thursday was nip in the bud and normalcy restore immediately.
According to him, as a result of this, the curfew imposed on the state at wake of the disturbance will be relaxed from Thursday to 12; 00 am to 6:00 am and assured those who want to come to the state not to exercise any fear.