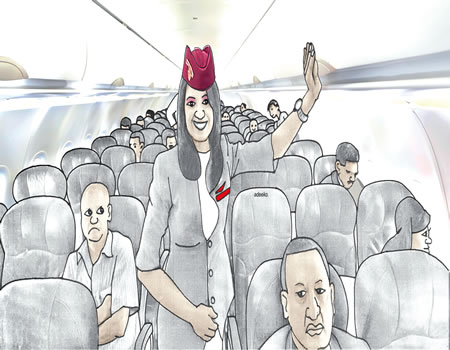 SHOLA ADEKOLA has extensive contacts in the aviation sector, particularly in Lagos. Despite the hush-hush that comes with cabin attendant job, she got a couple of air hostesses to share their experiences at the hands of drooling passengers.
APART from the status symbol that comes with air travel, one other major attraction of being airborne, either for a short or long-haul flight, is the bevy of ladies who saturate everywhere to attend to passengers' needs. For all the airlines that engage them, the unwritten number one rule of engagement is that they must be seen to be beautiful. They are usually elegantly tall, of the x-generation, well-spoken particularly in English language, and also of great carriage and comportment. While the members of the public call them air hostesses, they are referred to as cabin attendants within the aviation sector.
Regardless of the policies of an average airline, air hostesses are always packaged in their extra-tight beautiful uniforms and high-heeled shoes, to appear like models. For an average airline, the cabin attendants are its biggest and most effective advertisement.
Cabin attendants as air crew professionals employed by global airlines constitute an important chain in the air travel link. Though their job has to do with safety and comfort on board aircraft, they are highly misunderstood.
Primary duties
Cabin crew are members of an aircrew employed by airlines primarily to ensure the safety and comfort of passengers aboard flights. They have more direct involvement with passengers because of the confined quarters on aircraft. In addition, their job revolves around safety to a much greater extent than those of similar staff on other forms of transportation.
Besides, they are often tasked with customer service duties such as serving meals and drinks, as a secondary responsibility. Obviously, due to the glamour the profession is synonymous with, females are dominating it.
Owing to the nature of the job, which keeps crew members always in the air, the job provides the opportunity of meeting different calibres of people on board around the world.
Naturally, for so many reasons apart from the attractive looks of the female cabin attendants with their smart way of dressing and swags, they are attracted to many. Therefore, men who cannot resist them often get carried away and chase after them even as the flight cruises thousands of metres above sea level.
Extra duties
In the course of carrying out their duties, female cabin crews are seen as easy target by male passengers who often seize the opportunity to exploit their emotions.
Findings by Saturday Tribune showed that many cabin crew members had, through the job, met their husbands on board these flights while some unlucky ones ended up making great mistakes of their lives, ending with heart-breaks or becoming single mothers.
Although there are also male cabin crew members, the profession is dominated by females, which has almost made it a ladies' job.
In view of the attractions attached to the profession, many of the female cabin crew members have had exciting emotional experiences at the hands of male passengers who made passes at them.
'We are used to passes'
Modupe Jonas was a cabin crew member with the former national carrier, the Nigeria Airways, for 18 years. The ebony, beautiful lady, who travelled to many countries around the world in the course of her job onboard the WT flights, recalled her experience at the hands of male passengers she met on flights.
According to her, the issue of male passengers making advances at female cabin crew members did not start today; it can be traced to the beginning of commercial flight operations.
Jonas, who said it was a normal thing female crew experience regularly, however, confessed that she made many male friends, with whom she relates, still.
Describing the profession as glamorous and tempting, she said because of the training they are exposed to, female crew members who find themselves in this situation do not need to be rude to men who make passes at them.
"What you require in that situation is discipline as men must come after you. No matter how embarrassed you are, you have to be very diplomatic in the way you handle such men so as not to de-market the airline you are working for. In line with our training, even when you are being pestered by naughty men on board, smile on and you will surely conquer them," Jonas said.
Hadiza belongs to the new generation of cabin crew as she is still carrying out the job, even in a higher capacity.
Hadiza, who has risen to the peak of her career as a cabin crew member, started with the defunct Albarka Airline before joining her present airline (identity withheld), where she has become an instructor for the cabin crew.
The lady, who has put in 20 years on the job, having joined the profession at a very tender age, is married, but she has a story to tell about her experiences with male passengers.
She recalled one of such moments which she described as one of the most embarrassing periods on the job.
"There was this particular male passenger who had applied all manner of tricks to get me. When he could not achieve his aim, he decided to use a crooked means. Pretending to ask me for water, he waited for me to get close to his seat and decided to tap my bum bum," Hadiza said.
According to her, as annoyed as she was, she dared not show it but was able to politely 'reduce' him in such a manner that did not affect the image of her airline.
"Men will make advances, how many will you oblige? We deal with such men nicely and politely. We are the image makers of our airlines. You dare not pick offences as you are expected to manage such men professionally. We get to be calm. This has been inculcated in our training," she added.
They are tempting –Male passengers
A couple of male passengers disagreed with the notion that on-air romance is only about randy men who can't take away their eyes from the beautiful female cabin attendants.
Iyiola, a regular domestic traveller with an airline with a name sounding like that of an international airline that once made waves in Nigeria before packing up, told Saturday Tribune that the blame of on-air infatuation should be shared equally between the randy men and hostesses who he claimed, usually provoke sexual emotions with their body-hugging uniforms and deliberate cat-walking style.
"Why won't men have erotic feelings? Why won't men feel like pinching their bums? Why won't men chase them? Can't you see that these girls are deliberately packaged to arouse male passengers and keep them as permanent passengers because once you see a beautiful sight, especially  for men who can train their minds, you will want to see it again. As far as I am concerned, they are temptresses. Men have blood in their veins. These girls should stop provoking by dressing a bit differently. In fact, I believe they are mainly what the airlines, particularly the ones flying the domestic routes which disappoint nearly every time, are now selling mainly to passengers to keep them coming back. That is my opinion," Iyiola said.
Another regular flyer, Tunde (surname held), confessed to be taken in by the appearances of the hostesses of another airline linked to a former First Lady of Nigeria.
"I could barely take my eyes off a particular babe during a recent flight and she kept walking around provocatively. Many may not want to confess openly but it is needless denying they are beautiful and good to look at. I may not completely agree that they deliberately set out to sexually harass men but for everybody's peace, their uniforms could do with some slacking around the waist and chest region".
'Their men chase passengers too'
There is an age-long belief that women don't appreciate the beauty of their compatriots. It almost holds true for female passengers, some of whom see no big deal in the appearances of the gorgeous female cabin crew members.
It is said that beauty is in the eye of the beholder and what men would see and make them drool may be of no meaning to an average lady, seeing it in another lady.
"We are wired differently and men are creations of sight. They see, while we hear. Except for good accessories, there can be nothing for me to look at in a lady in uniform, although I must agree that some of them are outstanding in beauty. But concerning their bodies, what is my business appreciating another female body when I am not a lesbian.
"Well, it is okay to talk about randy male passengers, what about the male cabin crew who also get infatuated with curvy and beautiful female passengers, especially those travelling alone? Watch them and see how they fuss over such female passengers. Friends have also told me of such unholy chases by male attendants, especially during international flights. It is a two-way traffic, if I can put it that way."
Wife materials?
There is a general perception that air hostesses don't make good wives and mothers. Jonas and Hadiza disagreed. They argued that contrary to the insinuation that females in the profession don't make good wife materials in view of their exposure, the experiences they have on the job, coupled with the training they have, make it easy for them to arrange their homes.
Hadiza said: "I am proud to be a cabin crew. The training I have has helped me to build my home. Female cabin crews make good wives. They know how to service their husbands. They are exceptionally good in handling culinary roles at home. The training has helped many of us to handle our husbands, children and in-laws perfectly as the job has taught us how to handle different human beings. The job has also taught us not to focus on hazards around us, even during turbulence as you are expected to still smile on and do everything to calm your passengers in the face of emergencies."
Like Hadiza, Jonas described female crews as the best gift a man can have because, to her, a female crew, who is able to comport herself in the face of harassment from male passengers, would be able to keep her integrity as a wife and mother. She cited many of her colleagues who got married to such men they met on board and remain happily married.
While they agreed that there may be some bad eggs in the profession like any other, the two experienced hostesses appealed to younger and upcoming crews to avoid being get carried away by the glamour of the profession. To them, the younger crews should not allow any situation to dampen their high passion for the job.
Warning the younger colleagues that all will not always be bed of roses for them, they maintained that no matter the challenges that come their way on the job, they should smile as they get paid by the various airlines to be favourably disposed to the passengers.