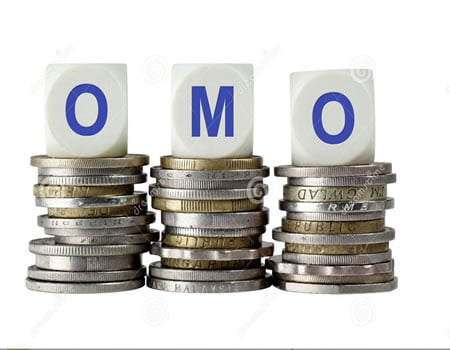 There expectations that the Central Bank of Nigeria will auction treasury bills worth N230.5 billion this week, just as the 90-, 182- and 364-Days bills mature.
"In the week ahead N230.5 billion of Open Market Operation (OMO) bills is expected to mature, made up  of 90 days, 180 days and 364 days; at the same time amounting to N10.25 billion, N26.6 billion and N14o billion, respectively.
"The Central Bank will also auction OMO bill of the same amount on the same day in order to mop up liquidity," one dealer said.
Meanwhile, Nigeria's overnight interbank lending rate increased on Friday to 9.58 per cent from 8.25 per cent on Thursday.
This was as a result of the withdrawals for the day's open market operations (OMO) auction carried out by the Central Bank of Nigeria (CBN).
The apex bank sold N251.14 million worth of the 76-day OMO bill yesterday from the N50 billion offered at 12.60 per cent, while it raised N132.12 billion of the 209-day instrument from the N100 offered at 14.40 per cent.
Nigerian Tribune reports that generally, the treasury bills market was relatively flat as investors gear up for the second Primary Market Auction (PMA) by the central bank this week.
As traders prepare for the week's auction, observers say the market will remain quiet at the next trading session as the money market rates are expected to go down slightly.