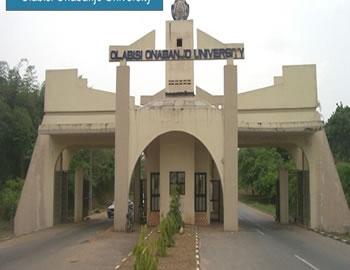 GOVERNOR Ibikunle Amosun of Ogun State has ruled out the possibility of reducing fees charged in the state's university, the Olabisi Onabanjo University,  Ago-Iwoye, maintaining that fees charged there are already being heavily subsidised.
He made the comments 
on Wednesday
 as part of his address at the university's 27th convocation ceremony.
Fees paid by OOU students range from N90,000 to 200,000 depending on the course of study, but the governor, while reacting to calls from students to further reduce the fees, said it was not practicable if what is desired is qualitative tertiary education.
"That's why we're subsidising it seriously. Things are changing. Unless you want to have 'garbage in, garbage out'; if it must be of a qualitative standard, it cannot be free," he said.
So many projects compete for government's limited resources, he said, including roads and other projects even within the university, which unknown to many people outside government cost billions of naira.
He appreciated the staff unions on the campus for allowing peace to reign, as a result of which the university is making steady progress.
Amosun called on all stakeholders in the state to lend a hand in building
OOU
to a world-class institution.
The governor enthused that the efforts of his administration to reposition the state's education sector had started yielding positive results.
According to him, Ogun was, in January, adjudged the best-performing state in the November/December external examinations.
The 
Wednesday
 event was the grand finale of the convocation ceremonies, during which honorary doctoral degree was conferred on four eminent Nigerians.
The awardees were the immediate past president of the Nigeria Stock Exchange, Mr Aigboje Aig-Imokhuede, Doctor of Science (D.Sc) Honoris Causa; and the Alake of Egba land, Oba Aremu Gbadebo, Doctor of Letters (D.Litt) Honoris Causa.
Others were the renowned historian, Professor Toyin Falola, Doctor of Letters (D.Litt) Honoris Causa, and the chairman, First Bank of Nigeria, Mrs Ibukun Abiodun Awosika, Doctor of Letters (D.Litt) Honoris Causa.
The governor later performed the symbolic turning of the sod for the foundation of a 10-storey Senate Building donated by him, which he said would be inaugurated on the anniversary of his 61st birthday next year.