The Primero Transport Services Limited, operators of the Bus Rapid Transit (BRT) in Lagos, has suspended operations of the Ikorodu to Tafawa Balewa Square (TBS) route from Wednesday, March 31.
Mutiu Yekeen, Head, Corporate Communications of the firm, confirmed the suspension in a statement on Tuesday in Lagos.
Yekeen said that the development was due to operational challenges being faced by the firm along the corridor.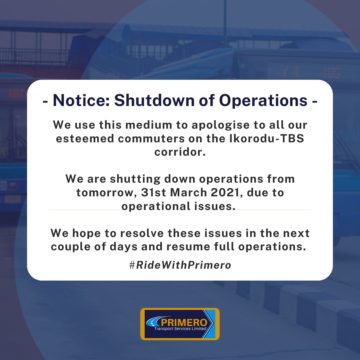 "The Primero Transport Services Limited uses this medium to inform our commuters on Ikorodu to TBS corridor that we are shutting down operations from March 31 due to operational challenges.
"We hope to resolve it in the next couple of days and resume full operations.
"We call on our esteemed commuters to bear with us during this period. We sincerely crave your indulgence for any inconvenience this may have caused you.
"Our priority is to convey commuters safely to their destinations, provide affordable, fast and convenient services to people of Lagos 24/7 daily," Yekeen said.
YOU SHOULD NOT MISS THESE HEADLINES FROM NIGERIAN TRIBUNE
Nigeria Recorded 1,114 COVID-19 Infections Last Week, Lowest In Four Months
In the past two weeks, Nigeria recorded 3,414 new COVID-19 infections, which is the lowest the country has recorded since the beginning of the second wave of the pandemic in December.
In the penultimate week, (March 7 – 13), there were 2,300 cases, a reduction when compared to the 2,817 recorded in the previous week's (February 28 – March 6)…
Inside Ibadan Bound Train From Lagos
The train started the 156.65 kilometres journey to Lagos at exactly 08:00hrs. The pace of its acceleration was minimal.
At about 25 minutes, the train slowed down at the uncompleted Omi-Adio terminal, a village on the Abeokuta/Ibadan expressway; it's a stone throw from Apata in Ibadan. Conveyance of passengers from there and other terminals has not kickstarted as the terminals are still under construction and workers were found there…BRT announces temporary shutdown of Ikorodu-TBS route "for some days"
BRT announces temporary shutdown of Ikorodu-TBS route "for some days"