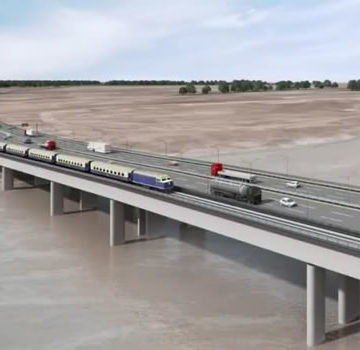 BORNO Government on Friday said it had spent N195 million to construct two bridges on Ngadda River to link communities in Maiduguri.
Alhaji Muhammad Sanda, Permanent Secretary, state Ministry of Works, said this while inspecting the bridges.
Ngadda River spans several kilometres in Maiduguri and flows into the Lake Chad Basin.
Alau dam is built on the river to enhance irrigation, fisheries and water supply to the city.
Sanda said the bridges were constructed to link Budum-Gamboro market and Maiduguri, adding that this would ease transportation difficulty in the city.
The permanent secretary recalled that people in the area had relied on wooden canoes to cross the river due to lack of bridge linking the communities to Maiduguri.
Meanwhile, Malam Babagana Bakura, a canoe operator commended the state governor for the construction of the bridges, saying they would ease transportation difficulties experienced by people in the area.
Bakura said he had engaged in conveying commuters on canoe across the river in the past 13 years.
"My job is to cross commuters from one end of the river to the other.
"I charge N10 per person; every day, I ferry about a hundred people, including women and children across the river daily.
"In the wake of Boko Haram insurgency, most people preferred to use canoes to cross the river rather using tricycles or bus.
"The insurgents committed various forms of atrocities on the roads, which made people afraid to go to the streets. I saved the lives of many people, who enjoy my services,'' he said.
Also, Mrs Aisha Ibrahim, a housewife, said she preferred to cross the river using canoe as it was cheaper to do so.
"I could not afford the N50 transport fare charge by tricycle operators; to me going into the town through canoe is safer," she said.
---
---