The use of videos, graphics, and animation has been excessively increased in every mode of business, whether for promotions, advertisements, or tutorials. Different movie editing software is used to showcase a product or service in detail and emphasize every angle to upload on digital platforms to target the audience.
In this blog, we'll suggest the best video editing software with various features that are feasible for your budget.
1.Doratoon 
Doratoon is one of the best editing software packed with many different features and easy to use interface that claims to polish your video editing skills. It is said that a well-formatted video has more influence than plain content or pictures. 
Whether you want to create a video for corporate promotions or for personal events like birthdays, it'll assist you in expressing your ideas in an ideal manner.
Moreover, it offers a detailed dashboard with all the features for customization, animation, and other video editing tools. You can also find various elements like patterns, designs, fonts, etc., that can brighten up your simple videos.
This PC video editor can help you reach your target audience and expand your promotional domain with a diverse range of ready-made templates. 
Regardless of the topic, you can give your touch to the videos and even prepare lectures for students by adding animation to grasp their attention.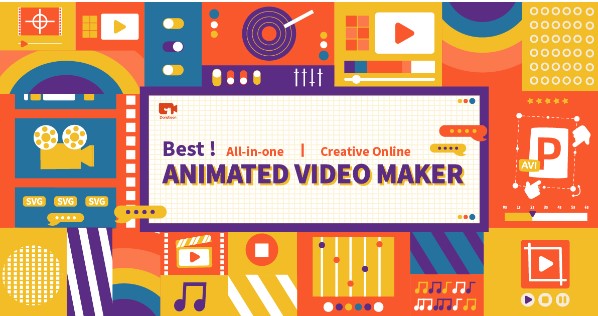 1.1 What Makes Doratoon Stand Out!
This free animation software has a wide range of features that can help you edit your videos more professionally. 
Some of those features are listed below:
A free-to-use inventory filled with props, characters, and other media

Simple and smooth user interface specifically ideal for beginners

Ready to use templates and elements

AI drawing features for quickly transforming your thoughts into a character

AI dub tech for adding your sound effects or narration to your animation
1.2 Doratoon – Best Video Editing Software for Beginners
If you're new to video editing and don't have any know-how about editors, then Doratoon is the way forward to kickstart your editing skills. 
Moreover, it offers many characteristics meant for different actions that ease complex editing tasks like trimming, cropping, adding font, blurring, and more. A few reasons why Doratoon is the best video editing software for beginners are as follows:
Doratoon has around 1000+ templates that can assist users with no time to spare for creating custom designs for urgent presentations or birthday wishes. You just have to insert your content and pictures on that template depending on the event, and you're all set to show it to everyone.
AI-based Dubbing & Drawing
Another promising aspect of using Doratoon is using AI for dubbing and drawing. You just have to write what you want to narrate in the video, and it'll be dubbed via text-to-speech technology. 
Similarly, Doratoon uses AI to suggest shapes, figures, etc., when you're animating any character or cartoon in the app.
Convert Your PPT to Videos
With Doratoon, you can convert your PowerPoint presentations into video animation by importing your PPT files to the Doratoon app. You can even add more animation and edit that presentation for later use.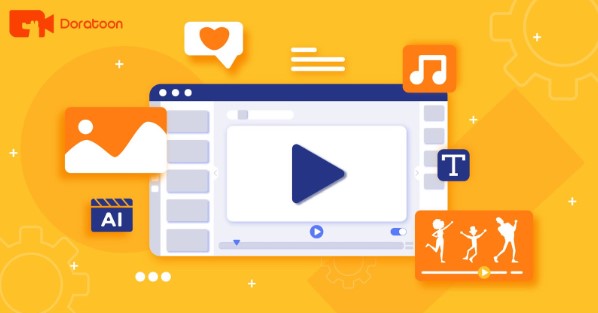 2. Canva 
Canvas is one of the best animation software/video editors that offers basic features for minimal editing tasks, including timelapse, trimming, cropping, splitting, etc. 
You can create a video in multiple display sizes and can even choose it to fit either portrait or landscape mode. The app lets you insert your voice externally or through real-time video using an in-app recorder.
Features
You can adjust the video using resize, rotate, and flip options

Add filters or manually control brightness, opacity, contrast, etc.

An extensive templates collection suiting to every situation

Library of stock videos, images, pre-licensed music, and elements

Renders videos at 1080p without watermarks for all sorts of video formats
3. Powtoon
For those who want a professional touch-up to their ordinary videos, Powtoon video editor software can help you level up. You can easily make quality animation or create simple videos from existing photos without removing your personal touch. 
With Powtoon, you can also polish the display of your videos with a large inventory of different filters. You can also share the final result in other formats directly to your gallery or social media.
Features
Gallery of video templates in different categories

Customization options with elements, graphics, characters, etc.

Integration with Photoshop, allowing you to import and edit PSD files

You can create whiteboard animation as well
4. Vyond 
Another promising editing software on our list is Vyond, known to be the oldest app meant for animation and editing every type of video. 
With such experience, the app has a firm grasp on its features, offering customizable options to take your idea up a notch. 
Besides, you can even animate your personalized cartoon videos or touch up your pre-recorded ones for up to 120 minutes. As compared to the other apps in our list, Vyond is slightly expensive.
Features
Automatic character syncing features for adding a touch of reality to your videos

Create cartoons and videos on any topic with ready-to-use templates
5. Renderforest 
Renderforest is another online video maker that is quite feasible and easy to use for people who want to create short videos for teasers, promos, music visualization, and logo reveals that don't last longer than an hour. 
Through Renderforest, you can only edit pre-recorded videos as it doesn't have any features to create one from scratch. You can also make videos using images, personal animation, and given stock photos.
Features
Different animated and graphic templates for every use

HD videos in 720p and 1080p
6. Biteable
Biteable helps you easily create detailed videos expressing your concepts or showcasing your products in a matter of seconds. It is an easy-to-use animation tool with drag and drop features to add anything anywhere. 
Moreover, it is specifically designed for people who don't have time to make efforts to create raw videos or don't know how to start. Furthermore, this application can be availed free with limited options and paid subscriptions for professionals.
Features
Simple character-building options

Choose a template for thousands of different designs

Make your own template with diverse editing options

Add snippets, diagrams, charts, sound, and more
7. Animaker 
Animaker is known as a feature-enriched editing program that covers thousands of different powerful tools. Just like its name, Animaker is ideal for making your custom animation. 
They've claimed it to be a perfect start for beginners and non-designers stepping into video or graphic editing. The app lets you record and edit every moment of your life using built-in recorders.
Features
6 different video styles for animations to pick the one suited for your video dynamics

More than 200 voices and sound effects

Ready-made templates and props 

Live-action video recording and editing options
8. Doodly
Although the prominent aspect of Doodly is its whiteboard animation, it also masters in offering its users different components and features for editing videos with artsy doodles in a professional style. 
The app provides unique SmartDraw technology that allows users to animate with the help of an AI. It gives simple drag-and-drop features so you can pick any existing video to modify or create your personalized animation.
Regarding subscription prices, Doodly stands out by offering low rates and a 30-day free trial, after which you can even demand a refund if you aren't satisfied with the services.
Features
The point-and-click feature has thousands of existing images, props, elements, and templates

The Rainbow feature makes all the colors brighter

The doodly dashboard can organize multiple projects at a time

Saving time with the alignment feature where you can several elements at once and align them all together on canvas
9. Invideo 
Invideo is regarded among the best video editing software for beginners, as it provides an extremely intuitive interface helping its users to come up with top-notch videos in just some minutes without even having the necessary knowledge about editing. 
You'll get a vast range of features necessary to edit and even start for free. The app also offers tutorials so you can't get lost in the feature inventory.

Features
More than 5000 customizable templates

Real-time video and voice recording are available

Text-to-speech dubbing option

Over 12 million ready-to-use videos, graphics, and animations

Cloud storage ranging up to 100GB
10. Moovly 
If you want a simple video editor, Moovly can assist you with its drag-and-drop features, reducing any professional help but offering a professional-grade video. 
In addition, you can create interesting animation and engaging visual content by using many different media objects and elements. It is free to use and best for basic editing.
Features
Importing and exporting videos, animation, and images available

Easy template creates and customizable templates

Text-to-speech technology for dubbing

Screen recording feature available

Automation media library generation 
11. Clipchamp
For quick and easy video editing features without spending any money, Clipchamp is the one that can help. You can create any type of video by picking from your gallery or customizing it from available templates. 
Additionally, you can also acquire the Picture-in-Picture that can overlay your images, animation, or even slideshow on a big screen while showing another video on a small screen at the bottom in a single project, ideal for YouTube gameplay videos or tutorials.
Features
Direct sharing on social platforms

Customizable stock videos, audios, and photos

Cloud service integration, including Google Drive, Dropbox, etc.
12. Adobe Animate 
When you think about editing, Adobe comes to mind instantly with its vast range of editing software for pc. 
Like all the different apps, Adobe Animate works wonders in video editing. It allows you to make changes or create your animations from scratch. You can export your videos in multiple formats, including exclusives like AVI and MXF.
Features
Professional video editing tools and extended platform

Automatic video reformatting

Managing curve adjustments

Automatically reformat your videos

Audio mixing options
13. Movavi
Movavi is also a primary choice for most businesses aiming to create ads and grasp content. This application is easily understandable as every feature can be accessed using drag-and-drop actions. 
Also, Movavi works without any boundaries of operating systems available for both Mac and PC. You can observe many different characteristics in the app, including built-in filters, transitions, etc.
Features
User-friendly and budget-friendly app

A vast collection of videos, backgrounds, audio

Montage Wizard features giving a themed transformation to your ordinary footage 
14. Moho 
Moho works based on a 2D animation style and edits similar sorts of videos. You'll need prior knowledge about editing and animation to use this app. 
Moreover, it perfectly balances animation and AI technology with professional editing tools. Using its free-to-use trial app, you can create or eliminate textures in your existing features or animate any character.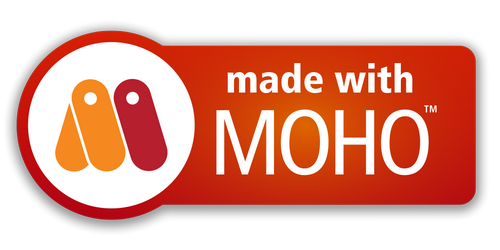 Features
Custom bitmap helping to create custom brush styles

Camera manipulation and material properties for 2D elements

Search pre-made elements using keywords, subwords, and Boolean operations

Frame layers help you create animated scenarios in layers
15. Blender 
If you're looking for a free video editor for pc offering high-grade video editing and animation options, then Blender is the one. 
Also, this app is meant for professional editors who want to animate, simulate, rig, model, and render videos on a large scale. Besides, it includes basic actions like trimming, splitting, and cropping videos but with a hint of advancement.
Features
Object tracking using camera and light

2D and 3D material/texture properties

VFX ready for production
Conclusion
Video editing software is designed to make it easier for businesses and startups who can't afford to hire skilled graphic designers to create promotional videos. 
With the above-suggested animation software for beginners, like Doratoon, you can easily make any type of video from scratch or ready-to-use templates and customize every video according to your requirements. 
---
---