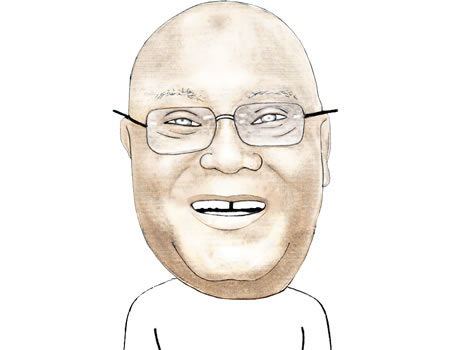 ONE of the basic rules of identification an intern or cub reporter learns is never to write someone's name using only the first name or surname. The reason for this is not far to fetch: First name, surname or initials do not properly and adequately identify a person; only full names do – except where the name in question has been "appropriated," so to say, by the person being so addressed without an iota of misunderstanding in the public mind. Examples are Obasanjo, Buhari, Jonathan, Atiku, Soyinka, Fayose, Tinubu, Saraki, Mandela, Obama, to mention but a few.
When the PDP presidential flag bearer, Abubakar Atiku, released the names of his campaign team, a few of them were only surnames, e. g. Kwankwaso (North West), Dankwambo (North East), and Chief Agbaje (Southwest). While it is easy to identify Kwankwaso as Musa Rabiu Kwankwaso, ex-two-term governor of Kano state, ex-Minister and now fast-becoming perennial presidential aspirant, first on APC and now on PDP's platform; and Dankwambo can be understood as Ibrahim Dankwambo, the outgoing two-term governor of Gombe state and a PDP presidential aspirant at the Port-Harcourt convention, who, for God's sake is Chief Agbaje, leading the South-West on the campaign train? Writing only surnames without the first and middle names (where available) written in full is careless and irresponsible. Most time it lets the cat out of the bag that proper homework was not done. It could also be a revelation that proper consultation has not been done or that it was just a stop-gap measure. A campaign as critical as Atiku's gives itself out if it starts on a sloppy or shoddy note; it must cross all t's and dot all i's at all times.
Having said that, that the person chosen to lead Atiku's campaign in the South-West cannot be recognised by his surname alone shows that such a person may not be a popular jingo and this could be serious drawback in a region where the All Progressives Congress maintains an intimidating presence and has continued to tighten its grip. The PDP/Atiku campaign needs a political juggernaut and caterpillar (apologies, K. O. Mbadiwe) to lead it to battle in the South-West. Ideally, the outgoing governor of Ekiti State, Ayo Fayose, would have been more like it. For one, he has the clout. For another, he is likely to have the time since he is stepping down as governor in a few days.
The politics of the Port-Harcourt convention, however, must have begun to take its toll on the PDP/Atiku campaign. While it is commendable that reconciliation has travelled far, with many of those who contested the ticket with Atiku being named into his campaign team, the absence of Fayose and Rivers State's Gov. Nyesom Wike may be pointers to the fact that full reconciliation lies ahead. Yet, this is a battle where all hands must be on the deck. Atiku/PDP cannot afford to approach 2019 without maximising the opportunities at its disposal. It must throw all its arsenals into the battle – except it has chosen not to learn any lesson from its recent setbacks in Ekiti and Osun states.
That Atiku and former President Olusegun Obasanjo could put their differences aside to face the daunting task of unseating Buhari in 2019 indicates that both men believe Buhari is a more dangerous enemy that must first be taken care of. A Yoruba proverb counsels that you first chase away the fox before returning to scold the chicken for wandering too far away from home. I believe Obasanjo and Atiku are moved by perceived danger to their common existence. Many of the big names rallying around Atiku today are acting similarly. History is repeating itself as was witnessed in 2014/2015 when the project was getting Goodluck Jonathan out of the way at all costs! But once bitten, twice shy! We, therefore, should carefully chew this one before gobbling it hook-line-and-sinker. Take care also to avoid banana peels that usually litter the way in any election. The rage of spoilers and the season of revenge-seekers may be here again to dog the feet of PDP if care is not taken. William Shakespeare teaches that hell has no fury as a woman spurned. Not only women; this saying applies similarly to politicians. As one politician said weeks back; the leper may not be able to milk the cow but is able to spill the milk.
LAST WORD: Those who reconciled Obasanjo with Atiku have done well. It was a hard nut. There is one harder nut, anyway: Reconciling Obasanjo and Fayose. To offload Buhari in 2019, all hands must be on the deck. No one able to contribute something must be ignored. Fayose and Wike must be made to climb into the PDP campaign wagon.
Atiku's victory versus Fayose's bombshell
Enfant terrible and outgoing governor of Ekiti State, Peter Ayodele Fayose, is controversy personified. He sure was born on a day controversy loomed large over human affairs. According to his yet-to-be-published and sure-to-generate-controversy autobiography, on the eighth day when he was to have been named early in the morning, his father left home earlier in the day to fight the cause of a powerless person being cheated by a stronger neighbour, taking the battle all the way to the police station and returning only in the evening to name baby Ayodele Fayose at 6pm! That may account for why he is always a man of controversy that many will not forget in a hurry. Not only in Ekiti, where he is the first two-term governor and the only candidate that have twice resoundingly defeated and uprooted an incumbent governor; on the national scene he will also not be forgotten for a long time to come.
Ask President Muhammadu Buhari or erstwhile President Olusegun Obasanjo! A popular Ekiti song goes thus: Ayo Fayose o/Ekiti/ Ekiti o ni gbagbe re/ Ekiti. Interpreted, it means: Ayo Fayose/Ekiti will never forget you. Sure, Ekiti will not forget Fayose for the outstanding infrastructural development he brought to the state during his first as well as second stint in office. Perhaps, even more: Ekiti will not forget Fayose for the publicity and recognition he gave the state with his unparallel activism, which has given the small land-locked state an image larger than life. A state that receives second to the least allocation from the Federation Account grabs more limelight, occupies more position of pre-eminence, and commands more reckoning than many "big-for-nothing" States, if you will pardon my language. Such was the success of Fayose in this self-inflicted assignment that, before long, he had become the voice of the voiceless and the unofficial Leader of Opposition, more so since 2014, when he led the campaign against the election of not just the All Progressives Congress but more so that of President Muhammadu Buhari. Today, Fayose thumps his chest and rubs it in when he tells a groaning and agonising nation miffed by the lacklustre performance of APC and the dictatorial streak of Buhari: I told you so! I warned you but you failed to heed.
The same Fayose has again fired warning shots, this time against, as it would appear, the election of Atiku as PDP's presidential flag-bearer. Atiku had beaten a motley crowd of presidential aspirants, which included former and serving governors, party chieftains, and President of the Senate, Bukola Saraki. Many had thought Sokoto's Gov. Aminu Tambuwal would carry the day, especially as he was being supported by the most vociferous leaders of the PDP led by Fayose and Gov. Nyesom Wike of Rivers State, but many factors worked against Tambuwal. He stands only on one leg in his state, being unable, as it were, to carry his godfather, ex-Gov. Aliyu Wammako, with him when he defected from APC back to PDP. His treachery against the South-West also remains evergreen. Tambuwal, the beneficiary of Senator Bola Ahmed Tinubu's support that thwarted Mulikat Adeola, a Yoruba, from being Speaker of the House of Representatives under President Goodluck Jonathan, was said to be the arrow-head of the conspirators who torpedoed Femi Gbajabiamila, Tinubu's choice for Speaker in the current dispensation, helping instead to sneak Yakubu Dogara into the coveted post.
Wike's noisome advocacy for Tambuwal, which Fayose himself keyed into, was also said to have backfired. Atiku had a head-start over everyone else. The crowded field of aspirants worked in his favour. He played his politics better than the others; saying what needed be said and making promises the situation demanded even if he knew instantly he would renege once the bird was in the kitty. Then, of course, his deep pockets: whatever anyone may say, money-politics or vote-buying has come to stay. The reported eleventh-hour support of the retired Generals (including ex-President Obasanjo, who had earlier repeatedly vowed never to back Atiku) was also said to have worked in Atiku's favour. In all, the ex-Number Two was seen as the best aspirant who can square up to Buhari in 2019. So, many outside PDP, who are already fed up with APC and Buhari, were happy Atiku won the ticket. Imagine the surprise, then, when Fayose, on his way out of Port-Harcourt, released the bombshell that he could quit PDP.
At first, more than what Fayose said was added to his statement. A version even said he was defecting to APC but when the mist cleared, Fayose's message to Atiku and PDP became better understood. Atiku is said to have promised the South-East the running-mate slot just to win the ticket. He is also said to have promised to do only one term and then hand-over to someone from the South-East in 2023. None of the latter two promises irked Fayose; what did was Atiku's thinking that he will be allowed to single-handedly pick the running-mate and that the running-mate will come from the South-East. When the party chairman was to be chosen, the South-West was asked to concede it to the South-South so that the vice-presidential candidate can come from the South-West. How come the same VP slot is now eluding the South-West and has gone to the South-East? With what will PDP woo the South-West in 2019?