Amotekun idea in S/West is even coming too late —Oba Odidiomo, Olu Igbokoda
The traditional ruler of Igbokoda community in Ilaje Local Government Area of Ondo State, His Royal Majesty, Odidiomo Afolabi Oladimeji Ilarada 1, Olu of Igbokoda speaks with SAM NWAOKO on the controversy around Amotekun and sundry issues. Excerpts: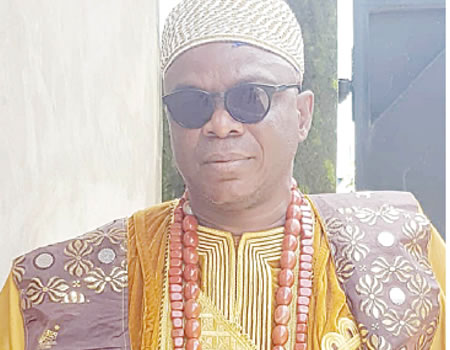 The South West governors have risen against insecurity with Operation Amotekun and regardless of the distractions, they seem to be determined to seeing to its successful take-off. What do you see as the best way to approach the issue considering the controversy?
The Amotekun idea is coming extremely too late as far as I am concerned because we have gone almost one year into the second term of this of this administration. The kidnapping, robbery, rape and sundry crimes increased considerably under this regime and I ask myself why? Where people are hungry and unemployed, the alternative will be to go into crime, to rob, to kidnap and all those crimes. Secondly, the rate at which politicians are stealing without thinking that the poor masses are seeing them and they are deprived in one way or the other, is another factor that is encouraging kidnapping. If somebody who is a School Certificate holder who could not graduate from the university, but he has a political godfather that could put him in a political office, within a year, he is building houses in choice places and buying cars. Then the rest of us will tend to think that we all have a stake in this country and if the only way to get a piece of the wealth they have stolen is by stealing, why not? If you look at kidnapping before the herdsmen angle of it came in, you will notice that it was the rich, influential people that were targeted not just ordinary people. So, I will think that to stem the effect of these at the advent of this government when we saw that it was increasing, the governors of the Western region ought to have started Amotekun. If it is the name of the outfit that is scary, let them adjust it. This present Inspector-General of Police and those in the past talked about community policing. What other way could be a better form of community policing than to come up with a structure like Amotekun to police the region that you know too well. Will you bring Hisbah from the North to come and do alternative policing for the people in the Western Region? No. Can you got to Igboland to brign their locals, maybe Vigilante to come and do the policing in the South West where you do not even know the terrain? No.
So, you are saying the locals and Fulani herdsmen know the terrain equally?
There are only two people that know the terrain in the Western region: the people of the area and the Fulani herdsmen who have traversed the nook and crannies of Yorubaland. So, what is the whole hue and cry over Amotekun?
After all, the civilian JTF has been praised even by the military for supporting them and arresting Boko Haram suspects. A Commissioner of Police was kidnapped; those who got him rescued were not the policemen. They were the Amotekuns of the North. It is just the name that differs. The question is, why is it that today, in almost all the towns and villages in Yorubaland, we have those we call vigilante group; people securing the towns at night. They would have done better if they were not armed with only cudgels and cutlasses. If they could have the opportunity to hold some weapons to defend themselves and defend their communities, they would have made a lot of difference. Why are there no shouts that hunters carry Dane guns about securing their towns at night while doing their hunting? We are making noise because such community policing efforts that was named Amotekun would now have government backing. That is why there is so much noise. Isn't that curious? Look at this scenario: I left my father's house unguarded, robbers and thieves raided it. I now decided to put a fence and a wire mesh and burglar proof to prevent robbers from further plundering my father's house; then someone started complaining that I shouldn't do that, that I should leave my father's house to remain vulnerable. Then I think I know who the robber is. I should have a clue of who the thief is. Those who are kicking against Amotekun, saying it should not be allowed are either the 'troublers of the Israel of the Yorubas or they are benefitting in one way or the other.
On the illegality or otherwise, which the objection was hinged on, what do you think?
Is it not illegal for policemen to shoot and kill armed robbers at will, without trial? When it happens, don't they find series of excuses to defend the action and to suppress such? Two things to look at are: Illegality and necessity. If it is illegal, is it necessary? If it is necessary, I think what we should do is to also remember that laws are made for man and not the other way round. The Amotekun is necessary. We need it. The Police need some helping hands. Governors go toy uor houses of assembly and get laws passed to legalise the concept. Why do you call the governors 'chief security officers' of their respective states but they have no rights or powers to determine the way security should be handled in their states? That is an aberration. In Lagos recently, some people wanted to gather in the state under the control of a governor. The police, which is the Nigeria Police Force was given order from Abuja to disrupt the gathering. Then it is obvious that the governors are not in charge of their states in terms of security. If you say it is illegal, that is because the state houses of assembly have not passed the law establishing it. But if one may ask, is there any house of assembly that passed a law approving the 'civilian JTF'? no. The only one we heard about was the Hisbah. Yet the Army could work with the 'civilian JTF' to fight Boko Haram. So, if we had the same Boko Haram in the south, and we say Amotekun should not help to work with them, will the army say because there is no law establishing them they would not work with them? So, we cannot be playing this double standard, it cannot help the country. At best, it can only retard us. If we do not do away with double standard, it is going to divide and destroy the country.
You recently told of the hardship your community and many other towns in Ondo South district are going through because of the absence of public power supply. What is the situation today?
It appears to me that the Ondo South district has been forsaken and abandoned by Benin Electricity Distribution Company (BEDC). It is extremely very clear to all Nigerians that the distribution companies (DisCos) do not have the capacity to provide the electricity that they said they were going to give. It is not just BEDC, it is all of them. For instance, in my community there is a stalemate. BEDC wants to energise transformers, saying that we should be buying credit to be given to all the houses attached to the transformers. They can take the money at will. A particular transformer got N200,000 and they got electricity for just six days, not six consecutive days. It was haphazardly distributed in weeks and in all, it was just six days and the money got finished. We have always said give us prepaid meters and let each house have its own meters and from it  you can deduct your money rather than asking me as the head of the community to be helping you to gather money from members of the community into a particular transformer. It doesn't work that way. So, big houses and small houses, how do you determine what is to be paid? They refused. I found that after petroleum in this country, another source of milking the masses dry is electricity. Those providing electricity know that that is their own gold mine and they are using every opportunity to rob the masses of their hard-earned income.
Up till today, in Ilaje, Ikale, Ese Odo there has been no electricity for 12 years and BEDC does not care. Why? If we are not ready to allow them to continue to steal from our people through bulk metering, they are not ready to give us electricity. And even if we do that, they do not have the facilities. We know this because the whole of Igbokoda and Ilaje will need more than 12 Megawatts of electricity. What BEDC is collecting from Transmission Company of Nigeria (TCN) for the whole of six local government areas is 6 Megawatts. If Igbokoda alone needs more than 10 – 12, and you are collecting six for the whole of that region deliberately, there is no way we can have electricity because they do not have the capacity to buy more. So they are denying us. So, there has been no improvement at all in the electricity situation. None whatsoever.
Are there no new steps being taken to figure things out?
Every step we have taken has been frustrated by the BEDC. The law says you cannot be cut off the national grid for more than 12 months. After three months, you have the right to declare emergency on electricity. We will go to NERC and they would say 'we don't want violence; let's call them'. They will call and BEDC will come up with yet another lie and eventually conclude with the usual: 'We are working on it'. That has been the situation for the past six years. We have not got anywhere. The Niger Delta Power Holding Company came to repair the damaged lines and to install more electricity poles and lines for areas that were not developed before now. They installed new transformers, etc. some people, because they knew that they have no capacity to give us electricity, connived with some criminals to remove the cables of the transformers and said 'well, you know, now that they have stolen your cables, those places cannot have electricity.' Nobody would go to remove those things without somebody who knows the importance of those things and who is out as a saboteur to deny us the opportunity thereof. NDPHC did all the repairs, that has allowed some skeletal power supply to get to some of the places but the major installations by the Niger Delta has been vandalised, important components have been stolen and we suspect professionals in BEDC. That is where we are, because when you talk they will say you don't have cables, until you get cables, there is nothing we can do, so we are just going round in a circle.