Pastors should come to me for deliverance —Charly Boy
Actor, musician, entertainer and rights' activist, Charles Oputa better known as Charly Boy, is in the news as always. The former president of the Performing Musicians of Nigeria (PMAN), speaks with TADE MAKINDE on his latest musical effort, the things he is up to and the future of Nigeria if certain things are not done. Excerpts: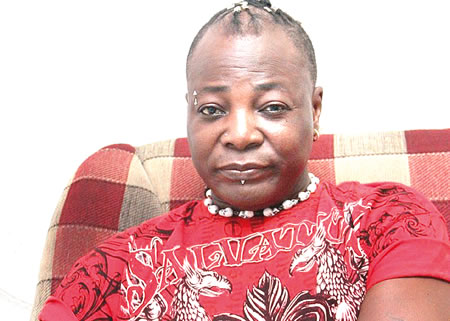 What have clerics done to you for your scathing words in your latest single entitled "God of Men"?
Because they have misled people, especially the young people, their congregations, and have abdicated their duty where they are meant to enhance spirituality. I have to call them back and try to make them retrace their steps. Many pastors are fond of preaching false teachings, especially about miracles. Telling them that a miracle can happen when one does not work for it is very wrong. Most of these pastors are just there for their own pockets. Religion came to Africa and here, it has been turned into a big business, something which actually has nothing to do with God. 95 per cent of the pastors in Africa now are fakes. I am asking Nigerians, especially our impressionable young ones, to be sensible and reasonable. Some Christians worship their pastors than they do God. That is why I call them "God of Men" in the song.
You said we have 95 per cent fake pastors. How do we identify fake pastors among us?
Well, by their looks we shall know them. I mentioned some names in my single. However, it is not too late for them to change their evil ways. I hereby invite all the fake pastors for deliverance, even though I know most of them won't show up. But all the same, Nigerians are becoming conscious of their spiritual state. Thank God for the internet
You said they should come for deliverance. Where?
They should come to me.  There is a place I will take them. I will organise the deliverance. These people don't live a better life than I do. It is not by people's judgement that you determine who is a real pastor. It is by the conscience of the person. You know, I have spoken to a lot of these men of God and I know a lot of them are only down for the business.
Did you mention names in your song?
No, I didn't. That is because they confided in me. Many of them actually told me that they were in the ministry for the money. But I also found out that many of them are in the business of giving people hope. Hope is what Nigerian youths need now because without some of these pastors also, a lot of people would have committed suicide. I can relate to that because the government has let the people down, it has let the community, and even parents down. On the other hand, parents that have been let down by the government have also let their children down as they have been struggling to survive or make ends meet.
Why did you release the single on Valentine's Day, a day dedicated to lovers?
I picked the day because of love to my fans, and love for the streets. We are moving the actual paparazzi to a day after Valentine, which is Saturday, because of logistics. That day, I intend to feed 300 people who are out there on the streets struggling to survive. We will need adequate security to keep people in check.
What do you think should worry people more, the problem of fake pastors or that of rising insecurity?
Everything. None of these issues is bigger than the other. The high number of fake pastors and insecurity in this country are both dangerous.
How has Abuja paid off since you left Lagos about a decade ago?
I am no longer in Abuja. I have relocated to Lagos. Most of what happens in Abuja is sex. That is why the only thriving business there, after government and contracts, is hotel business. Even married women are involved in the sex business and these old women are infecting the young ones. In Abuja, politicians are just stealing and nobody cares. That is why I left and I have decided to put all my frustration in my album, while I have decided to continue with what gives me happiness.
So, it's not because you are afraid of the Sowore treatment?
Why would I be afraid of them arresting me? If they do that, will I not die one day? If I am arrested, detained unjustly, that is my destiny and I can't change that. Nigerians should not be overpowered by fear because the demonic leadership we have today capitalises on terror, but I refuse to be afraid.
After leaving Lagos for a long time for Abuja and you are back, what has changed about the Lagos that you are now back to?
I was away for long because I devoted 14 years of my life to taking care of my parents. Now that they are gone, and Abuja being the way it is, there is no need for me staying there.
Do you still want to be the governor of Imo State? 
Everywhere I see injustice, I fight against it. My duty is to fight for my right, to say how I feel. I am not under any illusion that things will get better under this government because these people that we have been dealing with for 5 years are deaf, dumb and blind. They have an evil agenda and are not sensitive to the masses. I am hoping that my message will get to our youth so that they can galvanise themselves to take over the challenge and say that enough is enough. They should fight back. That is my prayer. I have never been interested in being the governor of Imo State, neither do I love politics. Now is the time for the East to join hands with the West. They are championing a warless revolution and those who are smart enough to see it will tag along with them if Nigeria is to be saved.
You said something about the West and East uniting. If the opportunity comes, will you go for it?
Why not? I think we should grab the advantage and if it is not there, we should work towards it.
What do you think about the idea of state or regional policing?
I support the regional police idea as promoted by the six governors of the South West. I like the idea of Amotekun and IPOB. People started having problem after the war and since then, we have been talking about restructuring. How can one tribe be dominating the whole of Nigeria, where we have over 300 ethnic groups and a population of 200 million? It is wrong. That is injustice.
Is there any of your tracks where you addressed the issue of insecurity?
Yes. That track is titled "Fire for Fire". Another track is "Potopoto".
You featured Falz in the album and not Naira Marley, who is now the bad boy of the industry. Why?
I love Naira Marley. When I was putting this together, many of the musicians I listed for collaboration were busy, including Falz. But Falz came over to my place. He showed he was interested. He said we should go to the studio where he dropped his verse. With that, I have more respect for him. When you see young people who want to work with you, you go for them. There is another track I did with Oritse femi, where I asked Nigerians if dem mumu don do, and another love song I did with my wife, "You Bring Me Joy".
Does featuring musicians of this generation give you a sense of sure acceptance among them?
These are the people that I admire and I listen to their songs. It is an honour for me to meet them one-on-one because that is why I say that when you have creative people, they know how to deal with things. How will I run out of ideas when I am surrounded by those creative youths in Nigeria, I will never get old easily.
12 years ago, you said Yar' Adua had opened Nigeria to the Chinese to take over. What is you view today?
The Chinese have bought Africa and our senseless leaders have run our country into huge debts to the Chinese. I wonder how we will ever get out of this. We have been sold to the Chinese and now, we are being sold to the Arab where we now take loans that do not attract interest. If loans don't attract interests, there must be something else it attracts. The future of Nigerian youth has been mortgaged and I don't see how we will be able to repay our debts in 50 years.
Where do you see Nigeria in 10 or20 years?
I don't think there will be a country called Nigeria by then unless we sit down, renegotiate our terms of staying together.