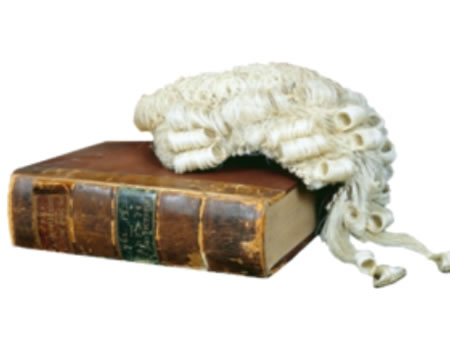 ON September 18 when ex-attorney general of Ogun State and younger brother of the Acting President, Professor Yemi Osinbajo, Akinlolu Osinbajo, is conferred with the prestigious title of Senior Advocate of Nigeria (SAN), it will be just and sweet reward for a journey that began well over 30 years ago.
Having taken to heart the Biblical injunction, "no man, having put his hand to the plough, and looking back, is fit for the kingdom of God," Akin has remained steadfast in active legal practice since October 1986 when he was called to the bar.
A highly experienced litigator and commercial law practitioner, chartered arbitrator and notary public of Nigeria,  the SAN-designate  is a thorough professional who learnt from some of the best around to become the authority he is today.
The Department of Civil Litigation, Kwara State Ministry of Justice was where the alumnus of Holborn College, London and the University College London first chose to hone his skills after he was called to the bar in 1986.  Later that year, he joined the chambers of eminent lawyer, Wole Olanipekun (SAN) as Associate Counsel and was there until 1987 before becoming Associate Counsel at Abdulai, Taiwo & Co.;Solicitors where he is currentlyJoint Managing Partner. The firm is internationally acknowledged for its expertise on transactional matters relating to Nigeria.
While making significant strides in his career, Akin, an enabler like his older brother was also selflessly giving himself to the community and the church of God. He was appointed Registrar and General Legal Adviser, Church of Nigeria Anglican Communion, Reno Diocese in April 1996 and Legal Adviser and Member Board of Trustees, The Fountain of Life Church, Nigeria and Overseas in June 2001. This was after being appointed a notary public of Nigeria in July 2000.
In 2003, the Osinbajo brothers made history by becoming the first siblings appointed Attorney General and Commissioner for Justices in different states simultaneously. While Yemi was quietly but efficiently re-energising and remodelling the Lagos State judiciary, Akin was doing same in Ogun, their home state.  His principal, Governor Gbenga Daniel, was sufficiently impressed by his transformational abilities and diligence that he retained him throughout his eight-year tenure. Commendably, Akin acquitted himself well and extensively reformed the administration of justice in the state.
Some of his interventions and reforms in Ogun include provision of meaningful access to justice for indigent citizens of the state through the establishment of the Citizens Rights Department  that gave free legal advice and representation in court to poor people;   reorganisation of the Ministry of Justice/ Chambers of the Attorney-General with over 80 law officers to function like a private law firm; the employment of over 40 lawyers; establishment of the Office of the Public Defender in 2004  and Alternative Dispute Resolution Centres (Citizens Mediation Centres).
Akin also facilitated the creation of more judicial divisions of the High Court and Magisterial districts;  a comprehensive revision and publishing in 2006 of all the Laws of Ogun State in six volumes; establishment of the Criminal Justice Fund to provide funds to witnesses in criminal trials to enable them attend court and for process servers to serve witness summons. Under his watch as leader of the judiciary, the welfare of judges and other legal officers was significantly boosted such that judges were given brand new vehicles on two occasions while houses were later provided for them. That's not all. Akin also introduced and facilitated the regular payment of research/journal and other enhanced allowances to judges, magistrates and law officers in the state.
Highly cerebral, Akin has not contented himself with practice alone. He has also done his bit in expanding the frontiers of the study law in Nigeria with contributions to important law publications.  He is a contributor to the Nigeria country report in the international compendium titled 'International Corporate Law' published by Aspatore Books and also contributed to 'Legal Aspects of Doing Business in Africa' published by Yorkhill Law Publishers. The cleric and father of three children has an essay in 'Perspectives on Contemporary Legal Issues: Essays in Honour of Hon. Justice Dolapo F. Akinsanya' while he is co-author of 'Establishing a Business in Nigeria'; 'Registration and Regulation of Foreign Investments and Enterprises'; 'Privatisation of Government Enterprises by Tender and Public Offer' 'Registration of Trademarks, Patents and Technology Transfer Licences 'all published by Abdulai, Taiwo & Co.
A member of professional associations including the NBA, Chartered Institute of Arbitrators UK, International Bar Association, Chartered Institute of Arbitrators of Nigeria, Equipment Leasing Association of Nigeria and the Diocesan Board, Cathedral Greater Chapter and Synod of Church of Nigeria Anglican Communion (Remo Diocese), Akin, has not shirked his responsibilities to the NBA. He served as a member of the body's Special Task Force on Multidisciplinary Practices and Incursions into the Legal Profession and has been a member of Body of Benchers Nigeria since April 2017.
Fittingly, Akin's interventions in the praxis and theory of law as well as material assistances have not gone unnoticed by both the NBA and the Bench.  He has consequently received several commendations amongst which are the Body of Benchers for facilitating the donation of N1million towards the building of the Body of Benchers Hall and the Court of Appeal Ibadan for donating several sets of Revised Laws of the Federation (Volumes 1-6) for the Judges' libraries.
Given his immense contributions therefore, it came as no surprise that the Legal Practitioners' Privileges Committee (LPPC), the conferring authority found Akin worthy to be admitted into the select rank of senior Nigerian lawyers.  The 57-year-old, indeed, is a worthy addition to the 481 silks so far appointed in Nigeria since 1975.
Ogunmupe sent this piece from Ilupeju, Lagos.